Going for Their Goals
Corporate partnerships create opportunities for Special Olympians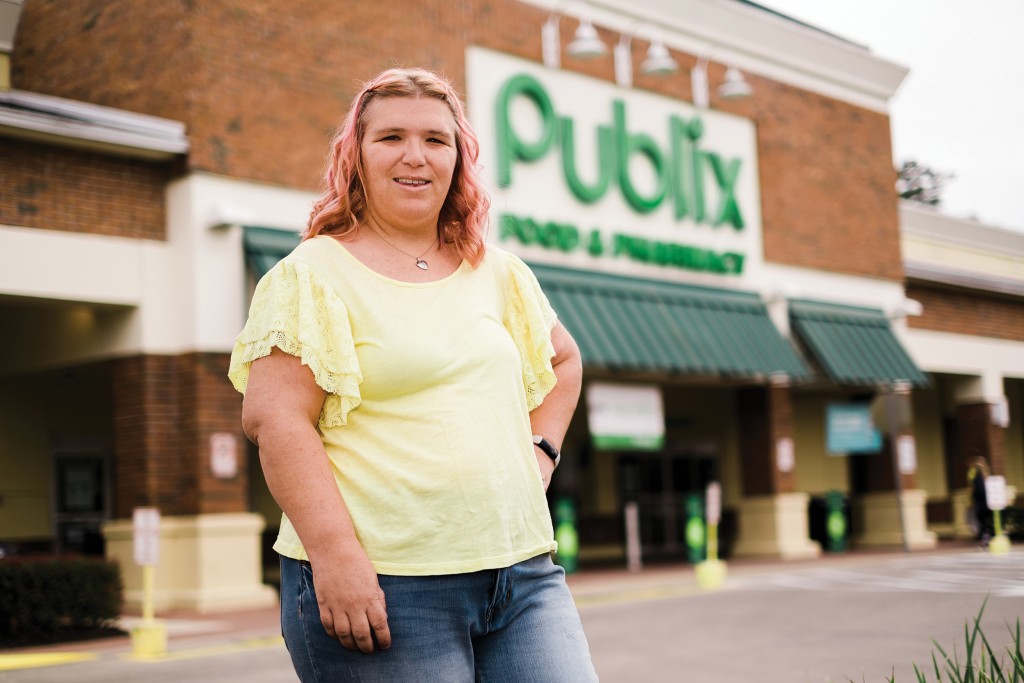 Ashley Harrell is a sextathlete.
She competes as a Special Olympian in six sports: tennis, golf, cheerleading, gymnastics, stand-up paddleboard and swimming.
Harrell, 33, of Tallahassee, has won medals at state-level competitions, and she is especially proud to be a member of the Leon County Chargers cheerleading squad that will compete in the Special Olympics 2022 USA Games to be held in Orlando in June.
"I can do a front roll, and I have been working on my cartwheels," Harrell proudly said. "We do shaking of the hips and lots of dance moves and some cool stunts that are pretty advanced like we hold somebody up high. We are one of the only teams that doesn't need much assistance on the mat."
Harrell's participation in Special Olympics Florida and the success of the organization throughout the state is due largely to the support of Publix Supermarkets, headquartered in Lakeland. The relationship was fostered 50 years ago by Publix founder George Jenkins, said Dwaine Stevens, a 42-year Publix employee, who two years ago became its director of community relations.
Publix's annual point-of-sale Torch Icon campaign has raised more than $60 million for the Special Olympics since ı993, Stevens said. (That figure does not include the 2022 fundraising total, which was unavailable at press time.) Shoppers who contribute to the campaign are rewarded with coupons for products from Proctor & Gamble, another longtime supporter of Special Olympics.
"We thank Publix for all of their support throughout the year," said Damien McNeil, the regional director for Special Olympics in Northwest Florida. "Publix has been a pioneering leader in employing people with special needs. Go into any Publix across the state, and you will see people with intellectual and developmental disabilities working alongside fully able peers. They welcome Special Olympians into their stores during the campaign and enable us to use their bandwidth to better engage people across the state."
At Publix store No. ı28 in Jacksonville, where Stevens frequently shops, he has gotten to know over many years a disabled employee, John.
"We've never been together outside of the store, but it's always good to see him when I do my shopping," Stevens said. "I've had the privilege of meeting associates with a developmental or intellectual difference who have been with us for 20 years."
Disabled employees, Stevens said, enrich the workplace they share with their fellow associates and enhance the shopping experience.
"All of our associates are devoted to serving our customers and serving each other," said Stevens, who started with Publix in custodial services just days after graduating from Kathleen High School in Lakeland and continued to work for the business while attending Polk Community College. "We believe in an inclusive work environment, and that brings value to everyone."
Harrell represented Special Olympics during the Torch Icon campaign at her home store, Publix No. ı05ı, located on Blairstone Road in Tallahassee.
"It was awesome," she said. "We wore our medals, and people were asking us what sports we competed in. It is very important that we have organizations like Publix that help us. Every time I go to the store, I thank them for all their support. They have gotten to know us, and they will help us with anything."
Harrell says she regularly attends practices overseen by coaches in preparing for competitions. Coaches are trained specifically to work with Special Olympians.
"Anyone can come out and coach," McNeil said. "It's better, obviously, if a person has experience in a given sport, but we truly could take a generic weekend athlete and make them into a coach."
To the extent possible, Special Olympics avoids removing components of sports or events as they are typically played, but adjustments are made in the spirit of reasonable accommodations.
In bowling, athletes unable to throw a ball down the alley may position a ramp, place the ball on it, and then push it toward the pins. Athletes unable to get to their feet on a stand-up paddleboard may sit or kneel instead.
Harrell stands up.
In tennis, she has developed forehand and backhand ground strokes and an overhead serve. She has participated in skills competitions in golf and will tell you about having rolled in a snake during a long putting competition at state. As a swimmer, she participates in freestyle and backstroke events. Her gymnastics specialties include floor exercise and the balance beam.
At state, she has won Athlete of the Year and Inspirational Athlete honors. To get to state, athletes must succeed in area and regional competitions.
"She is a very well-rounded athlete," McNeil said of Harrell.
Harrell was born with cerebral palsy and was diagnosed as an adult with neurofibromatosis, a rare nervous system disorder that causes tumors to form in the brain and on the spinal cord and nerves.
She lives independently and loved working at a daycare center until her medical conditions forced her to drop out of the workforce.
"Special Olympics gives me the courage to do things I wouldn't do otherwise," Harrell said. "Now I can do anything my siblings can do."
Too, Harrell enjoys the social aspects and other benefits of the Special Olympics.
"I get my glasses through Special Olympics, which is very important," she said. "Otherwise, I would have to go through my regular insurance, and I like the glasses I get from Special Olympics a lot better. They are more stylish for my age group. I love making friends at the state games and seeing them all the next year."
McNeil started volunteering with Special Olympics in 20ı3, a year after he graduated with a bachelor's degree from the University of West Florida. He coached swimming, surfing and sailing. In 20ı4, he became the Special Olympics director for Okaloosa and Walton counties.
In 20ı8, he both earned his master's degree in business administration from UWF and became the Northwest Florida director for Special Olympics. His responsibility area includes 23 counties that extend from Pensacola to Lakeland.
A big part of his job involves
finding practice facilities and locations for athletes. They include, for example, a church's basketball court in Panama City; athletes practicing watersports gather at The Bay restaurant on Choctawhatchee Bay in Walton County.
But, for Harrell, it's not all fun and Olympic games.
"I want to become a speaker for Special Olympics because I love it so much," she said, adding that she is participating in its Athlete Leadership Academy. "I am going through classes that will teach me how to speak in public, how to do interviews and understand leadership."
Harrell's voice rises and intensifies as she says, "They have helped me so much with my confidence."
A Drive for Justice
→ In the 1950s and early 1960s, Eunice Kennedy Shriver became aware of how unjustly and unfairly people with intellectual disabilities were treated. She also saw that many children with intellectual disabilities didn't even have a place to play. She decided to take action, and soon, her vision began to take shape. She held a summer day camp for young people with intellectual disabilities (ID) in her backyard. The goal was to learn what these children could do in sports and other activities — not dwell on what they could not do. Throughout the 1960s, Eunice Kennedy Shriver continued her pioneering work. She was the driving force behind President John F. Kennedy's White House panel on people with ID. She directed the Joseph P. Kennedy Jr. Foundation, and her drive for justice grew into the Special Olympics movement.
— from SpecialOlympics.org