Going Electronic
With travel curtailed, Bay EDA revises its marketing approach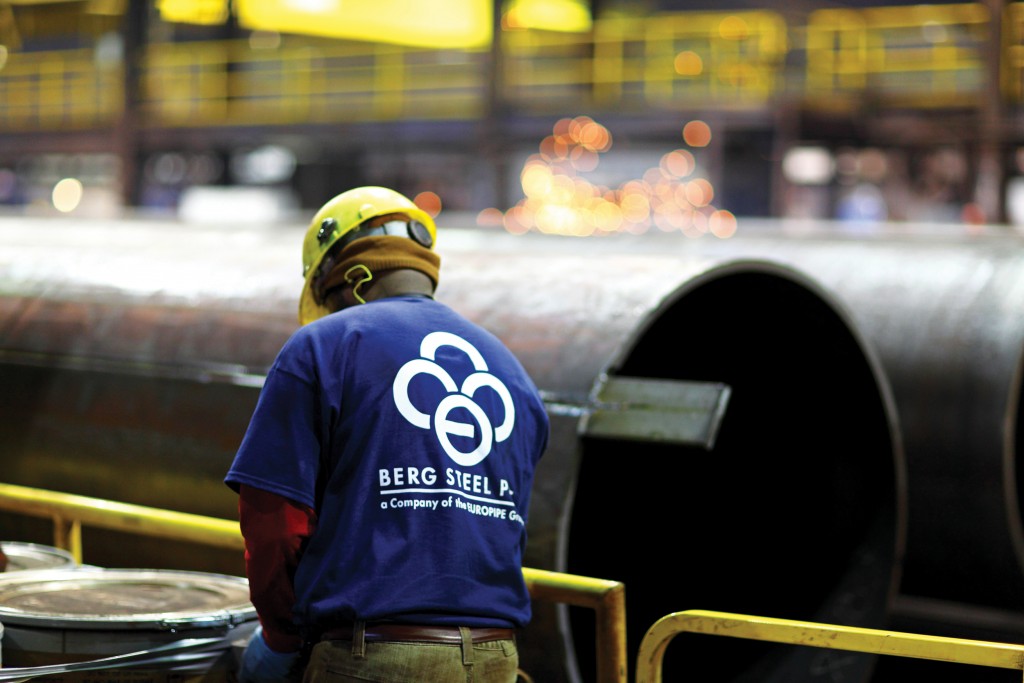 The Bay County Economic Development Alliance ordinarily conducts its employer recruitment activities in theaters around the world: Europe, Asia, Canada, Central America.
The emergence of the COVID-ı9 pandemic, with its impacts on international travel, forced the EDA to shelve travel plans and similarly affected several businesses that have committed to projects in Bay County.
"We have shifted our priorities under the circumstances," said EDA president Becca Hardin. "We are doing a lot to help out our existing businesses where we can, and we have been fortunate. The big players in our manufacturing sector — Berg Pipe, Oceaneering, Trane and Eastern Shipbuilding — were able to maintain their operations and avoid layoffs. They got really creative in modifying workstations to comply with social distancing recommendations."
Recruitment efforts continue but in new ways.
"We are placing an intense focus on our electronic marketing," Hardin said. "We are creating virtual site visits for companies who want to know more about Bay County but don't feel comfortable traveling. We shot aerial video of our business parks and supersized our buildings and sites on our website. And we have started a social media campaign."
Monthly EDA board meetings were being conducted via Zoom.
The pandemic halted progress that two manufacturers new to the county had been making. Both were working to retrofit and equip existing buildings for their operations.
Air Temp, an auto parts manufacturer based in Merida in the Yucatan Peninsula of Mexico, announced plans in May 20ı8 to establish as U.S. headquarters in Panama City and acquired the former Boyd Brothers printing plant on U.S. 98.
"They have renovated their building, and they had installed a crane system, were receiving equipment and were well on their way to hiring people when COVID-ı9 hit and everything was put on pause," Hardin said. "But they are still moving forward. They have contracts with Volvo and Volkswagen that they have to fulfill, and they are anxious to get back to work."
The pandemic affected but did not halt Air Temp's operations in Merida where the business employs 850 people. Shifts were streamlined, but the company was fully operational in Mexico as of late June.
Air Temp was launched as a designer and manufacturer of air conditioners and heat exchangers for the automotive industry. Renault Mexico was an early customer.
Volkswagen came on board in ı987. Air Temp's product line has been expanded to include condensers, evaporators, heaters, radiators, refrigerant gas and fans, and fan motors.
"As soon as international travel opens back up, they will come back up here and get things going with the Panama City facility," Hardin said. Renovation work has been confined to what was the newer building on the Boyd Brothers campus.
"Things look rough on the outside mostly because another building that they aren't using was heavily damaged from the hurricane," Hardin said. "They are trying to decide what to do with it. They may just take it down and build another warehouse over there."
Hardin maintains regular contact with company owner Jorge Habib, who told her this summer that his two sons would be moving to Panama City temporarily after international travel resumes and will oversee the startup of manufacturing.
Advanced Composites and Metalforming Technologies had built out about half of the manufacturing space at the old Honeywell plant in Lynn Haven when COVID-ı9 slowed progress.
The 33-year-old, Connecticut-based aerospace company specialized in its early days as a maker of adhesives and chemicals for aerospace applications such as bonding rubber to sheet metal parts. As of 2004, ACMT moved into areas including fabrication work.
With products ranging in size from an inch to 20 feet in length, ACMT operations employ robotics, lasers, waterjet cutters and computer numerical control (CNC) machining equipment, the latter involving computer software that dictates the movements of tools.
Work on office space has been completed, and ACMT was pursuing Federal Aviation Administration certifications required before they can start manufacturing.
"They are sitting on go. They have done as much as they can while waiting for activity to open back up," Hardin said, adding that she anticipated that hiring would start early in the fall.
Hardin said that despite delays related to the pandemic, the Casa Laxmi Foundation, registered in Florida and headed by Kiran Kulkarni, a private equity investor who lives in Toronto, remains committed to establishing an international boarding school in north Bay County.
"The plan hasn't changed," Hardin said. "The biggest thing is that they have closed on the property (260 acres on Fanning Bayou). They hired a local architectural firm to do the site planning and they are starting on the permitting process."
Students will be hand-picked by the school, according to plans, and enrollment will be limited to 300 students. Casa Laxmi had hoped to enroll its first students in grades 6–8 in 202ı, a goal that factors including the pandemic have placed beyond reach.
Clark and Son, Inc., a custom kitchen cabinet business, has located its distribution and final assembly headquarters in ı00,000 square feet of leased space at the Intermodal Distribution Center owned by Port Panama City. It had just begun to receive product via the port when COVID-ı9 shut down manufacturing operations at a plant owned by a partner in Merida.
"But their activity is heating back up," Hardin said in June, "and they are working with CareerSource on hiring."
Coming soon
Suzuki Motor of America Inc. announced in March plans for Suzuki Marine Technical Center USA to be built on a 20-acre waterfront property at the foot of Frankford Avenue in Panama City.
"We are planning a state-of-the-art Suzuki marine technical center that will help us develop, test and refine the best possible Suzuki outboard products for today and tomorrow," Max Yamamoto, president of Suzuki Motor of America, said in a news release at the time.
The Suzuki project team visited Panama City before and after Hurricane Michael made landfall in Bay County and, said Hardin, "commented on the resilience of our community and how everyone is working together to build a better Bay County."
An official groundbreaking has been postponed by the pandemic.
"We had been planning a big groundbreaking ceremony at the site," says Hardin, "and we will still do something when international travel opens up and Suzuki's executive delegation from Japan will be able to come over and help celebrate."
At this writing, Hardin was optimistic that two aviation-related companies would commit to Bay County, one at Panama City Beaches International Airport and the other at the nearby VentureCrossings commerce park owned by the St. Joe Company. Both prospects were approved for Qualified Industry Tax Credits before that opportunity sunsetted in June.
St. Joe and the EDA were disappointed last December when GKN Aerospace, celebrated as an anchor tenant at VentureCrossings, pulled up stakes, leaving its 60 Bay County employees without jobs.
GKN's departure came as a second big blow to the EDA, after Hurricane Michael and before the pandemic, arriving as a third challenge, validated what had been the fears of epidemiologists.
Hardin is nonetheless irrepressible.
"In Bay County, we are so lucky because we have a great public-private partnership," she said. "Everybody gets along, and we all know where we want to take our community. The hiccups have not diminished our resolve to make Bay County a great place to live and work."