Giving Northwest Florida business access to air, sea and land
VentureCrossings sits at the hub of a transportation network that can open the world to a business.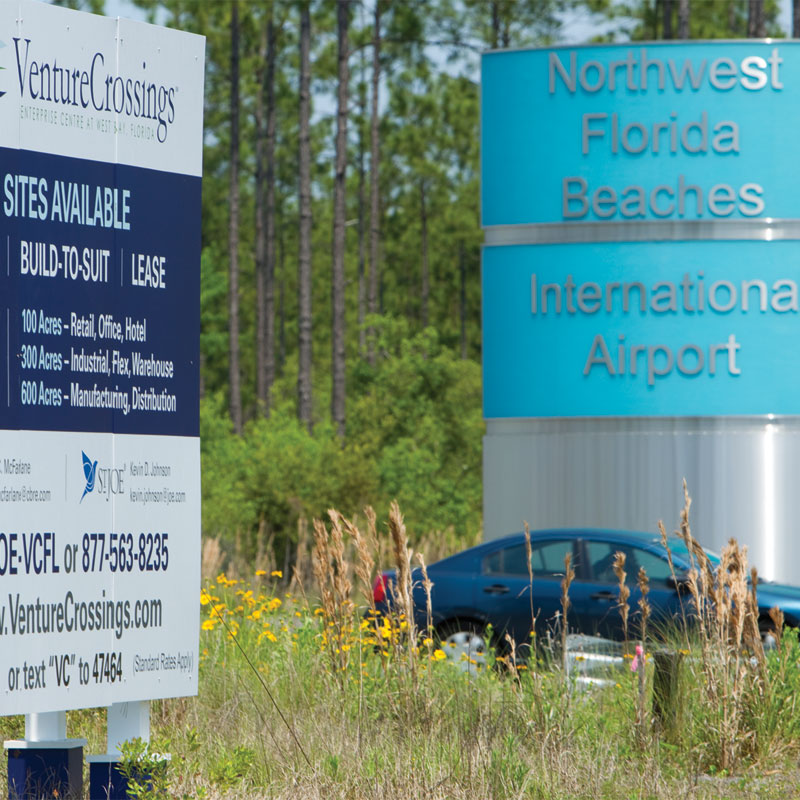 Aptly named, VentureCrossings is a 1,000-acre commercial real estate project that sits at the hub of a transportation network that can open the world to a business.
Under development by The St. Joe Company, it is one of the largest commercial projects in the country and includes plans for office space, retail, restaurants, industrial and manufacturing facilities and warehouses. The big plus? It's got access to a 10,000-foot runway at Northwest Florida Beaches International Airport — and to a nearby seaport, rail lines and a major east-west interstate highway.
"This is new space with so much potential," said Neal Wade, the former head of the Alabama Development Office who last fall joined St. Joe as senior vice president of economic development.
"Ten years ago this was only pine trees. It was a white piece of paper and you could do whatever you want — and with a brand new airport. The key part is that it is an international airport, and I believe we'll soon be having cargo flights from places like Europe and South America."
The first 100-acre phase of the project is where St. Joe plans to build its new corporate offices, having recently relocated its headquarters from Jacksonville to Northwest Florida. The second, 300-acre phase is now being marketed, and Wade believes it will end up being used mostly by companies involved in renewable energy and the aerospace sector.
"There are more than 300 aerospace and defense companies in the Northwest Florida region," Wade said. "The airport and VentureCrossings sits right in the center of the region's military bases."
The third phase, encompassing 600 acres, will have direct "through the fence" access to the airport runway.
Wade said St. Joe is currently focused on making economic development site consultants aware of the project and the region. With Northwest Florida having suffered tourism setbacks the last two years from the Great Recession and then the BP oil spill, "the economic challenges have forced leaders in a lot of areas to realize that you can't live on tourism alone. Economic diversity is a very important thing." This month the company will be talking up its venture at the Paris Air Show and has Asia, Central and South America and Cuba in its sights as areas of opportunity.
"We (at St. Joe) have been characterized as the 800-pound gorilla. With that comes responsibility," Wade said. "Owning about 560,000 acres in this region, we have a responsibility to help grow this economy."