Ghost Controls is Opening Gates to Opportunity
The gate-opener manufacture addresses wants and needs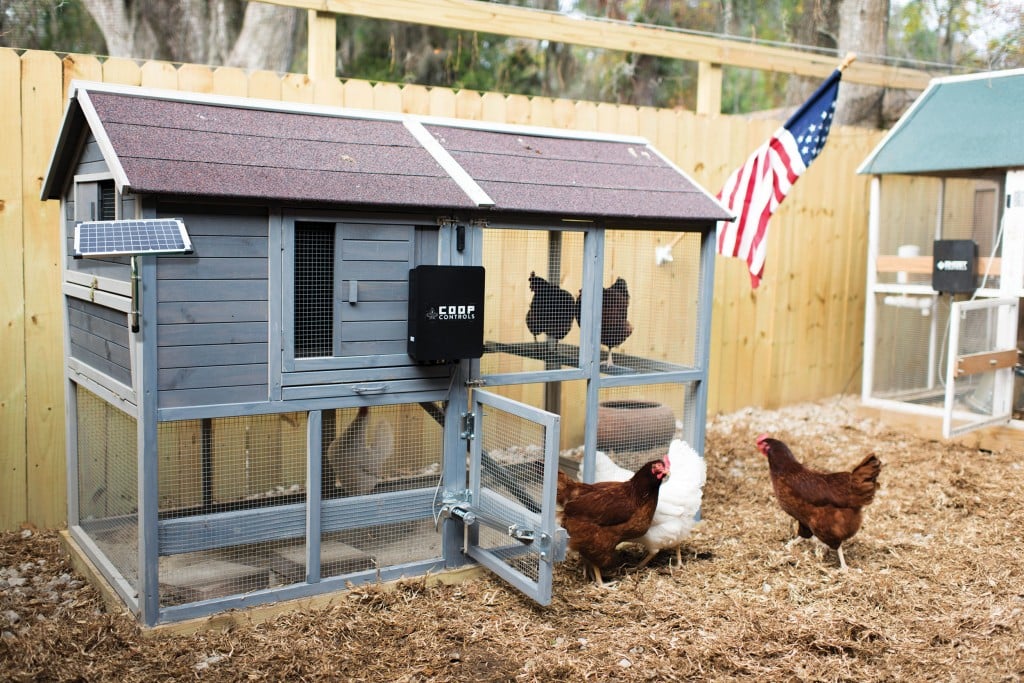 Never forget what got you to the dance.
Never lose focus on your core product and the need to continuously innovate to make it better.
Those are lessons that Joe Kelley has learned during his decades in business, the last few years as the president and CEO at Ghost Controls, LLC, a manufacturer of gate-opening systems.
"But if there is an opportunity to leverage what you are doing with your business and move into other areas, do the research, give it a shot and see what happens," Kelley advises.
For Kelley, the increasingly popular chicken husbandry hobby presented such an opportunity.
"I was amazed at how substantial the market is," Kelley said of a phenomenon that has been fueled by a desire among people to avoid cage-raised poultry pumped full of growth hormones — and boosted, too, by a pandemic-induced quest for new at-home activities.
Ghost Controls developed a new line of Coop Controls that react to light levels, opening coop doors as days begin to brighten and closing them after chickens go to roost.
"We have done incredibly well with that product," Kelly said. Research prior to product launch included use of a raccoon cam trained on a chicken coop behind the former Ghost Controls office on Capital Circle Northwest. Live streaming video enabled Kelley et al to gain valuable insights into the operating hours of predators.
Kelley, an FSU grad with a business degree, helped found the region's Economic Development Alliance and served as president of the Greater Tallahassee Area Chamber of Commerce. He first worked with gate openers more than 20 years ago when he went to work as a problem solver for a fledgling LLC, GTO (Gates That Open).
GTO toyed around with an idea that Kelley would later seize upon: Produce an affordable gate opener that a homeowner could install without calling upon the services of a professional. GTO's efforts to do so were fraught with a high defective ratio and were placed on a back burner by the new owner when the company was sold.
Some five years ago, Kelley assembled a five-person team that picked the DIY gate opener concept back up.
"I knew three things about consumers in North America and beyond," Kelley said. "They wanted openers that were faster, quieter and more reliable."
The team set about revolutionizing gate openers in much the way that Dyson disrupted the world of vacuum cleaners.
"What Dyson did was to take a consumer product that had not changed much in 100 years, arrive at better motor technology through engineering and produce motors that would last forever," Kelley said. "It was our goal to do that on the gate automation side."
Kelley wrote a strategic plan that afforded his team 18 months in which to design, prototype and test a product.
"We did that, we got patents on designs and features and prepared to go to market," Kelley said. "I was blessed to have a lot of friends who were leaders in the business community, and I shared with them my offering memo and my prospectus. Within about 45 days, I completely capitalized the company."
Kelley started Ghost Controls in a small office located behind a gas station near his house and used his garage as a machine shop. The business started selling product in 2017. It now occupies nearly 50,000 square feet at Commonwealth Center across the street from Kelley's workplace during his GTO days.
Ghost Controls is well on its way to becoming a $50 million company with fewer than 50 employees. Online reviewers consistently give its products high marks.
"People complained about openers that they had to be right on them before they would connect with the radio frequency signal," Kelley said. "They said they had to wait forever for a gate to open, and 'waiting forever' for a consumer is about 11 seconds."
Ghost Controls addressed those issues and more. They added "partymode," an option that can be activated so that a gate stays open when a lead vehicle and several following vehicles arrive at a gate at the same time. SafeForce technology enables the gate system to distinguish between wind resistance and a hard obstruction. Ghost Controls offers lifetime warranties on its motors.
"Innovation, research and development and bringing new products to market will always be part of our model and our success," Kelley said. "Because as soon as you stop doing that, you end up not being able to answer quickly someone who comes out with something more innovative.
"A great question to ask in business is what are consumers paying for today and what will they be willing to pay someone for in the future. You want to be that someone."
Kelley encourages anyone working to launch a business to find the time to surround himself with good people.
"Develop your own group of advisors who are very good at what they do," he advises. "Choose people who are successful because they have been innovative, who know how to create a winning culture and create a great strategy. Find someone who knows how to see to the professional growth of people. If you are not growing people, you'll have to let them go in five years when you'll need another level of talent."
Kelley has found that successful people want to help others achieve success.
"They love to see people who want to do it the right way by working hard, sacrificing and making tough decisions," he said.
In the company's formative months, the Ghost Controls quintet generated a list of seven boxes representing features that it intended its technology to offer.
"If we couldn't check all of them, we weren't going to proceed," Kelley said.
Team Ghost Controls checked all seven, and the business has grown by an average of 109 percent per year since 2017.
That ain't chicken feed. λ