Get Booking
Young entrepreneur Greg Fisher has overcome challenges to turn TripShock, a travel booking company, into a success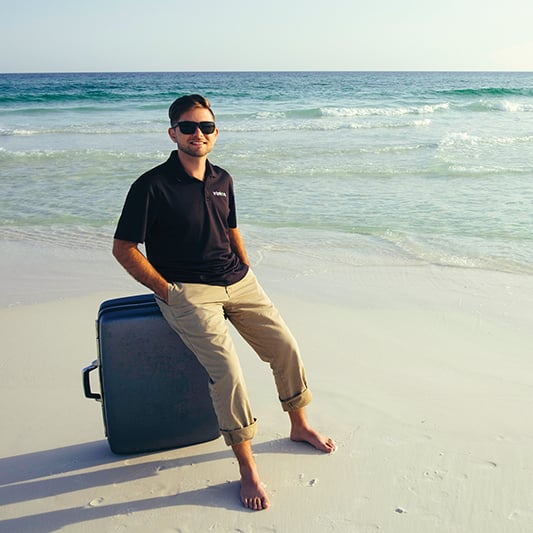 Greg Fisher says he "never was an entrepreneurial person" until he turned 16 and became interested in the stock trade. Since then, he hasn't slowed down.
In his junior year at Orlando's University of Central Florida, Fisher became "fascinated with the internet" and spent $7,000 — his life's savings — to launch a restaurant site called DinersNation.com (a Yelp-type venture). He sold it at age 25 for $40,000.
"I knew I had to go full speed or not at all," he now says of his initial startup. "It opened up a new world to me."
At age 32, Fisher is now an entrepreneurial powerhouse. In 2009, he co-founded the Santa Rosa Beach-based company TripShock, which he built into a business that grossed more than $4 million in 2016. His spirit, success and sweat equity are just some of the reasons the Pensacola-based Studer Community Institute named the exuberant CEO Entrepreneur of the Year in 2016.
The award recognizes the achievements and economic impact that entrepreneurs and businesses have on a community.
"In seven years, Greg Fisher's TripShock.com grew into the Northern Gulf's largest online travel agent for family-friendly tours and activities," the Studer Community Institute stated when announcing the award. "By focusing on a specific category of the leisure travel industry, TripShock saw 703 percent growth in four years."
The firm "stood out as exemplifying business success through investing in their people and having excellent customer service," says Pensacola entrepreneur Quint Studer, founder and CEO of the Studer institute. "The company's call center is 100 percent staffed with local customer service representatives and was named as one of the top 500 fastest-growing companies in America by Inc.com, which is a great accomplishment."
The Studer award touted TripShock as the "go-to booking site in the region and a voice for the small businesses the company sells."
TripShock books tours and activities, for a commission, working with 175 providers from Panama City Beach to New Orleans, including purveyors of fishing trips, sailing, parasailing, magic shows, helicopter tours, swamp tours and dolphin cruises on the coast. New Orleans providers also include river cruises and walking and pub crawl tours.
TripShock books an average annual gross of $30,000 per provider and receives a percentage of those sales.
Fisher said he was "blown away" by the Studer institute award, adding, "I have worked so hard and I'm so passionate about what I do. In a way, I felt like this award validated all my hard work."
That hard work began when he was building his DinersNation.com website while pursuing a degree in hospitality management. After graduation, a driven Fisher continued to grow the business, which enabled him, at age 23, to buy a house in 2009 when prices were still lower from the recession. In 2010, five years after starting the site, he sold DinersNation.com to Swedish investors.
Fisher was also working as director of sales and assistant manager at the Candlewood Suites hotel in Miramar Beach when a family friend asked him to work with her on an online concierge service.
Not long after launching the site, the BP oil spill began on April 20, 2010.
"Nobody wanted to go in the water, and 90 percent of our activities were water-related," he says. Despite finally receiving a "decent settlement from BP," it wasn't enough of a boost for the business. In desperation, Fisher and his partner began diversifying to other markets, such as Hawaii, Miami and New York City, without much success.
"It's very hard to go into other markets if you don't know the right people and the logistics," Fisher concedes.
So TripShock renewed its focus on the Emerald Coast. Then, in 2013, two Indiana girls were seriously injured in a parasailing accident in Panama City, affecting that business, and there were more challenges, such as lots of bad weather.
Fisher was a young father paying a mortgage and trying to make ends meet.
"I was always looking for ways to make an income when business challenges arose," he says, noting that there were times when he sought personal loans.
"It was really tough on us. My wife deserves a lot of the credit because she stuck around and she believed in me," says Fisher, who has a daughter and son, ages 5 and 2, with his wife, Christine. "You don't see a lot of entrepreneurs with young kids. I kept promising my wife it would get better, that I would give everything I had to make it work."
And he did.
"If I needed to, I'd do consulting work, freelancing, building websites," Fisher says. "I wrote content." TripShock also provided reservation software to tour and activity companies.
In 2014, he acquired TripShock from his partner and brought on new associates, including new partner Alex Benko, his chief technology officer, to help accelerate and grow the company.
That proved to be a big year for the company, with annual sales totaling $2.4 million — representing 2,386 percent growth since 2011. Annual sales in 2015 were $2.9 million. In 2016, TripShock had $4.2 million in annual sales.
In 2014, TripShock also garnered national attention, ranking 173rd on the Inc.com list of the 5,000 fastest-growing private companies. The annual list represents a large portion of America's top privately owned businesses, including Yelp, Pandora and Zillow.
TripShock is up 150 percent for the first quarter of 2017 compared to the same time last year, Fisher says.
A small but growing segment of TripShock's business is destination sites. It has purchased NavarreBeach.com, PensacolaBeach.com, OkaloosaIsland.com, DestinBoardwalk.com and, most recently, CoastalAlabama.com.
Buying domain names is a big deal for the firm.
"It's why advertisers are coming to the table," Fisher says. "They know we put a great deal of money and resources into buying the names, so we must be pretty serious about promoting them."
TripShock also has a deal with the popular site 30a.com and now works with VRBO, which links visitors to tours and attractions.
Fisher says that one key to growing his companies has been a willingness "to take the risks associated with big gains. When businesses fail to evolve or change, that's when they start regressing. We're always putting something new out. You have to know your industry."
He also credits his knowledgeable team, all tasked with building personal relationships with their clients.
"Every one of my clients is an entrepreneur," Fisher says. "We talk with them every week. We want to know about their challenges."
Those challenges can be technological. Some of his clients "have been working with pen and paper since they can remember. It's difficult to change." So TripShock steps in to help navigate the system and enhance bookings.
In turn, Fisher isn't afraid to ask for help. He also works with consultant and mentor, Martin Owen.
"I'm 32, but I look like I'm 22; so when I go into meetings, people write me off, or when I call them, they write me off because I sound young," Fisher says. Owen "helps me get in the door. And once I'm in the door, I can sell. I'm passionate about what I do, and I know the industry really well. I'm obsessed with it."
And that's an ingredient to success and growing your companies, he says.
"You have to be obsessed if you want to be a power entrepreneur and you want to be successful," he says. "I'm constantly reading industry news, researching competitors to see what's new."
Fisher says he enjoys talking to budding entrepreneurs because he understands their challenges.
"Sometimes you're going to be at the bottom and you're going to have to figure out ways to get yourself out," he says. "I've been there plenty of times. There are going to be tough days, but realize that a lot of big companies start in garages. You need a lot of sweat equity to keep it going."
And, perhaps, you need joy.
"To me, it's fun," he says. "And if you're an entrepreneur and it's not fun, you have to get out."