Gateway to West Florida
The FloridaWest Economic Development Alliance is setting the stage for development in Pensacola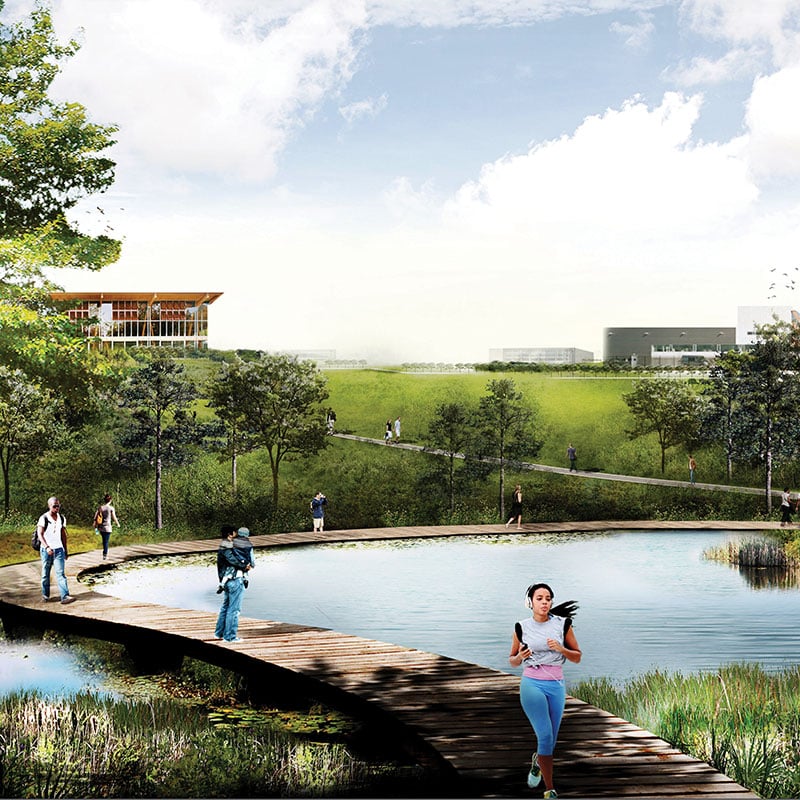 When the economic development arm of the local chamber of commerce decided to become its own entity two years ago, local leaders knew that branding would play a major role in crafting its core mission. That's how "FloridaWest," the economic development alliance serving Pensacola and Escambia County, came to be.
"When we went through that process, we wanted something that was reflective of the area we represented and, obviously, Pensacola/Escambia County," said Scott Luth, chief executive officer of FloridaWest. "We are the most western part of Florida, and so it tied into that. We also wanted to take advantage of the brand and the recognition of the state of Florida, which has a wonderful name globally."
There's more to "West" than meets the eye, however. Sure, it's a geographic location, but it's also an acronym loaded with meaning, Luth explained. The "W" stands for wealth development, which is the agency's primary focus. The "E" stands for economic partnerships. The "S" is for sustainable businesses and "T" stands for a transformed workforce.
Although the acronym is only four letters, there are actually five core missions in play with FloridaWest's economic development efforts. The alliance has a business retention and expansion program and a recruitment program, manages a small-business incubator to grow local businesses, and a workforce development initiative that works with education partners to meet job growth demands. It's also engaged in developing new commerce parks, industrial parks and tech parks.
"The majority of work that we do and the companies that we work with and support, they are all net importers of wealth into the community," Luth said. "And the way we define that is that even our small-business incubator companies are creating or developing a product or service that will be sold outside the region, primarily. And that's sort of how we define who our customer is. So that is what we're looking for. Not that our retail and service community isn't important, because it is, and so is our health care industry. But we have others in the community that focus on those sectors. We have a full-time tourism department and a great, strong chamber of commerce that supports that. Our focus is primarily on companies that produce a product or service outside the region."
Targeted Industry Sectors
In a city with a strong military, shipping and financial presence, it's not surprising that FloridaWest targets companies that would fit in well with what's already in Pensacola.
"We obviously will work with anybody that calls," Luth said. "We support a lot of different companies, but the ones we kind of focus on — and focus our resources on — are our financial and business services companies, such as our Navy Federal (Credit Union) and those types of companies that focus on the financial services sector. There are information technology companies, our port facilities, our aviation manufacturing sector, and obviously our defense and homeland security with what's going on with NAS Pensacola, both in the public and private sectors."
It doesn't end there. FloridaWest, Luth said, has "unique opportunities" for recruiting some energy-intensive industries that would need ample utility resources. That's something Pensacola has in place with providers such as Gulf Power, Pensacola Energy and the Emerald Coast Utilities Authority.
"The big electrical, gas, water and sewer companies are a target for us as well because of the resources we have in our community. And so those are growth opportunities and targets for us," he said.
Partners in Business
FloridaWest couldn't get very far without local partnerships. The city, county and private-sector board members are deeply involved in supporting the alliance's mission on a day-to-day basis.
"We are the acting agency on behalf of the city of Pensacola and Escambia County. That's what they fund us to do, is to do economic development work on behalf of this area," Luth said. "Outside of that, we could not be successful without Pensacola State College and the University of West Florida, the Escambia County School District that has the career academies, and George Stone Technical Center. The Workforce Escarosa Center, our employment office here, is a big partner in the success of what we do. And then, obviously, our utility partners. That's how we build our team, using all those things that go into the success of a business."
The Bluffs
Billed as "Northwest Florida's Industrial Campus," The Bluffs is a 6,000-acre, master-planned development suited for industrial and manufacturing located just north of Pensacola. The Escambia River borders it to the east and the University of West Florida is to the south. The Emerald Coast Utility Authority, the community's wastewater treatment plant, is located there, as is Ascend Performance Materials, a large nylon manufacturing company. The site features access to road, rail, barge and air service. There are more than 1,700 acres of developable land and enough space to house 60 new tenants and create 15,000 or more jobs.
"The Bluffs is a long-term strategic plan for those heavy energy-intensive type companies," Luth said.
Gulf Power, the University of West Florida, the Emerald Coast Utility Authority, Ascend and the Florida Department of Economic Opportunity are collaborating with FloridaWest on the 20-year development plan.
"We are marketing and promoting the site, but we are promoting the site to your larger, heavier type of companies that would really be similar to what's out there now," Luth said. "We went through strategic planning and sort of a high-level master planning process this past year, and so what you see there from a marketing perspective is the outcome of the recommendations. Now it's a matter of going back and beginning to implement that plan, which is furthering some of the infrastructure out there."