Future Pathways
Tallahassee business proves that accessibility and acceptance benefit everyone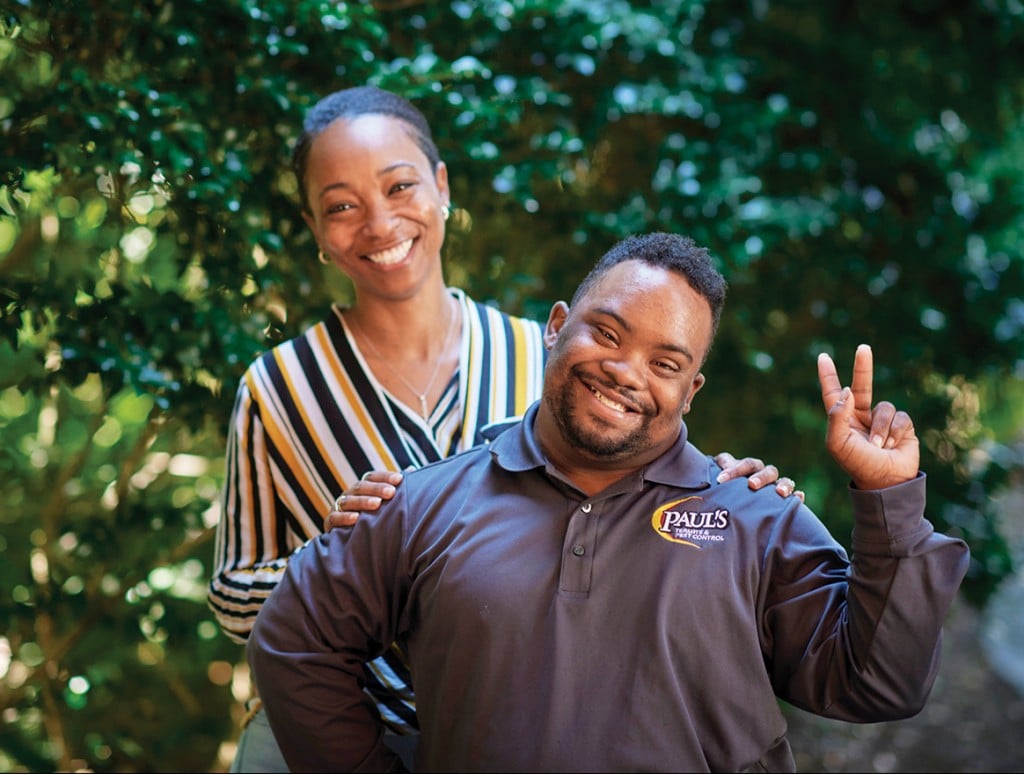 The offices at Paul's Pest Control have never been as clean as they are under Shamari Glenn's care. Each doorknob, toilet and baseboard receives meticulous attention, and each task is carried out with a persistent smile.
Shamari's mom, Stephanie Glenn, is a manager at Paul's, and when she posed the idea that her son take over for the once-a-week cleaning crew, her boss wasn't sold.
"He isn't unsure anymore," Stephanie said. "He said Shamari has really made a difference … Future Pathways is what opened their eyes to that possibility."
There are a few things that are important to know about Shamari. He's 26, loves to dance and draw, and every morning, he greets every person in the office by name. He also lives with a disability that creates some cognitive difficulties and limits his ability to communicate verbally, a fact that once made Shamari reluctant to branch outside of his comfort zone. Now, his coworkers at Paul's say he is their "little sunshine" in the office, always friendly and happy to help.
This shift, Stephanie said, is by and large a result of Shamari's work with Future Pathways.
Future Pathways is a Tallahassee-based business that provides career coaching, job placement and life skills training to teens and adults with disabilities throughout the Big Bend Region. It was founded by Abby Hallett and Amanda Lewis, two former Leon County School System special education teachers with a mission to empower adults with disabilities through independence and professional experience.
Building a community where adults with disabilities don't simply survive, but thrive, requires buy-in from the businesses in that community, a movement that Hallett and Lewis have been excited to spearhead in Tallahassee. Future Pathways puts on frequent presentations through the Chamber of Commerce and other avenues to educate business owners on the benefits of and misconceptions around hiring someone with a disability.
"Some of our favorite business owners are Danny and Tracey Shrine at Full Press Apparel here in Tallahassee," Lewis said. "We invited Danny to speak to the truths of hiring a person with a disability because he has hired some of our clients before. My favorite thing he said was, 'Hiring anyone is a risk. You never really know who you're hiring anyways, so why not give someone a chance who has the support of a job coach and the motivation to work?'"
Hallett and Lewis take a hands-on approach in their clients' job searches, training and continued support. They contact the prospective employer prior to the interview, assist in preparing documentation and work with employers to establish simple, cost-neutral accommodations in the workplace. After their clients secure employment, Hallett and Lewis provide ongoing consultation and training for any additional needs.
"Statistically, research shows that our clients have a much lower turnover rate because they are so much more stable," Lewis said. "College students are going to move away, high school students are going to move away, but our clients typically stay in one location."
"Especially in entry-level positions," Hallett added. "You hear about restaurants who can't find good people, and our clients tend to be very dependable. They really want to work."
Hallett and Lewis earned their master's degrees in special education from Florida State University, and unlike most of their peers, both felt called to work with the adult population rather than children. After roughly six years working in the Leon County School System and moonlighting with the Agency for Persons with Disabilities, the two young teachers became keenly aware of the gap in services between children and adults with disabilities.
"I think we started to get a little panicky about our students when they graduated," Lewis said. "We are all lifelong learners. Just because these people finish high school and may not be college bound doesn't mean that they shouldn't still have options for things to do in the community."
Since getting its start in 2020, Future Pathways has changed the lives of dozens of people with disabilities around the Big Bend region, but the impact has not stopped with its core clientele. The dedicated work of Hallett, Lewis and their staff creates a ripple effect stretching out to their clients' families, friends, co-workers and strangers.
"When Shamari started working for us, we included him in our monthly newsletter, referenced Future Pathways and talked about how we were excited to have him as a new employee," Stephanie said. "The response that we got from our customers was amazing. We had emails from customers saying, 'It just makes me feel so good to work with a company that is making these kinds of decisions.' "
Shamari's success story is one of many to emerge from Future Pathways and demonstrates how an open mind can open doors.
"You would be surprised at the difference that a person can make not only to the work environment, but also to the environment in the office," Stephanie said.
People with disabilities have a different perspective, and they often see things in a more positive light than the average employee, she added.
"There is a huge benefit to having a person who helps everyone around them understand the importance of acceptance, tolerance and patience," Stephanie said. "I believe people with disabilities are some of the best people in helping others to understand that because they do it unconsciously and without asking. It's just who they are."