Funeral Homes & Cemeteries' Main Goal
Customer Satisfaction is The Primary Goal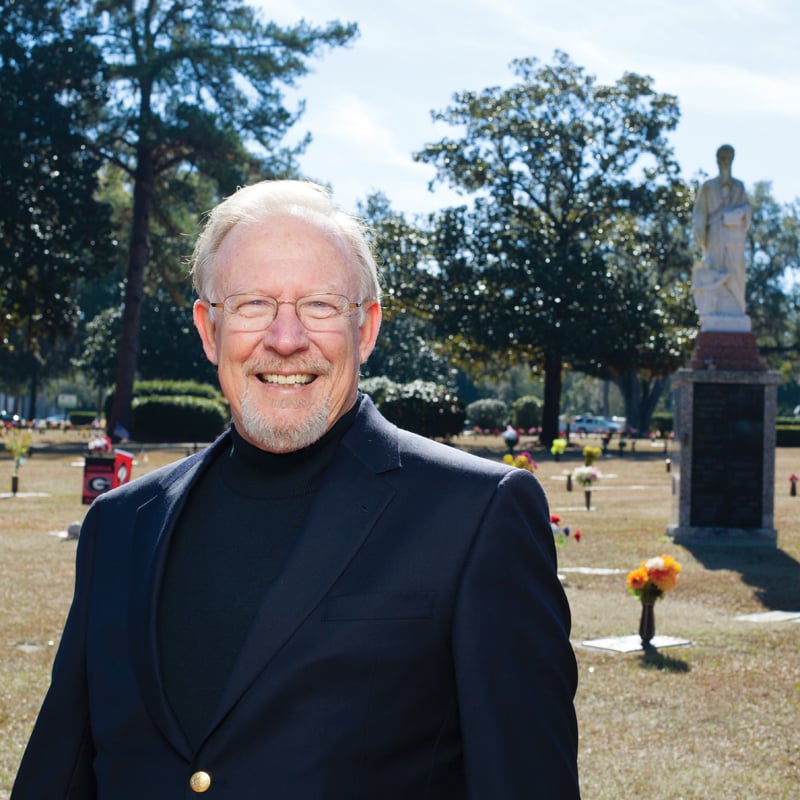 ---

Laina L. Hicks, general manager of Abbey Funeral Home and Tallahassee Memory Gardens, was taken aback by an odd request. It proves, though, that the customer is always right — even in death.
"You know what I just had to put on a lady's marker? And I had to call the daughter to double-check to be sure before I sent the order off?" asked Hicks, who has been in the funeral home business for four decades. "She wanted, 'See, I told you I was sick!' I've got it ordered, and it's going to be there."
It's a distinctly human trait: We're the only living things that intentionally bury our dead for the practical purpose of disposition of remains and the more sentimental purpose of memorialization. We've laid our loved ones to rest in family plots behind countless frontier log cabins, in rocky ground along remote wagon train trails, in well-manicured garden cemeteries of statuesque obelisks and monuments overlooking towns and cities and in humble churchyards throughout the land. Today, there are city cemeteries, private family plots, church cemeteries and "perpetual care" for-profit cemeteries that keep up in perpetuity the maintenance of the gravesites of our dearly departed. Licensed perpetual-care cemeteries are privately owned, either by individuals or large corporations, and are audited by the state of Florida.
"Licensed perpetual care means that they take care of it forever," said Hicks, who noted that there are two such facilities in Tallahassee. "The families don't mow, the families don't edge; the families have an issue with a grave, they come to the office. We're responsible, forever, for keeping a cemetery."
There are "non-care" cemeteries, too, but that designation is deceptive. At a non-care facility, it usually falls on the family to care for their area, such as in a church cemetery, which is not audited by the state and is set up according to that particular church's own rules. Then there are nonprofit city cemeteries operated by a city such as Tallahassee, and the city is responsible for the upkeep of certain public areas. Taxes pay for that kind of maintenance.
"But they do sell their property, which means a family has to buy their property from the city, so that gives them some money to work with," Hicks said.
Then there are the "combination" outfits, the cemeteries with attached funeral homes. Hicks manages that kind of operation. And it's a full-time occupation. Seeing to the needs of the client family is one thing and takes great care and sensitivity. Beyond that is the upkeep of the business itself.
Matt Burke
Art Kimbrough, president of The Overstreet Company.
"It's an ever-growing expense, so yes, we are for-profit, but let me explain how much money it takes just to keep the cemetery going weekly," she said. "You have to have the equipment (maintained), and if any damage occurs to a marker we have to replace or repair — whichever we can do to satisfy the family. So it's not just we bury and that's the end of it. It's forever. You're always doing something. I have equipment every week that I'm having to repair. So it's a constant thing."
Not only do vehicles and power tools need gas and oil and regular maintenance, but cemeteries and funeral homes are not immune to acts of nature, according to Art Kimbrough, president, CEO and founder of The Overstreet Company. His company owns, operates and manages funeral homes and cemeteries throughout the Southeast, including Tallahassee Memory Gardens.
"Dirt is dirt and grass is grass, and that's got to be mowed and kept, but if you have storms you have to watch out for erosion and other kinds of things that are there," he said. "Tree growth has to be managed so that they don't uproot things. Trees can also fall over, so it's just like any other kind of thing you can imagine."
When Hicks sells property of any description — whether it's a space, a mausoleum for an entombment or a niche for "cremains," the ashes of a cremated body — 10 percent of the money has to go into a perpetual-care trust fund.
"That's so one day, when all the property here in, say, Tallahassee Memory Gardens has been sold, there is money to still maintain the cemetery," Hicks said. "We cannot go in and pull that out. That stays in there to maintain."
By the Numbers
According to the National Funeral Directors Association (NFDA), there were 32,800 funeral directors in the United States in 2012, and the number of funeral service workers was expected to grow 12 percent between 2012 and 2022. The revenue stream from funeral homes and crematories was expected to reach $16.2 billion in 2014, and that revenue had increased 5.2 percent per year between 2011 and 2013. Approximately 86 percent of funeral homes in the United States are privately owned by families, individuals or closely held companies. The remaining 14 percent are owned by publicly traded corporations.
The average NFDA-member funeral home handles 113 calls per year and has three full-time and four part-time employees. The national median cost of a funeral in 2012 was $7,045. If a vault is included, the median cost is $8,343. (A vault is an in-ground box that encloses a casket and keeps the surrounding soil from sinking.)
According to John Ricco, executive director of the Florida Cemetery, Cremation & Funeral Association, there are 167 licensed cemeteries in Florida, and 91 of those are corporately owned. There are 17 licensed cemeteries in the 850 area code (excluding city cemeteries and national cemeteries). In 2013, there were 887 licensed funeral homes in Florida, 98 of which were in the Panhandle. There are 2,313 funeral directors in the state, 180 of them in the 850 region.
The Price is Right There
According to the Federal Trade Commission, funeral homes must have published price lists to show to families so there are no hidden costs anywhere.
"You have to show them every one of these prices for your caskets, your services, everything. So it's not just you sitting down and making up prices, you have to have published prices," she said. "It's the same thing when you're selling a pre-need, you have to show them."
Kimbrough said that doesn't stop a company from setting whatever price it thinks will cover the cost of doing business, but it still has to be published and available to the customer.
"If we want to change it, we have to republish the price," he said.
Costs being what they are (and rising every year), it actually behooves people to start thinking about the unthinkable, and planning for the inevitable, sooner rather than later. You can save yourself not only money but time and unnecessary headaches by locking plans down now. Besides, you can't think logically or make a major purchase when you're emotionally compromised in the wake of a death. So anything you can do ahead of time is great. That's called "pre-arranging."
"We're licensed to sell pre-arrangements. So a family can buy a pre-arrangement in the cemetery, or in the funeral home, at today's price, select everything they want, make all their own decisions about how much money is to be spent and pay for it at today's price," Hicks said. "I'm servicing people from 25 years ago. They're not paying another dime for what they have purchased. That's locked in. So what an advantage for families that they can pay for it, make a down payment and pay so much a month and get what they want."
That kind of arrangement gives families a peace of mind that's priceless. Still, it amazes Hicks that more people don't do it.
"From the time we take our first breath we actually start the dying process, so at some point as an adult we should at least have a discussion," she said. "And if your parents don't have it, (their children) should at least sit down with them even though sometimes we don't want to — myself included, with my own parents. And I was in the industry. But when it came time, it had to be addressed, and it was better to address it when everyone was in good health and we could sit around and talk about it."
A Well-Regulated Industry
Regulation in its current form, especially for cemeteries, began in the 1950s and then, for funeral homes, in the decades after, according to Wendy Wiener, a Tallahassee attorney who represents all segments of the death-care industry in Florida.
"But the law really morphed into a single regulatory scheme for all of the death-care industry (cemeteries and funeral homes) in the early 1990s," she said.
Prior to that, cemeteries were regulated by one agency, funeral homes were regulated by another agency and pre-need by a third.
"It has proven beneficial to both the industry and the public for the regulation to be by a single agency," Wiener said.
Before there was significant regulation, Wiener said there weren't "voluminous problems" in the industry because prior to the existence of commercial cemeteries and their regulations, many cemeteries in Florida were either administered by religious institutions or were nonprofits related to particular ethnic groups. In either case, members were well taken care of.
Today, however, she said, "It's a much more streamlined process and it's much better for the consumer because in the past, if the consumer had a concern about a death-care matter or contract, the consumer might not know who to turn to. It was harder for consumers to know where to get their questions answered."
Meanwhile, though many laws and rules exist, they're not unduly burdensome, and it's relatively easy to start up a death-care service.
"I would say in comparison to initial entry for some other industries, obtaining a death-care-related license is less difficult," she said.
The initial entry cost to get into the cemetery business could be high in terms of the licensing fees, and that would run in the $5,000 range. The potential licensee has other incidental fees as well, such as fingerprinting, but taken as a part of what it would cost to get a cemetery venture going, that's a small part of the startup cost.
A failure to comply with the regulatory scheme can cost a business in many ways.
"Where expenses add up is when a company fails to comply, and it is then the subject of disciplinary actions. That's where it can get expensive," Wiener said. "In terms of soft costs, when a licensee has a significant disciplinary problem, it has then impacted its reputation, not just with the regulator, but with the public, because the media can pick up such a case and run with it."
Funeral homes and cemeteries can and will be shut down if they don't comply with the rules or correct problems that have been uncovered.
"Fifty years ago there were some bad actors that would take money and not (put it in the required trust account) and problems occurred, but those sins of individuals in an industry were corrected over time," Kimbrough said. "Legislation was put into place to highly regulate and prevent those kinds of things. So it's very safe in today's environment for consumers who are buying pre-need policies. There is very little risk of abuse anymore that was once there 50 years ago."
A Green Disposition?
Just as there are many types of cemeteries, so too are there different types of burial or disposition. Some are more exotic than others (such as chemical dissolution and launching cremains into space), but the more conventional and traditional methods include the classic below-ground casket-in-vault burial with a headstone, above-ground entombments and cremation.
Today, the environmental movement has spawned a new interment industry: "green burial." It's a bare-bones (no pun intended) approach to burial that intends to be completely natural. For example, there are no embalming fluids or vaults, and your remains are placed in a biodegradable container or shroud. According to the Green Burial Council, the whole idea is focused on promoting conservation and reducing the environmental impact of our final resting place. There are at least two green burial sites in Florida — Glendale Memorial Nature Preserve in DeFuniak Springs and Prairie Creek Conservation Cemetery in Gainesville.
Glendale Memorial Nature Preserve is a 350-acre former farm marked with fields, creeks, ponds and pine forest. About 70 acres has been set up as a "green" cemetery, according to John Wilkerson, 66, who grew up there and started the nonprofit memorial park in 2002. A nine-member board of directors manages the preserve, and because it has only one full-time employee, it relies on volunteers to make a go of it.
That said, though, Wilkerson said green burial simplifies modern burial practices and conserves land. There are currently 79 people buried at Glendale — but there are pets as well: 17 dogs, 10 cats, one chicken, one guinea pig and one goat.
In contrast to a conventional modern burial's cost, Glendale charges $1,800 "for opening and closing" the grave space at time of need, Wilkerson said. A nearby lumber mill sells wooden, biodegradable caskets for around $500 — which can conveniently be used for shelving and storage until they're needed, he added.
"People are in desperate need for something that works and doesn't cost $10,000 or $20,000 and saves the planet's resources," he said.
Wilkerson said that in time, green burial could be as commonplace as cremation is today simply because it eschews the use of toxic preservation chemicals, costs less and gives the survivors a better way to reach closure.
"It appeals to people with an aversion to embalming and people who are looking for a more satisfying method to deal with grief," he said. "They are allowed to actually lower the body into the grave, and we encourage them to shovel in dirt and participate in the burial. And that physical activity helps in the grieving process."
Green burial may have appeal but doesn't exactly have a large market share — yet.
"If I saw the need here, if there was a lot of interest in the green burials, then definitely I would consider an area that we could investigate and explore having a green burial cemetery area," Hicks said. Kimbrough agreed.
"If the market says they want it, we will provide it. But the market is not telling us in Tallahassee," he said. "The only time it's come up for me is people have read about it somewhere and they're curious and they're asking are we doing anything like that. But in terms of asking for it, no."
Ultimately, just like other businesses, funeral homes and cemeteries have to do two basic things, Kimbrough said.
"You got to meet the needs of your customer, and successful cemeteries and funeral homes are those that meet the needs of those folks. In this business care, compassion, sensitivity, options available, follow-up, all of that goes into it. Any kind of customer service experience has to be done with excellence," he said.
On Sacred Ground
Being buried on sacred ground — either near a church or inside a church — has always been a great Christian tradition, according to Father Andrew Rowell of St. Peter's Anglican Church in Tallahassee. The 2,000-member church has existed for 10 years, but a new cathedral resembling a classic, Old World church opened less than a year ago.
Interments inside the church's new cathedral are strictly for cremains only. Columbarium niches are made available to the church's parishioners in the cathedral's apse, altar and undercroft crypt, which is located beneath the church. A church brochure states, "In a time when environmental consciousness prods us to use less space for burial, a columbarium allows us to inter human remains with reverent respect in a sacred space that is both convenient and compact." In all, the cathedral offers interment space for 3,500 souls, with the majority of those occupying the undercroft because it has the most space, Rowell said. The undercroft was still under construction in January, but renderings depict a quiet gallery with benches and a candle altar.
As the new cathedral was being built, the church offered "construction prices" to parishioners who wanted to buy a crypt before prices increased after construction. Those "construction prices" ran from $3,500 for an undercroft single crypt up to $20,000 for a place in the sanctuary. Post-construction prices will range from $5,000 for a single undercroft crypt up to $25,000 for a spot in the sanctuary.
Cremation is "an environmentally conscious way of interring your remains and a less expensive option," Rowell said. "Cremation is somewhat new to America, but it's been a practice in other cultures for centuries, and Scripture tells us ashes to ashes and dust to dust. The reality is, the Lord will give us glorified bodies not dependent on the physical condition of our earthly remains. And so within the context of our new building, we inter these human remains with full funeral rites, and when you come to worship the Lord on Sundays, you are also in the presence of loved ones that have gone before you, and the church remains together in worship."