Full STEAM Ahead
St. Joe Company, Walton County Schools unveil Walton County's first STEAM school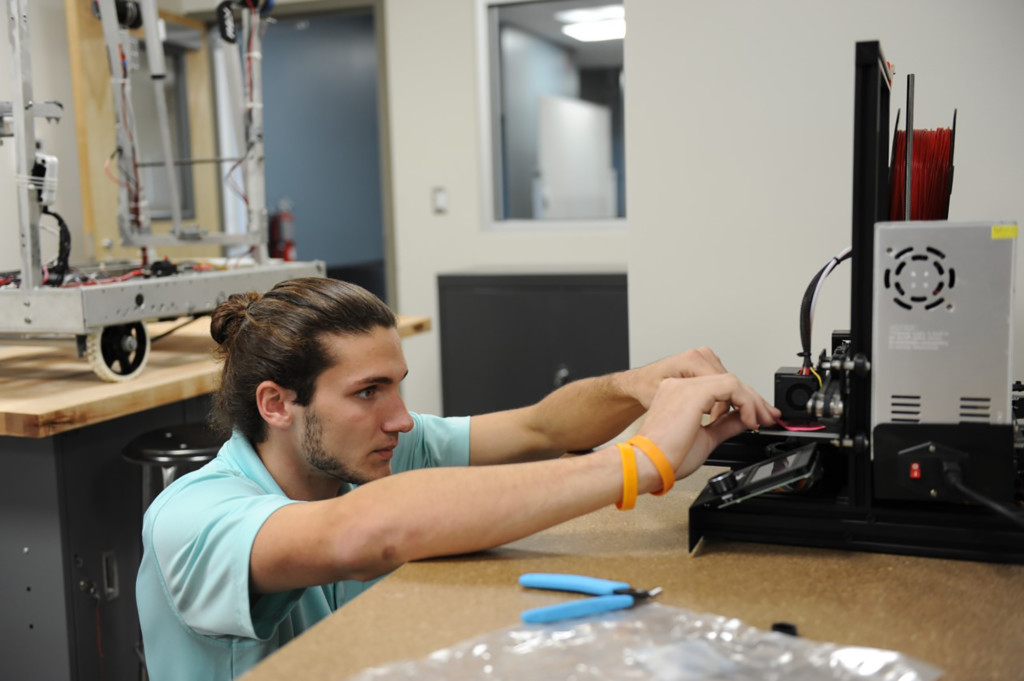 Two years ago, St. Joe Company CEO Jorge Gonzales and Walton County Schools Superintendent Russell Hughes discovered that they shared a vision. Both harbored a desire to create a place where Walton County students could receive a world-class education.
That vision has become a reality.
Gonzales revealed at a ceremony on Nov. 21 that St. Joe's corporate headquarters at 133 S. Watersound Parkway is being transformed and will become home to the Magnet Innovation Center at St. Joe Watersound, Walton County's first STEAM school.
The acronym refers to the school's curriculum, which will be focused on science, technology, engineering, art and math.
The school will be open to all Walton County students in grades 9-12, and will offer core classes, advanced placement courses and specialized studies in robotics, engineering and visual technology.
An inaugural class of 62 students already is studying Innovation Center curriculum at South Walton High School.
Those students will move, probably in December of this year, to the corporate campus, where state-of-the-art laboratories, classrooms and technology await.
"There's nothing more important in a community than education," Gonzales told the gathering, which included Walton County School District officials, St. Joe personnel and the Magnet Innovation Center's students and their parents.
"We are firm believers that a rising tide lifts all boats. When good things happen for the community, good things happen for our residents. This enhances the educational opportunities in our community, which is good for everyone."
The Walton County School District is currently ranked seventh out of 67 counties in the state of Florida, an achievement that Gonzales said would not have been possible without "the leadership and devotion of the school board and Walton County Superintendent Russell
Hughes."
Hughes, in addressing students, emphasized their responsibility to "devise, establish and set a tone for many years to come."
"This is for you," he said. "This is your campus. Your direct impact on the future happens right here, and was created by a company who cares, a district who believes in trendsetting and trailblazing, and a community who is watching you flourish."
Carrie Sneed, who comes from a family of educators, will serve as the director of the Magnet Innovation Center. A drive to shape the next generation, she said, is in her blood.
Sneed listed her goals for the Magnet Innovation Center: to incorporate an integrated learning model in every classroom, promote a STEAM-based curriculum for college readiness and to prepare students for the advancing workforce.
"Technology competence is no longer an option," she stressed. "It is a requirement for future success."
The St. Joe Community Foundation awarded the school $226,118 for the purchase of robotics and other technology. Student-guided tours showcased 3-D printers, virtual reality hardware and software and robotics shops.
Magnet Innovation Center senior Heath Holcomb presented Sneed, Gonzales and Hughes with keys made with a 3-D printer, symbolizing the collaboration among St. Joe, the district office, and school faculty and staff.
"Everyone involved has a goal to see that our students have the best experience educationally," said Hughes, "not only the best in Florida, but around the world."