FSU Students Go Above and Beyond in The Business World
Seminole Student Startups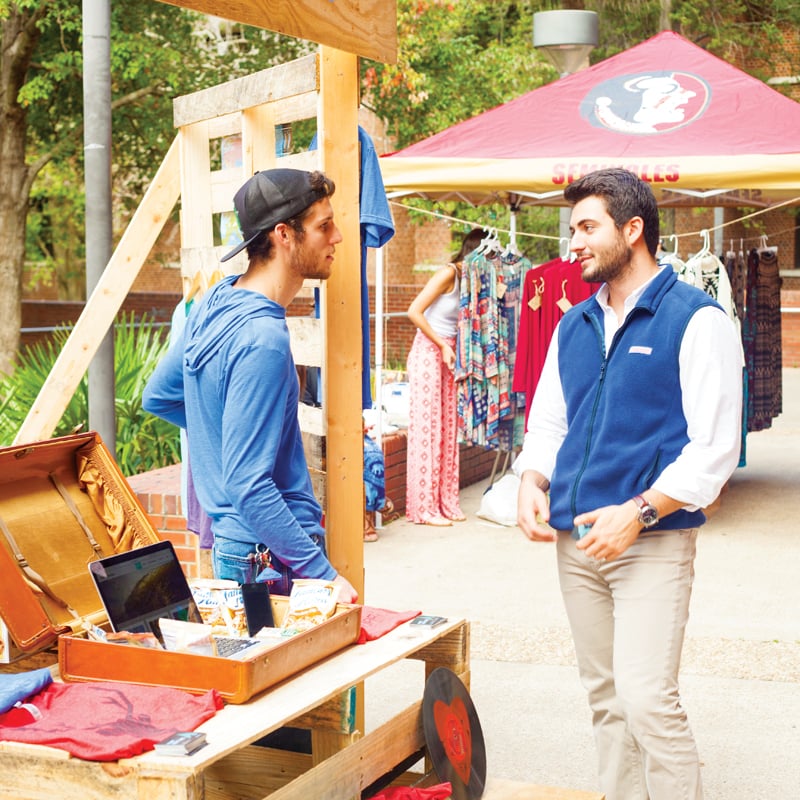 Tristin Kroening
Each year the College of Business at Florida State University hosts the Sophomore Experience, an expo featuring new companies. Ben Spangler (left), is an owner of lifestyle brand company Hunt and Venture with his brother Jeremy and friend Jared Jackson.
The business-minded students of The Jim Moran Institute for Global Entrepreneurship at Florida State University have been called a great many things. Idealistic? Sure. Driven? Most of them. Intelligent? Of course. Inexperienced? Naturally.
And passionate? Unequivocally, yes.
This shared characteristic is no happy accident, though.
According to Jim Dever, senior lecturer and Entrepreneur in Residence at The Jim Moran Institute, passion was the deciding factor for admission into the college's competitive entrepreneurship major.
For Dever and the other faculty members who sifted through more than 100 applications to fill their 40 sophomore seats in the early days of fall 2014, passion was weighed more heavily than anything else — including past work experience.
"Without passion," emphasized Dever, "you can't be an entrepreneur. It's just as simple as that. You have to have passion, and these kids understand that."
Dever knows a little bit about passion himself. After selling nearly a dozen companies by the time he was 41 years old, he decided to go back to school at the age of 50 to earn his bachelor's degree. By the time he had turned 60, Dever had been awarded his PhD. Now, at 65, he commutes from Panama City to Tallahassee at least two days a week to make sure his entrepreneurs-in-the-making are well attended to.
"I love it," he confided. "To be able to work those young people and to watch their enthusiasm and to see their passion. This group that we selected this year is just a phenomenal bunch of kids. They're just jumping out of their skin."
From professional apartment cleaners to companies focused on funky sock distribution for a good cause, the student startups cultivated throughout FSU's brick corridors are full of promise. Students enrolled in the entrepreneurship major (no more than 120 during any given semester) are instructed not only on theories and the principals of business, but also on the logistics of an ever-changing career path.
Over the three years they spend in the major, these pupils are taught how to obtain a patent, how to incorporate their company and what trends to look for to ensure success.
---
Check out a recap of this event:
Story continues below…
Wavelet
For senior Nick O'Donnell, the information he's obtained in the classroom has been priceless. In fact, it's helped him launch his own innovative startup — an artistic, scientific and even technologically savvy approach to gift giving, a company he calls "Wavelet."
Wavelet (think wavelength combined with bracelet), O'Donnell shared, will transform voice recordings obtained via a yet-to-be-launched website into a permanent and lasting memory on … jewelry.
"The sound waves that result from their voice," explained a visibly excited O'Donnell, "I can take that and make it into a custom piece of jewelry that they can take and give to the person. It's like giving your unique voice to the person and saying something really special to them.
"If seven billion people said, 'Happy birthday' or 'I love you,' in theory it would look different all seven billion times. What that does is makes everyone's voice almost like a fingerprint. It makes everyone's voice unique."
O'Donnell hopes to have his company operational before his graduation day in May 2015.
Thomas Goebel
Nick O'Donnell, student and budding businessman and
Jim
Dever
, Entrepreneur in Residence at The Jim Moran Institute for Global Entrepreneurship
But he isn't the only 'Nole with big ideas.
In recent years, The Jim Moran Institute has attempted to diversify student startups on campus — offering more assistance and guidance to all majors unilaterally. Initiatives like the InNOLEvation™ Challenge, which encourages all students to come up with a fully functional company, are opened to all currently enrolled FSU students.
It's a step towards diversity that the current class of instructors is exceptionally proud of.
"I think it broadens the scope when you get students from different backgrounds and different perspective," applauded Tim Kinney, associate lecturer and director of Student Engagement for The Jim Moran Institute. "And it broadens the startups on campus.
"There's a lot of little (compartments) of entrepreneurial activity around campus. We're trying to bring all of those together so we can make the whole bigger than the sum of the parts."
Frame This
Arguably one of the most interesting and successful student startups to pass through Florida State's doors in recent years, Frame — a production company with big city talent, not to mention clients — had almost nothing to do with the university's College of Business.
The founders of Tallahassee-based Frame, Adam Braun, Patrick Gines and Bryan Zhang, are three pals who met at FSU's prestigious College of Motion Pictures. Fresh out of school in 2012 with a teaming portfolio, these three doe-eyed entrepreneurs made the sale of a lifetime — a commercial for American Express.
It was a gig that kick-started their career. With such an impressive accolade on their resume, they could have easily landed a Hollywood job.
But they wanted something different.
Education Attainment in Leon County (persons age 25-plus)
High School graduate or higher: 92.0%
Bachelor's degree or higher: 46.8 %
Source: U.S. Census Bureau
"I think everyone wants to do what they love," theorized Braun, Frame's managing director. "But it's not even just doing what you love. If you can do what you love, that's great. But if you can do what you love with people you love, that's even better. And if you can do what you love, with people you love, in a place that you love, then that's an awesome opportunity. I think that's what Tallahassee was for all of us.
"There's people that we care about here, that we've had friendships with. And now we get to make movies with them, and for them, in a city that has grown on all of us."
These guys, along with their groundbreaking creative company, are in Tallahassee to stay.
"We started something up for the purpose of constantly creating content that we can be proud of," explained Gines, creative director of Frame. "That can get better and better as we do more and more work."