From Humble Beginnings
Hayes Computer Systems has gone from a one-man operation to a giant success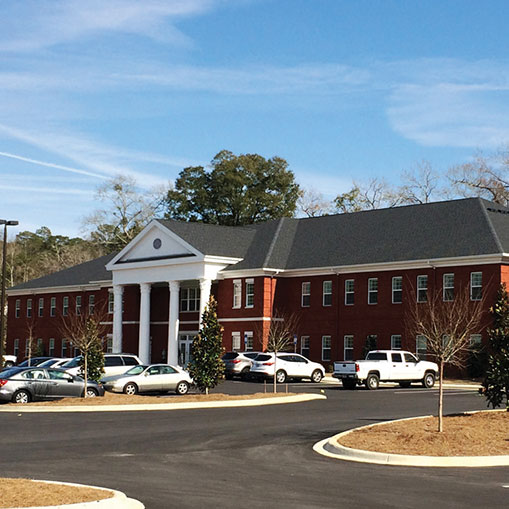 Karen Hayes became CEO of Hayes Computer Systems when she was only 29 years old. But it took her a couple of weeks to realize that she — not her father — was indeed now the one in charge.
"He stopped coming in the office. He felt the engineers wouldn't listen to me as well if he were here," she remembers with a smile, 15 years after the fact. "I didn't realize I would be on my own. But I didn't have time to worry about it. We had customers to take care of and employees to worry about. Looking back now, I should have been scared to death."
Hayes Computers has been around since 1986, when it was founded by Hayes' father, Danny. Self-taught about emerging computer technologies, which he delved into as a hobby, he started to work in programming to help pay expenses racked up by his crop-dusting business in Mount Pleasant, near Quincy in Gadsden County.
"His father was a crop-duster," Karen Hayes explains of her father's first business. When his father died in a drowning accident, Danny Hayes took over at the age of 17. "But at one point the farmers couldn't afford to pay their bills, and he still had to pay for the product he had used. So he started this (computer) business."
When it opened in 1986, Hayes Computer Systems was small. Today it has about 80 employees and occupies a new, 24,000-square-foot building in Tallahassee. The company has contracts with the state of Florida to provide communications services, including Internet access and voice. It also provides network design and security for a variety of clients, many of them local governments and schools, and provides hardware equipment. The support center is open 24 hours a day, seven days a week.
Although sold to a public company in 1997, the Hayes family bought it back in 2000. Karen Hayes was given 51 percent interest in the company; her father took 49 percent. That made her the boss.
When she picked up the reins, Hayes was already well acquainted with all aspects of the company that she had started working at while she was still in high school.
"I did deliveries, answered the phone, did repairs on printers, whatever needed doing that I was capable of doing," she remembers. "I grew up in it. And I was interested in helping customers."
Her father says he was "very impressed" by her work when she started in the company. "She works very hard and has always been interested in the customer. She would work with us whenever she had time as a student."
Karen went to Tallahassee Community College and then studied entrepreneurship at Florida State University. She returned to the company instead of graduating and continued her learning curve. Human resources, engineering, sales. She never had a yen to leave Tallahassee, saying, "There's no reason to go somewhere else. I love my friends, family and community. Tallahassee is safe and good. If you want to go somewhere else, visit."
While most of her time is spent working at the computer business, which brings in close to $40 million a year in revenue, Hayes four years ago established a creative escape for herself by opening a store in Apalachicola called Charming Comforts. There she sells furniture, gifts and accessories that she personally selects and also provides design services.
"It's almost a break for your brain to do something different," she says. "I choose all of the items. It's easy — you just pick what you like. I look for something different for the store, items that you can't get elsewhere. But it's definitely not focused on a coastal theme."
Some of that creative flair is found at her company's headquarters, which Hayes says she works to make sure feels like home.
"We work harder and longer at work than at home. So I try to make it comfortable for everybody," she says, adding that she and the staff try to have lunch together several times a week, cooking in the company kitchen. "We have a good group of people."
A mother of two, Hayes' college-age daughter worked in sales at the company last summer. She hopes that is a sign her daughter might be interested in learning more about the family business.
"I was so pleased she was able to grasp it and care. She's studying sales (at Florida State University), and the customers loved her. She went on calls with our reps and she learned a lot, which is great because I wanted to see what she was interested in," Hayes says. Then she says, almost wistfully, "I hope she wants to work for the company."
Brooke Rick, 21, says her goal is definitely to join her mom in the business after graduation. A junior at FSU studying professional sales in the College of Business (with a minor in communication), she knew she wanted to join the family business as soon as she got into college. As for her summer stint in sales, she says, "I still have a lot to learn, but it was a great start."
Not surprisingly, Martinoff admires her mom's tenacity and success in a male-dominated business. As for her grandfather's foray into a new technology during the early years, she says, "I have always looked up to Pop-pop. When he started Hayes, people thought he was crazy for working with computers. I think it is truly amazing how far Hayes has come since it was founded."
Danny Hayes is obviously pleased with his daughter's management of the company and his granddaughter's interest in working there.
"She is a much different leader than I was," he says of Karen. "She empowers people to do their jobs, and she works alongside to get the best job done for the customer." As for his granddaughter's career path, he adds, "I can't wait to see what the future holds."