From Hot Dog Stand to Landmark
The Blue Parrot remains a St. George Island favorite for residents and tourists.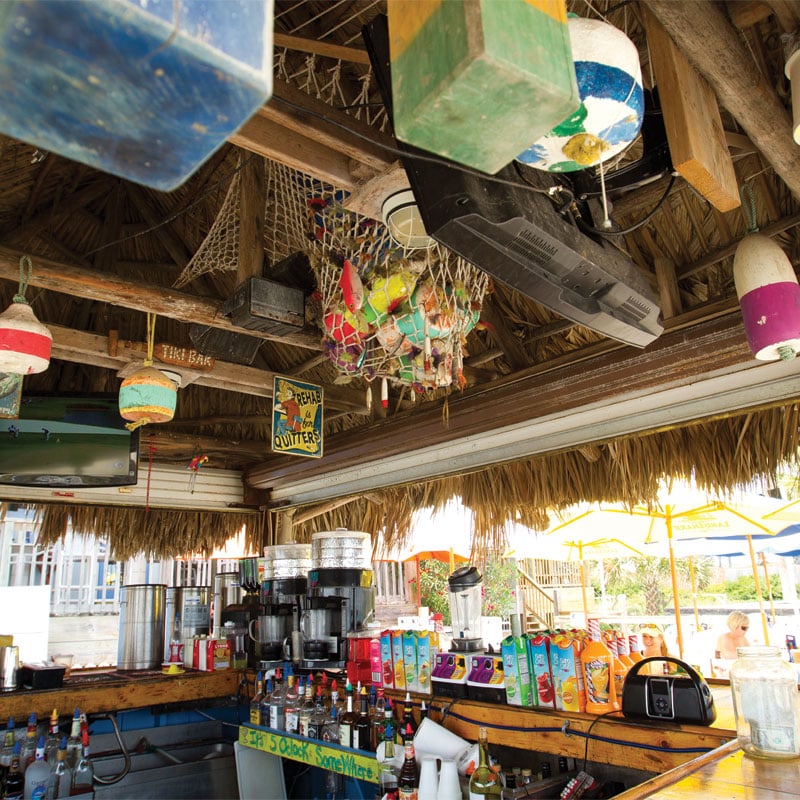 In 1995, all Steve Rash wanted to do was store some jet ski equipment in the tiny Blue Parrot restaurant on St. George Island for a rental business he wanted to start up. A year later, he wound up owning the joint.
"I thought I'd love to get into business on the beach," Rash said.
He knew the original owners Rick and Kay Rutger because his wholesale seafood company, Water Street Seafood, in nearby Apalachicola sold them fresh fish for their seaside eatery. He thought their spot on the beach might be the perfect place to set up a jet ski rental.
They agreed, but a few months later, Rutger called and said he wanted to sell the place. Rash said he wanted to buy it. It sat 40 people. It had no walk-in refrigerators or freezers. The cooking was done on plug-in burners. And Rash, who lived a couple of blocks from the Blue Parrot in those days, knew next to nothing about the restaurant business.
"I thought I'd work at the seafood wholesaler during the day and the restaurant at night," he said. "It got ugly quick. I didn't know the restaurant business that well."
The Blue Parrot began as a tiny beer and hot dog stand in the 1980's. At that time it was called S.O. Beach. When Rash took over, it was slightly bigger and had something that resembled a kitchen. It had already become the center for a St. George Island tradition — a yearly mullet toss.
Rash's friends Nic and Missy McCuen were locals — he had been the chef at the Gibson Inn, a Victorian bed and breakfast in neighboring Apalachicola. They took over the operation of the Blue Parrot for a stake in the restaurant. They set up the menu, managed the staff.
"It was tiny, tiny. The first thing we did was take care of the kitchen," Rash said. "It was crazy just the way it was."
And as the area grew, so did the restaurant. More houses began to populate the tiny island, and more tourists began making the drive to the picturesque island about 87 miles southeast of the state capital in Tallahassee. In 2011, Florida International University Professor Steve Leatherman, known as "Dr. Beach," ranked St. George Island as the sixth most beautiful beach in the country in his annual survey.
"People arrive from wherever and they come right to the tiki bar and get a cold beer or a margarita," Rash said. "It's certainly not a fancy restaurant. We don't try to be. Our service is pretty good."
The menu today is mostly seafood, fresh from the Gulf and supplied by Rash's other business, Water Street Seafood. Shrimp, crab, scallops all make the menu. Burgers and steak are also there for meat-loving visitors. The majority of items are below $15.
And the jet ski equipment is still stored in the restaurant. Visitors can rent a jet ski if they don't want to sample the cuisine or beachy cocktails.
But the location certainly looks different. Upper and lower decks were added. There's an air-conditioned dining room for those looking for a break from the heat. And it serves as home to a host of island events as well. In mid-April the Blue Parrot hosts the USA Southern Bench Press/Dead Lift Championship. August brings weekend beach volleyball tournaments.
But the event that garners the most attention is the annual mullet toss in June that benefits the Apalachicola Bay Charter School. It attracts about 300 participants. The goal? To see how far each person can throw two mullet.
But there have been other changes, with one chapter of the Blue Parrot — as Rash likes to put it — closing. The McCuens decided to bow out. In 2006 the restaurant was in full swing, but they were ready to retire.
So Rash went searching for a new partner to run the joint. He found it in his best friend from Leon High School in Tallahassee, George Joanos, who was operating his family's restaurant Angelo's in the capital city.
"I love it," Joanos said. "I grew up in the restaurant business."
Joanos moved his family to the island, only a few blocks from the restaurant. Rash now splits his time between the island and Tallahassee, where his three kids go to school.
"We're blessed," Joanos said. "We work hard, but it's a great place."
Joanos' newest addition to the restaurant is the grouper taco, which Rash said is giving the grouper sandwich, long the restaurant's most popular item, a run for its money.
Joanos has also been known to take visitors who try to claim that the grouper is fake back into the kitchen to show them that it's fresh.
"Everything we sell is from this region," Rash said. He should know, since his own seafood business is supplying most of it.
But there have been times, Rash admitted, when he did think about ditching the restaurant business and ending the Blue Parrot's career as the go-to spot on St. George Island.
In 2006, as the housing boom was in full swing, there were moments when he thought about selling the land to builders who wanted to put up more beach homes.
"The thought certainly crossed my mind," he said. "I could just sell this, get a good chunk of change in my pocket and not worry about it." But in the end, he could not imagine the island without it or telling the 75 seasonal employees they were out of work, to not come back in the summer. In short, he has no intentions of ending his restaurant career any time soon.
"I think the Blue Parrot is kind of a landmark," he said. "I would feel guilty for doing something like that."
The Blue Parrot is located at 68 West Gorrie Drive on St. George Island. Cross the Bryant Patton Bridge to St. George Island and make a right at the stop sign onto West Gulf Beach Drive. It's one block to West First Street. Turn left, go one block, and cross West Gorrie Dr. to the Blue Parrot.
---
Q&A with the owners
Steve Rash, 51, and George Joanos, 51, have been friends since attending Leon High School together more than 30 years ago and business partners since 2006. When Rash's original partners, Nic and Missy McCuen, decided to retire, Joanos left his Tallahassee restaurant and moved to the Franklin County beach town to run the day-to-day operations of the Blue Parrot, so Rash could continue to work both at the Parrot and his other business, Water Street Seafood, which he's owned for 23 years.
They answered some questions for us:
850 How difficult is it running a seasonal business?
Steve We're certainly really busy from about Memorial Day. Weekends certainly are busier. December, January, February are pretty slow. It's not bad because you're going crazy and you say you wish it would slow down. We just get hammered this time of year. But we've seen a lot of (other people start businesses) and not know how to deal with it. It's the worst thing in the world to have no business. We've seen a dozen (businesses) come and go.
George I'm crazy up from March to September, but then September to March, I'm basically off. I go fishing, spend time with family. It's 80 hours a week and then down to zero.
850 How do the two of you work together?
Steve We don't have any problems, but it's a lot of work. George can focus on the operations of the restaurant. I work with the bookkeeper to handle the money. It's a good team.
George We grew up together in Tallahassee. We became friends and that was it.
850 Steve, you said earlier that when you bought the restaurant in 1996, it sat 40 people. How much have you changed it since then?
Steve There was no real kitchen. There were no walk-in freezers. They used plug in burners. It was crazy just the way it was. The first thing we did was get a real kitchen. We keep adding on a little bit here and there. We're proud of it. People arrive from wherever and they come right to the tiki bar and get a cold beer or a margarita.
850 How did the Deepwater Horizon Spill in 2010 affect both the Blue Parrot and your seafood business?
Steve It certainly affected the Blue Parrot. We had fewer visitors and customers. For seafood, our sales dropped considerably.
[The oil] was approaching us. By July 4, it was within miles of the beach. The production is way down on shrimp. We're still facing much higher prices.
850 During the housing boom, were you ever tempted to sell the land to builders or build yourself?
Steve About six years ago, we could have. We hung in there. I think the Blue Parrot is kind of a landmark there. I would feel guilty for something like that. We employ 75 people during the season. [Visitors] flock to it. I can't imagine SGI without the Blue Parrot. You can still rent jet skis. People love that. It's fun.