From Blueprint to Reality
Intergovernmental agency projects moving forward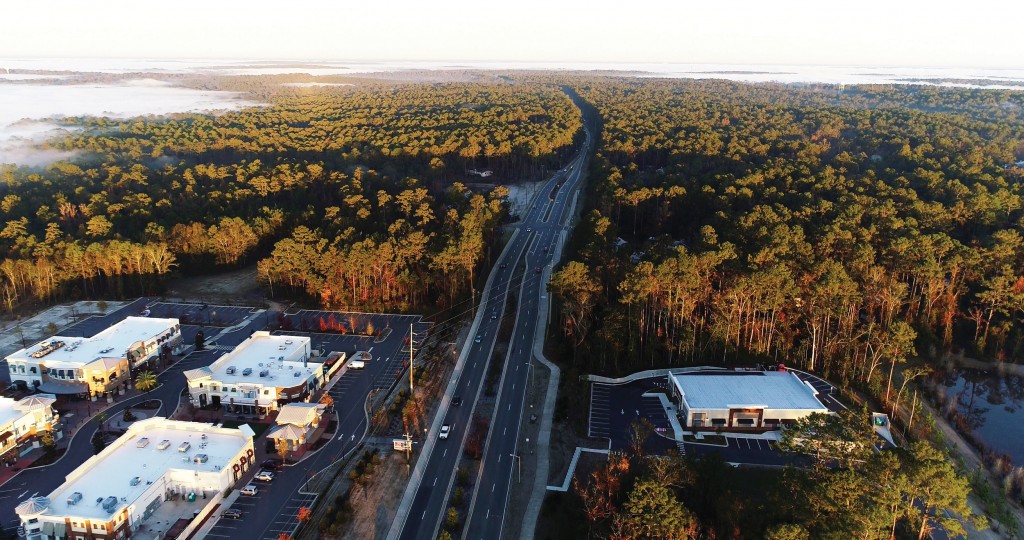 In March, as the strength and scope of the pandemic crisis became apparent and government leaders shut down the economy to try to slow the spread of the virus, the future looked grim for Blueprint Intergovernmental Agency projects. Financed by a special ı percent sales tax, Blueprint funds and oversees needed infrastructure improvements that tend to spur private development and economic growth.
With non-essential businesses shuttered and people told to shelter at home, sales tax revenue projections for the fiscal year that began in October 20ı9 were looking more like wishful thinking.
"We were looking at a doomsday scenario in March and April," Blueprint director Autumn Calder said. "But the June tax revenue was higher than we thought it would be, and that trend has continued each month."
Blueprint officials estimate they'll see a $20 million drop in tax revenues through 2025, but two things primarily have helped shift the "doomsday scenario" to a more manageable crisis:
A lot of creativity as businesses figured out how to adapt to the new normal.

A proactive decision made by the board of the intergovernmental agency that oversees Blueprint projects to issue $ıı2 million in bonds to get two key projects, the Airport Gateway and the Northeast Connector Corridor, moving faster.
The Office of Economic Vitality has focused on assisting businesses and preserving payroll of non-profits since the pandemic began and some Blueprint projects have been delayed, but Blueprint projects already underway have continued to progress.
Fairgrounds Project
After years of lobbying to use the Leon County Fairgrounds as an economic engine to boost the south side of town, particularly by longtime County Commissioner Bill Proctor, the Blueprint board allocated an extra $ı2 million for Phase I, including a market analysis to determine the highest and best use of the property.
Among the questions to be answered is what it will take to move the Fairgrounds Association off the property. There has been discussion about moving the North Florida Fair to another county.
Northeast Gateway Welaunee Boulevard Project
The Project Development and Environmental Study (PDE) on extending Welaunee Boulevard to Roberts Road, near where Roberts becomes Bradfordville Road at its intersection with Centerville Road, is scheduled for completion in February 202ı, Calder said.
"Whenever you build a new transportation infrastructure, like a brand new road, there are going to be concerns," she said. "We are working with landowners in the area, including an historic AME Church on the corner, to find the best solution."
Design work on the new intersection of Roberts Road and Welaunee Boulevard is scheduled to begin in 202ı.
The plan also includes extending Shamrock Road east beyond Centerville Road to Welaunee Boulevard to lessen traffic on two of Leon County's canopy roads: Centerville and Miccosukee.
"Welaunee Boulevard will be a spine road for development north and south of the new I-ı0 interchange," Calder said. "It is almost halfway between Thomasville Road and Mahan Drive."
Southwest Gateway Project
This project connects Tallahassee International Airport, the southwest industrial complex, Florida State University and Florida A&M University to the city's center, and includes additional sidewalks and street improvements to the southwestern part of Leon County. Bonds for the project will be sold in two phases, the first coming in fiscal year 2022 and the second in fiscal year 2024.
The Southwest Area Transportation plan was completed in 20ı9. Planning and design services were expected to be advertised in 2020, but that date has been moved back to early 202ı.
The Southwest Gateway includes improvements to both Lake Bradford Road and Springhill Road, so there will be dual gateways to the downtown corridor. In addition, a new road will be built through FSU's southwest campus, linking Orange Avenue to Stuckey Avenue.
Northeast Corridor Project
The current phase of Bannerman Road widening, from Quail Common Drive to Tekesta Drive, is in the planning and design stage, which is scheduled to be completed in early 2022. It includes a multi-use trail from Quail Common Drive to Meridian Road. Construction is projected to begin in 2023.
A study on the feasibility of continuing the widening of Bannerman Road from Tekesta Drive to Meridian Road is scheduled to be completed in late 2020 or early 202ı.
Placemaking Projects
The first round of community engagement for the Market District Placemaking Project was held over the summer, and Calder said Blueprint staff got a lot of good ideas from participants for the ı0-acre park to be built off Maclay Commerce Boulevard.
"We're looking at park uses and compatibilities to attract more families, more couples and more individuals," she said.
Design work is scheduled to begin in 202ı.
The Orange Avenue-South Meridian Street Placemaking Project is in the design stage, which is scheduled to be finished in fall 202ı. Construction should begin by the end of the year. It includes enclosing a drainage ditch on the south side of Orange Avenue with a box culvert, similar to what was done on Franklin Boulevard, and beautifying a stormwater pond at Orange and Meridian to make it a gathering place with trails and parking.
Construction is projected to be completed in a year.