Fresh Taste of Success
Business booms at organic food market during public health crisis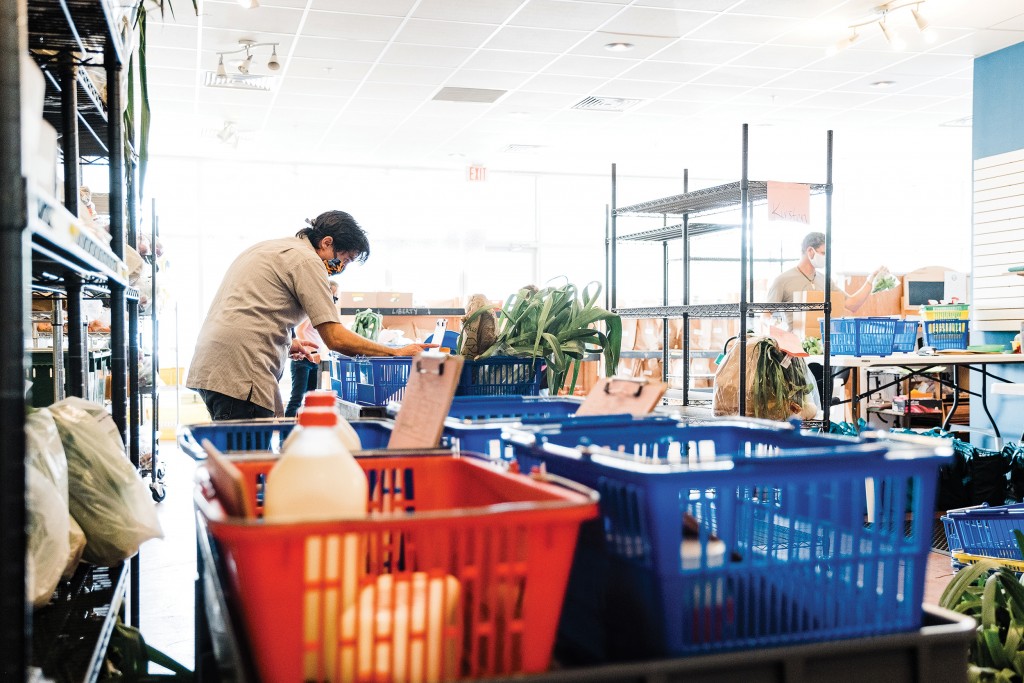 Ten years ago, four women who operated small farms came together to figure out how they could support one another; offer food to the Tallahassee market that had been produced locally without chemical pesticides, growth hormones, antibiotics or genetically modified seeds; and provide educational resources to help one another improve their operations.
A year later, the Red Hills Small Farm Alliance created the Red Hills Online Market (RHOM) to provide another venue for members to sell their products. Many participated in area farmers markets, most notably the long-established Tallahassee Farmers Market at Market Square, and some also sold their products to local restaurants focusing on local organic food. With steady growth of 30 to 40 percent each year, things were progressing nicely, market manager Karen Goodlett said. And all the produce, meat, dairy, eggs, oysters, juice, honey, nuts and baked goods were grown, produced or harvested within ı00 miles of Tallahassee.
Then 2020 happened. With COVID-ı9 spreading, Florida residents were told to stay home unless they performed essential services. Going to the grocery store was allowed, but many people preferred not to venture out. Suddenly, the RHOM was flooded with new customers willing to pay the $20 annual membership fee and received exponentially more orders.
"It has been a really interesting process," said Cari Roth, president of the RHSFA board of directors. "At first, we had the boom and that one crazy day, which caused some difficulty. I'm really proud of how fast we pivoted."
That "crazy day" saw sales of more than $34,000, compared to sales of about $ıı,000 the week before. A crew made up of farmers, customers and other volunteers packed orders for distribution and got all the orders out eventually, but the process was hectic and took far longer than usual.
"From one week to the next, the customer base doubled," Goodlett said. "The next week, it had doubled again."
Historically, the business model for the Online Market has been simple: The website opened at 8 a.m. Sundays for ordering and closed at 6 a.m. Wednesdays. All orders were paid at closing from customer credit cards on file, then orders were collated and sent to individual producers, who had indicated on the website how many of each product they had available. Once it was all gone, the item was moved to the bottom of the list to the "sold out" section.
In the new pandemic reality, one of the first things to do was figure out how many orders the market could handle. The board and the market's management team, manager Goodlett and assistant managers Becky Dinkins and Andie Kocourek, decided to close the market a day earlier, on Tuesday instead of Wednesday, or when 500 orders had been placed. Other than that, the actual ordering process remained the same.
However, other changes included investing heavily in new equipment, Roth said, including shelving on wheels that can be reconfigured as needed, and carts that can be used to pack four orders at a time.
Staggered deadlines were set for producers to deliver their goods to the central hub at the Northwood Center, next to the Tallahassee Ballet. Instead of having everything delivered on Thursday mornings, which is the distribution day, frozen goods, dairy and pantry items are delivered on Wednesday. Fresh produce is still delivered on Thursday, but between 7 and 9 a.m. instead of by noon.
Among the biggest changes, though, were the shift from volunteer packers to paid staff, and the temporary use of home or hub delivery exclusively, instead of allowing customers to pick up their orders at the central location or one of half a dozen distribution hubs. The team made a point of hiring out-of-work restaurant employees as delivery drivers. Additional hub distribution sites have been added.
At RHOM headquarters, everyone is required to wear a mask. Temperatures are checked. Any employee who has been exposed to COVID-ı9 must report it and self-quarantine.
"The changes have really increased our efficiency and our speed, so we can pack more orders," Roth said. "Even though things have settled down since that first boom, we are definitely handling more people."
Although the marked increase in sales was the result of a crisis and people were panicking at the thought of not being able to buy food, both Roth and Goodlett expect the increase in sales to be sustained. Once the process was reorganized, sales have been steady at between $20,000 and $24,000 a week – less than the $34,000 of the "crazy day" distribution but still three to four times more than a year ago.
"This was really a lifeline to our farmers and their ability to sell their products, particularly after restaurants had to suspend indoor dining and the farmers markets pretty much shut down," Roth said.
Producers are also counting on that increased demand to continue, and they have expanded their product lines and planted more crops accordingly.
"For a lot of nonprofits, the pandemic was a severe blow," Roth said. "For us, it was a challenging time, but we met it."
Goodlett said that one of the most heartwarming aspects of the pandemic's impact on the market's customer base was that some people had never tasted truly fresh, local food before.
"This has strengthened the bond between the producers and the customers," she said. "They truly understand now where their food comes from."
Anna Dickey became a customer after her employer, Esposito Garden Center, became a distribution hub.
"In my first order, I got leeks, microgreens and beef, and I made steak and ale pie with the leeks and beef," she said. "Everything was really fresh and yummy, and I love that I don't have to buy a whole bushel of something."
Management expects the growth to continue, although at a rate it can handle.
"We'd love to get to the point," Goodlett added, "where people go to the grocery store just to buy toilet paper and cleaning products."