FPL Northwest Florida Economic Symposium
Speakers reports trend at the global, state and local levels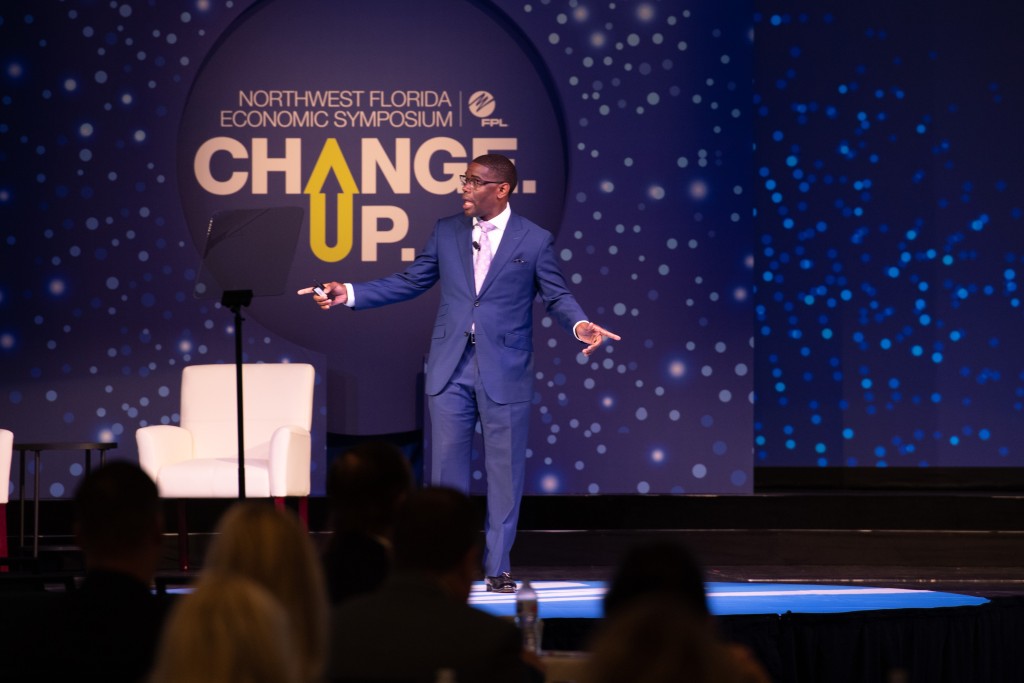 FPL extended a tradition begun by Gulf Power Co. when it held its Northwest Florida Economic Symposium at the Sandestin Golf and Beach Resort.
The symposium, conducted March 8-9, was the first conducted under FPL's name following more than 20 years in which the annual gatherings were a Gulf Power activity.
Pam Rauch, FPL's vice president of external affairs and economic development, and Thomas Bean, FPL's director of public and community engagement, set the tone for the Northwest Florida Economic Symposium. Both alluded to the meeting's theme, "Change Up," emphasizing that change can be positive.
As noted by the symposium's introductory video, a "changeup" is also a pitch in baseball thrown with the same motion as a fastball, but one that travels more slowly. Fail to recognize a changeup on its way, and it might fool you. Dealing with change, the symposium stressed, requires anticipation, recognition, preparation.
Rauch and Bean gave way to speakers who discussed change and trends from perspectives that ranged from global to personal.
Peter Zeihan, a geopolitical strategist, author and symposium favorite, offered a brief history of the modern world. Before World War II, he said, the world was imperial. Its largest economies were self-contained and refrained from trading with other imperial systems, fearing that a war might break out and disrupt supply chains.
"After World War II," Zeihan said, "Americans changed that. We told everyone that we going to use our navy to patrol the world's oceans so that anyone could go anywhere at any time and have access to any commodity, interface with any partner, participate in any supply chain and sell to any market.
"There was one catch. You had to line up. Not behind us, but in front of us to absorb any ammo that Moscow might throw at us. We bought an alliance, and it worked."
It worked, in particular, for countries with aging populations who lacked enough workers to meet a nation's total demand for consumables.
Nonetheless, Zeihan said, an aging America, for eight consecutive presidential elections held in the last 30 years, favored the candidate who opposed globalization versus the one who did — "until this last election when there wasn't a globalist running."
Will the experience of aligning with nations that are coalescing around Ukraine be enough to cause America to re-adopt a global perspective? Zeihan isn't optimistic.
But the issue will force itself, he said. The boomers, who accounted for the greatest total accrual of skilled labor in the nation's history and its largest body of workers, are retiring. At one time consumers and later investors, they are now ready to cash out and put their feet up.
Capital costs, as a product of relative scarcities, are fixing to rise dramatically. The rise in costs to U.S. business has been slowed, as reluctant as some might be to admit it, by immigration, especially from, well, Mexico. But prices will continue to rise.
The days of self-sufficiency are either gone or exorbitant. Pulitzer Prize winner Thomas Friedman titled his 2005 book The World is Flat. And one of the great flatteners, he wrote, has been the global supply chain. We have seen what happens to the cost of a car and gasoline when chip and crude oil supplies are disrupted.
"Walmart is the biggest retail company in the world, and it does not make a single thing," Friedman has written. "All it 'makes' is a super-efficient supply chain."
Asked by a Northwest Florida Economic Symposium attendee what his high school-age daughter should study in college in order to be successful, Zeihan didn't hesitate.
"Have her learn Spanish," he said, predicting the trade between the U.S. and Mexico will grow dramatically.
It fell to FSU Institute of Government economist Dr. Jerry Parrish to narrow the symposium's focus to a state and regional level.
Significantly, Parrish noted that from 2015 through February 2020, Florida created more than one out of every 11 jobs added to the U.S. economy.
"That is a big deal, and it's something that we will get back to doing" as pandemic impacts recede, Parrish said. "Florida is going to be growing jobs at a much faster rate than the U.S. as a whole because Florida has made itself an attractive place for business. A lot of people did a lot of work to make that happen."
Acknowledging the importance of tourism, Parrish noted that prior to COVID, Florida received 131.4 million visitors in a year from other states and countries.
"I met a nice couple in the elevator during lunch," Parrish said. "I could tell they were from up North. They were pale and sunburned, but they had big smiles on their faces."
Turns out they were from Michigan.
"I said, 'Hey, welcome to Florida. You're the reason we don't have a state income tax.' Plus, they are one more couple who may choose to relocate to Florida."
A county may increase it GDP by attracting a thousand retirees, Parrish said, but the impact will be much greater if it can attract a thousand manufacturing jobs.
"The good news is that there is a fair amount of manufacturing activity moving to Florida," Parrish said, adding that Northwest Florida and especially its rural counties stand to benefit from that trend.
Too, the symposium made it clear that growing productivity can be a product of motivating individual employees.
No single approach to that effort will work, said Kim Bodine, executive director at CareerSource Gulf Coast. Bodine noted that today's workforce includes members of five generations.
"Today especially, employees are looking for a workplace where they feel appreciated," said Dr. Marcus McBride, CEO at CareerSource Escarosa. And, expressions of appreciation can take various forms.
"I have a great person on my team who always thinks out of the box," McBride said. "She suggested tai chi breaks. Tai chi? Hey, I'm glad to do it if it makes you more productive."