Former FBI Canine Specialist Trains Dogs to Find the Lost
On the Trail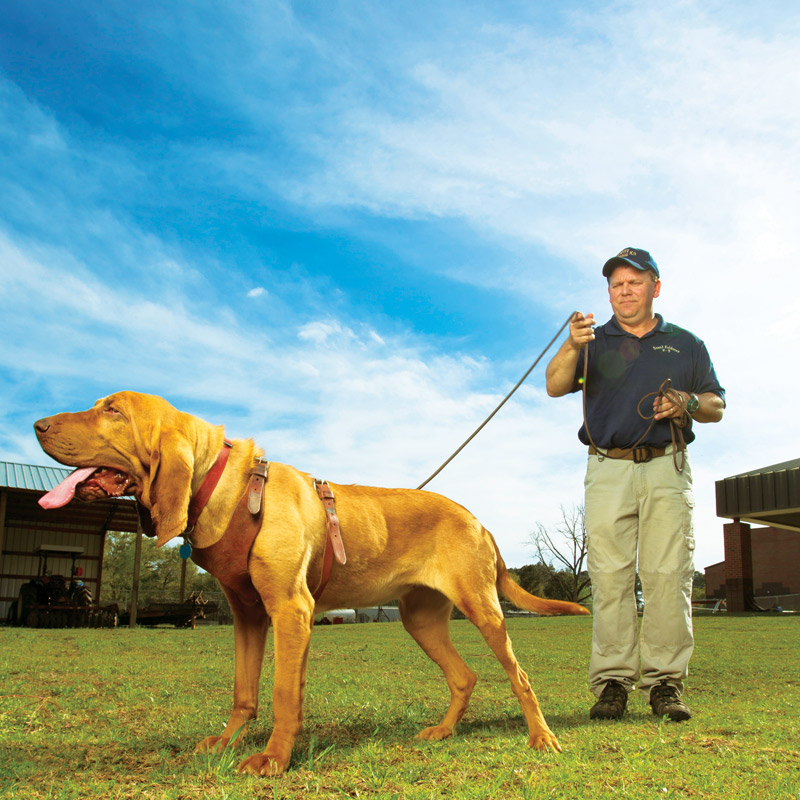 It was amazing," Randy McDaniel keeps repeating as he relates how a bloodhound named Win helped find his 87-year-old father-in-law who had been missing for two days.
The break came when Paul Coley, a former FBI forensic canine specialist who founded Scent Evidence K9 in Sneads, offered help to his friend.
Coley met McDaniel at the father-in-law's house. The dog smelled a sock, a piece of clothing and the older man's recliner. Within minutes, the dog was off.
"Paul and the bloodhound trailed the scent, and I was in a truck behind him," McDaniel remembers. "We came up to a four-way highway intersection and the dog … could have gone left or right, but he decided to go north. The dog followed scents for at least 25 miles until we found him at his wife's gravesite. What we witnessed was simply amazing. It was an eye opener."
More amazingly, the father-in-law had driven to the gravesite. The dog had managed to track him, even stopping at a store where the gentleman had refilled his gas tank.
"We only trailed on the ground for three miles, but (Win) did several location checks to get us to that cemetery," Coley later explained to friends on his Facebook page, which features a quote from Matthew 7:7, "Seek and you will find."
Coley's work with canines on more than 100 missing person or child abduction cases for the FBI fueled a passion to develop his own program. He has 20-plus years experience in law enforcement and coordinated the first K9 use in child abduction seminars in the U.S. He founded Scent Evidence K9 in October 2012, creating scent-training programs for bloodhounds and working with handlers. He also developed a Human Scent Preservation Kit ($12 cost with shipping and handling) to capture peoples' scents.
"Think of it like you're looking for someone's loved one, you want the best dogs and anything that will help speed up the process of finding a missing person," explains Coley, 48.
Using canines in cases is a widespread technique in Europe, but in America bloodhound teams are usually not part of the initial response in missing person's cases unless the police or a family member call and request assistance.
It's been confirmed that bloodhounds can follow a trail that is up to 12 days old, but it's unknown whether they can find someone who has been missing longer.
Once canines become part of the investigation process, the first step is collecting a scent of the missing person.
"That's why we are pushing the Human Scent Preservation kits. You can collect a person's scent from his body with this kit and the scent can last up to 7 years," explained Coley, who said his is the only organization that uses such kits.
Coley especially encourages families that have autistic children or adults stricken by Alzheimer's to preserve the scent of loved ones as a precaution. Experience tells that six out of 10 dementia patients will wander. According to a report by the Alzheimer's Foundation of America, the average amount of time it takes to find that patient is nine hours — at an average cost of $1,500 per hour for law enforcement. After 24 hours, there is only a 50 percent chance the person will still be alive.
After the scent has been collected, the dog will begin the trail at the last known location of the missing person. The dog has 3–4 minutes of getting acclimated to the area before being given the scent to trail.
Matt Burke
Coley encourages people to make use of Human Scent Preservation kits, which can speed up the search process.
Bloodhounds are the most popular dog for this type of work, because they are built for tracking. Within the first few days of life, a bloodhound begins scent training and can be ready for the field as early as 18 months of age, although the typical starting age is two years. After training for four hours a week over a period of 18 months to two years, the dog is ready for its 24-hour, mile-long certification test that must be passed without mistakes.
"I definitely think that cases would be solved quicker if dogs were part of the first response action," explains Gordon Yoder, vice president of Future Farmers of America (FFA) who previously worked under Coley training dogs for his FFA experience project.
Yoder referred this program to his FFA advisor, Jillian Estes, who currently has four students aiding in the sniff training of dogs.
"We either do a 24-hour prep training or hot tracks training. For the 24-hour prep training, we use one of the kits to preserve a student's smell for one day; the next day one student plays a missing person and goes to a hiding spot while another student follows the dog on its scent trail," Estes says. "For the hot tracks training, a student uses a scent pad to collect their unique scent before they go run and hide; the dog smells the pad and sorts out the many scents on the school's campus to locate the hiding child from their scent."
This live training allows dogs to practice finding their targets.
"Paul will call me every few months to tell me a story about a dog we trained together and how the dog helped find a missing person," tells Yoder. In one case, a dog was sent to Minnesota to find a 3-year-old girl who had gone missing on her family's farm. She had fallen in a haystack and broken her collarbone so she couldn't move. The dog was able to find the girl based on the K9 Scent Evidence training techniques.
The real-life tales of how these dogs use scent techniques to find humans are remarkable. "It brings a sense of peace to the family, because they can see people working; it's tangible to them," says Coley.
Besides searching for lost humans, Coley's dogs have also been used in prisons to search out contraband. Last year he volunteered to do a search at a state facility and found contraband that included several cell phones, earning him a thank you from Gov. Rick Scott.
Coley hopes to get the word out about the Human Scent Preservation kits and gain the support of law enforcement agencies to eventually form regional scent trailing teams in Florida. "Our goal is to provide highly trained scent-discriminant K9 teams and work in conjunction with law enforcement to find missing persons," he says.
Check out some behind-the-scenes footage of the canine's busy at work: