For Bill Buskell, Success Is All About Good Chicken
Chicken Commander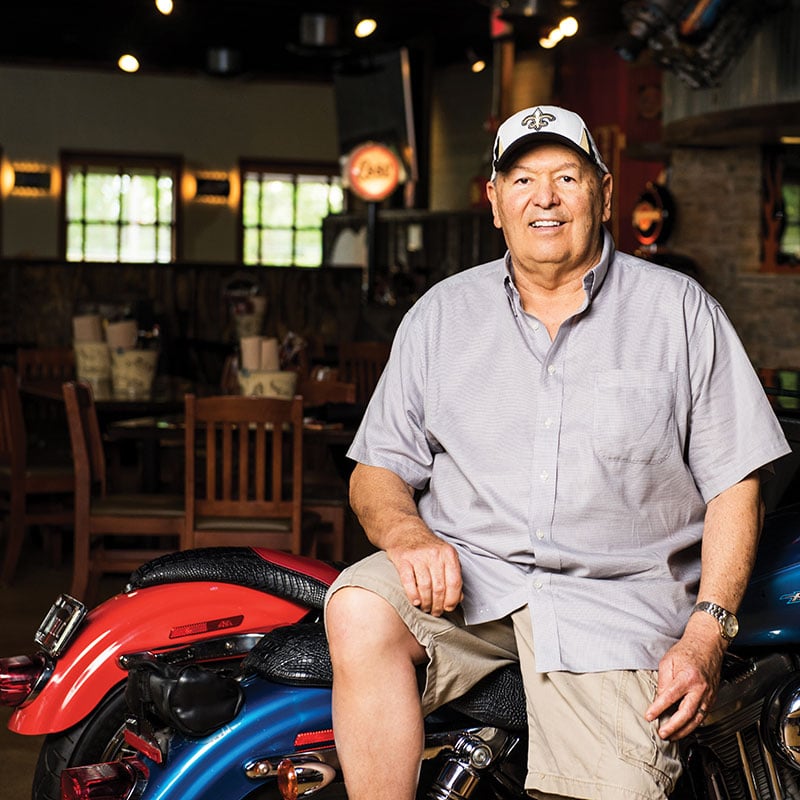 Restaurateur Bill Buskell likens his businesses to battlefields.
He's the commander and has generals whom he trusts at each of his Panama City Beach encampments. But he learned long ago that it's important for him to maintain contact with the troops on the front lines. Given a chance, they may recommend a better or more efficient way of doing things.
And, sometimes, he concedes, they are right.
For example, Buskell was inclined to charge a cover at Willy's Live, a nightclub that adjoins Pineapple Willy's, his 40-year-old, Gulf-front, landmark restaurant on Thomas Drive. A charge, he figured, would keep out the riff-raff.
But a front-liner suggested that the cover charge was a bad idea. His theory: Drop the charge and people will come and go more freely. Tables will get turned. And, meanwhile, you can discourage undesirables with your choice of music.
"OK," Buskell said. "We'll try it."
The result: Three-thousand dollar nights became $13,000 nights. Under those circumstances, he had no problem thanking the employee for his idea.
Not that Buskell has always listened to "reason." If he had, chances are that he never would have entered the restaurant business.
In the 1970s, Buskell managed and had a modest ownership interest in a 100-room hotel, the Artist Inn, located where Willy's Live is today. When, in 1981, the majority owners got ready to sell the business, Buskell spoke up for a portion of the property that included a bait and sandwich shop. It was made available to him for $1.3 million.
His wife at the time told Buskell he was crazy to even think about the deal.
"She told me that if I bought the property, she'd divorce me," Buskell says with a wry smile. "I bought it and she was true to her word."
The Pier 99 bait shop would give way in 1984 to Pineapple Willy's, the name inspired by a drink that Buskell sampled while vacationing in Jamaica. (He bought the drink recipe, which includes Myers's Rum and crème de coconut, for $20 at the bar and serves it to this day.)
Nearly half of the restaurant was destroyed by Hurricane Opal in 1995, and Buskell found that navigating the state bureaucracy through the rebuilding process was "far worse than the storm itself." But Pineapple Willy's has otherwise grown steadily and last year did $14 million in business.
"I didn't set out with a plan to get that big," Buskell says. "We have evolved and succeeded based on trial and error and discovering what works while sticking to our commitment to quality. We know that we can't be slowed down by what it takes to prepare mashed potatoes, but we can serve new potatoes."
There was a time when Buskell joined his father in the candy brokerage business. He paid close attention when, in the course of a sugar and chocolate shortage, some confectioners survived and others did not.
"What I learned is that it all comes down to quality and taste," Buskell recalls. "People were willing to pay an increased price for a Hershey's bar, but there was a limit to what they'd pay for hard, pure-sugar stick candy."
So it was that Buskell turned aside a suggestion made by the kitchen manager at the Wicked Wheel Restaurant, another of his properties.
Buskell favors the use of 91 percent fat-free cottonseed oil in his fryers. The manager told Buskell he could save him $16,000 a year by using canola oil instead.
"No, you can't," the commander said. "That cottonseed oil coats and enhances the spices and people experience the best chicken they've ever had. That keeps 'em coming back, and that's worth a whole lot more than $16,000."
Buskell retired nine years ago at age 66 and set about traveling the world — Europe, Australia and more — with his wife, Mary. In his absence his son, Eric, along with a onetime Pineapple Willy's manager, acquired with Buskell's blessings a former Tony Roma's restaurant and set about converting it to the motorcycle-themed Wicked Wheel.
"We needed to do something with the profits we were making at Pineapple Willy's to prevent the government from getting 40 percent of them," Buskell says.
The Tony Roma's property, idle and deteriorating for years, had come down in price from $2 million. The Buskells picked it up for $1.2 million, but that was just the beginning.
"We should have torn it down and started over," Buskell winces. "I had no idea that my son would invest $7 million in the redevelopment project."
When the globetrotting Buskell came in off the road, he discovered that the Wicked Wheel had no cash flow and that he was
$4 million in debt. He cashed in his retirement to keep Pineapple Willy's afloat, closed the Wicked Wheel and took over.
"I put a sign out front that said, 'Closed Due to Plumbing Problems,' " Buskell winks. "I was flushing out the old and bringing in the new."
Buskell fired half the staff, redid the menus and committed the restaurant to serving the best chicken, catfish and burgers available anywhere. Give him a chance to describe his recipes and cooking methods and the experience is Pavlovian. Saliva flows.
"We buy pond-raised, corn-fed catfish from Mississippi," Buskell points out. "Two- and three-ounce fillets. We're not interested in catfish once they are big enough to have that oily vein in them. We coat the fillets by spraying them with lemon juice and then batter them with Zatarain's. Anyone can sell catfish; we sell the best catfish."
Today, the Wicked Wheel is turning a profit. And Buskell has added next door a large entertainment and special events venue, The Barn. Already, it's hosted concerts, a blues festival, a fundraiser for an animal shelter, a memorial service for a newspaper editor and an open forum on Spring Break concerns. Buskell got the idea for The Barn while attending a special events convention in Nashville.
"I heard about people spending $50,000 or $100,000 on themed weddings, and I resolved to get some of that business," Buskell says. "There really was no suitable place on our beach for occasions like that."
Buskell, then, is going about the business of discovering what works best at The Barn and applying to one more enterprise the advertising and marketing principles he learned 50 years ago as a student at Virginia Commonwealth University. If The Barn's country music/barbecue buffet approach doesn't work, he's prepared to convert the place to a smokehouse restaurant like the 4 Rivers in Tallahassee. He's never without a Plan B.
"I've been fortunate," Buskell recognizes. "And I'm grateful to have a lot of good people working for me (400 in total) who get along with one another and respect each other. Many of them are just getting started, and I have a lot of respect for people in entry-level jobs who are working to be the best chicken picker they can be so that they can qualify for the next job up the line."
With those entry-level folks in mind, Buskell founded a charity, Beach Cares Inc., that provides immediate, problem-solving assistance to deserving folks who may not have money for a new carburetor or the light bill. Buskell is the agency's chief sustaining contributor.
"We all encounter bumps in the road," Buskell says. "And if someone has the courage and the humility to ask for help, I want to give them a hand.
"Buy them lunch if they haven't had any. They'll enjoy the best chicken they ever had."