Food, Fun, Music, Escapism
St. Joe Company, Minto Communities building project of municipal proportions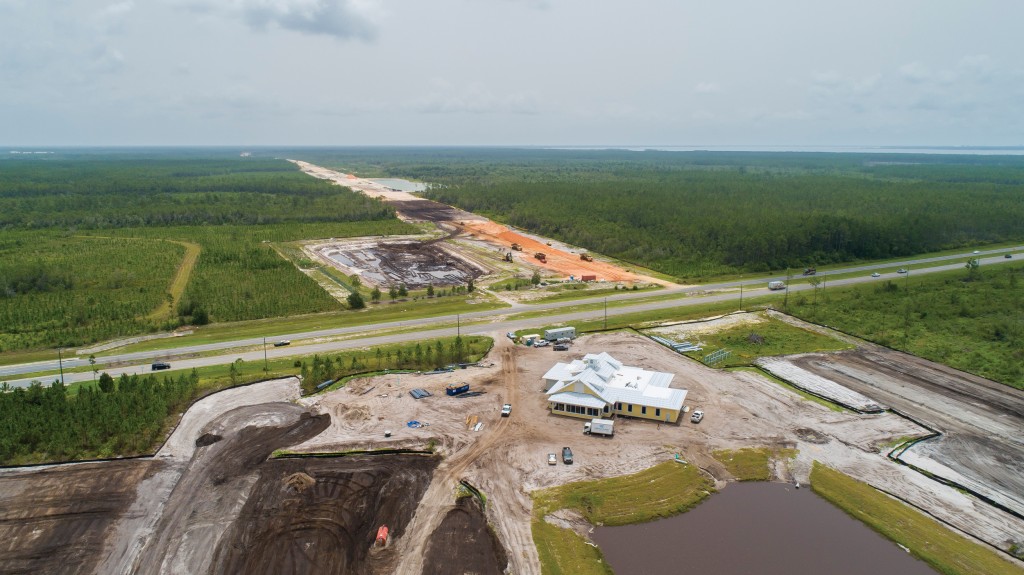 After successfully undertaking the development of age-restricted, active-adult communities in Daytona Beach and Hilton Head, South Carolina, the master builder Minto Communities USA commenced looking around for its next large-scale opportunity.
"We have learned that there are four or five elements that every successful active-adult community must have," said Bill Bullock, a Minto division president. Enumerating them, Bullock touched upon the need for sufficient land, proximity to an airport, a coastal location, convenient retail and service businesses, and a nearby medical facility.
Inevitably, one might suppose, Minto found itself sizing up the vast land holdings of the St. Joe Company, now headquartered in Panama City Beach, and especially its real estate along ı5 miles of the Intracoastal Waterway close to the Northwest Florida Beaches International Airport.
Minto approached St. Joe with an interest in buying some dirt, but a relationship that might have been transactional became a partnership instead.
Today, the parties are united in a joint venture — the third Latitude Margaritaville community in the United States — a project of a scope so large it is not easily comprehended.
The hook-up represented a merging of like visions. St. Joe had been considering an active-adult component as part of its Bay County plans for more than ı0 years.
"They had the land asset teed up, they had done their strategic research and believed in the concept," Bullock said. "And we already had grabbed a tiger by the tail in teaming up with Margaritaville Holdings."
Margaritaville Holdings, in which the beachy balladeer Jimmy Buffett has an ownership interest, is the brand licensee and brand steward for what will be known as Latitude Margaritaville Watersound, currently in development on ı00,000 acres north of Panama City Beach and west of State 79. The project's first phase will encompass 3,500 homes, most all of them ranging in price from the low $200s to about $450,000, on 50-foot and 60-foot lots. Homes will range in size from ı,200 to 2,400 square feet.
To date, Minto has not sold any lots to other builders on its Latitude platform, and it has no plans to do so at this time.
The notion of Margaritaville resonates well, Bullock said, with people seeking lives of "food, fun, music and escapism" — the lifestyle embraced by the brand — and old enough to remember the prominence of "sex, drugs and rock 'n' roll" as a motto.
"To engage with a partner like St. Joe, which is so fully in sync with our long-term vision for Latitude Margaritaville Watersound really was a perfect alignment," Bullock said. "We have always said that we make money with our partners, not off our partners."
A sales center is under construction and will open next spring, Bullock projected, but not before model homes are ready for inspection. Minto started clearing land for its first production lots in June. Customers will be able to buy a house at the development's grand opening and can expect construction to begin immediately.
"It's a massive undertaking when you are talking about laying the groundwork for a city that, based on plat approvals, will include upwards of ı70,000 houses when it is built out," Bullock said. "It doesn't happen overnight."
The Paradise Club provides subscribers with monthly updates on the Daytona Beach, Hilton Head and now Watersound projects (see LatitudeMargaritaville.com). Among 400,000 club members, ı5,000 have expressed interest specifically in Watersound.
"That's pretty eye opening, to have that level of interest at this stage," Bullock said. "At Daytona, we're in our third year of home sales. We sold 60 homes last month (June), and we expect to do even more volume at Watersound."
Bullock said visitors to the sales center will be introduced first to the JV partners, their strength and their history with a presentation he expects to be confidence-inspiring. As they proceed through the center, visitors will learn how the development incorporates the Latitude lifestyle. They will hear the familiar strains of Jimmy Buffett standards. Amenities — marina, bandshells, restaurants, retail, fitness center, miles of walking, bicycling and multi-modal trails — will be described. Environmental aspects of the property will be showcased.
"People start asking themselves, 'Why would I go on planning vacations when I could live every day on vacation?' " Bullock said, speaking from experience. "When people realize that the development checks all of their boxes, they ask, 'Where do I sign?'"
Bullock said residents of Latitude Margaritaville developments readily find common ground.
"It isn't about how much you paid for your house; it's about a whole bunch of people having a great time and forming some of the best friendships they have ever had," Bullock said. "I'm stunned at some of the prices paid for properties along the Emerald Coast, but that's not the market we're after. How are you going to get through tens of thousands of houses if you're trying to get a million bucks a piece for them?"
Bullock said Latitude Margaritaville Watersound will be able to separate itself from The Villages in Central Florida and the best adult communities in Arizona on the strength of its "world-class amenities," its location ı5 minutes from Florida's best beaches and its Intracoastal Waterway setting. There is no waterway in Scottsdale.
Amenities will reflect current desires.
"If you ask people what they want and you deliver it, you really can't go wrong," Bullock said. "It used to be that golf was No. ı, and other things were down at the bottom. In the last ı0–20 years, we have seen almost a complete reversal. Wellness, exercise and walking trails are the top three or four. We will have an extensive trail network where people can exercise, maintain their health and appreciate the environment."
"The marina location has been identified, and it will be open to the public," said Bridget Precise, St. Joe's senior vice president for residential real estate. A Marina Village including retail, food and beverage will adjoin the waterfront amenity. A second commercial "village" will be developed along State 79.
"People hear about the development, and they come to us and try to figure out if it represents an opportunity for them," Precise said. "We work very openly with anyone who has an interest. We are not going to sole-source everything with pre-determined people — and it's not going to be ı00 percent organic. We have spoken with multiple medical services providers, including Ascension and HCA. We try to be inclusive. Those conversations are ongoing, and there has been a lot of interest from different corners."
Bullock noted that extensive private amenities will be reserved for residents.
"We have carved out approximately 40 acres on a bluff that overlooks the Intracoastal Waterway," he said. "You look out from there, and you feel like you have stepped back 200 years in time. Developers say you should never fall in love with a parcel of land, but I love that piece of dirt."
The bluff, Bullock said, will be home to a two-story restaurant with rooftop dining, a resort-style pool and activity centers.
"They will be the first collection of amenities to be built, and we will add more as our footprint expands," he said.
The developers plan to leave undisturbed natural areas of a character that hasn't changed for thousands of years while also employing new technologies.
"We are working on autonomous vehicles," Bullock said. "We're going to deploy them at Daytona first and quickly add them to Watersound as soon as we get everything figured out."
The vehicles, Bullock anticipates, will be used first as delivery vehicles and eventually will carry passengers.
"The Villages is an amazing place," Bullock said. "You can't knock what they do. But why wouldn't you go to the Panhandle? We have a unique opportunity here in a setting that people enjoy, and we are proceeding from scratch with sound master-planning techniques. And we're going to put a lot of people to work."
Bullock said Minto believes in using local tradespeople, until the supply runs out.
"To get the trade base built up to where it needs to be for the kind of volume we are going to be doing, you have to start pulling regionally, for sure," he said.
Precise spoke to the development's future economic impact on the community.
"Our economy has always been tourism and hospitality dependent." Precise said. "Latitude Margaritaville Watersound will bring more year-round stability to our economy. Businesses will have a bigger base of year-round residents."
Added Bullock: "Our residents don't have school-age children, but they all will pay ad valorem taxes. That will be a huge benefit to local government."