Flying Private
Fixed-Based Operators Are an Economic Driver in the Panhandle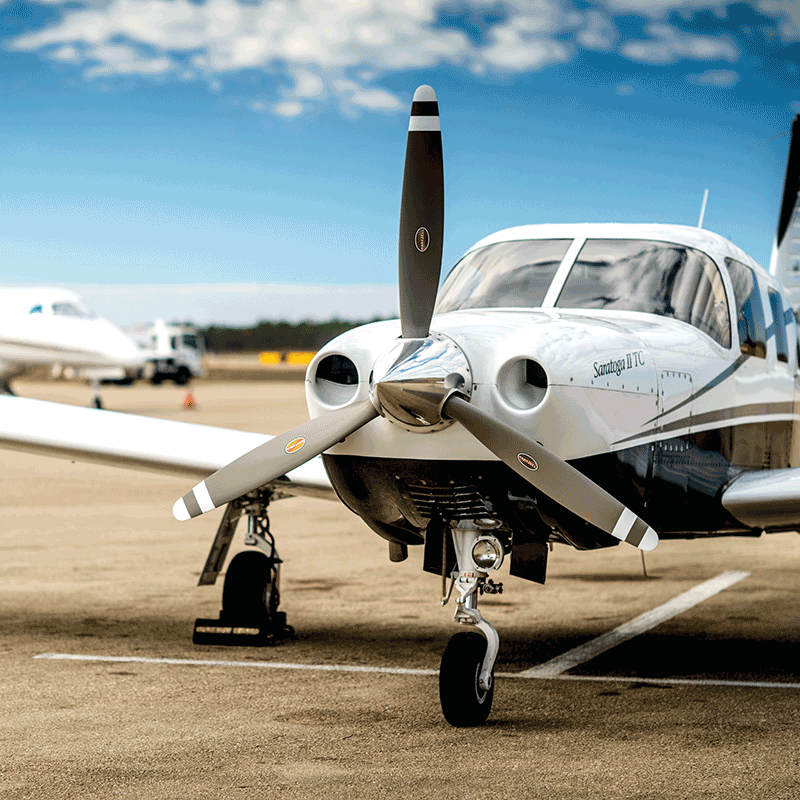 Domenick Eanniello, general manager of Million Air Tallahassee, wears his Florida State University colors as he chats in his office overlooking the general aviation portion of Tallahassee International Airport. There are two Army Blackhawks and an olive-drab Russian Mi-Series helicopter sitting out on the tarmac. Civilian aircraft are parked nearby. Meanwhile, a Navy-gray P-3 Orion, a four-engine turboprop plane used for maritime patrol, orbits the field. A few days earlier, vintage World War II aircraft from the Collings Foundation used this fixed-base operator, or FBO, as a stopover en route to a show in Central Florida.
---
The mingling of military and civilian aircraft is a common sight at Million Air. The former are there to train pilots, while the latter are there not only to train general aviation pilots but to drop off football teams, businessmen and future presidents-elect.
Eanniello, who is in his sixth year as general manager of the FBO, wears garnet and gold to greet the Boston College football team. Representing Tallahassee, and promoting it, are every bit a part of his job, as is providing coffee and conference rooms. That's because Million Air is more than a gas station for airplanes. It's about providing the best customer service to the people who fly in those planes. And it's about being the first face a potential new business sees when it comes to town.
"Our product is not fuel," Eanniello said. "Yeah, it's about 75 percent of what we do, but it's not fuel. Our product here, in the FBO business — and you'll find this nationwide; everybody has copied the model in the last 15 to 20 years — is customer service."
According to the company website, Million Air was founded in 1984 by the Mary Kay Cosmetics family as a single-site business located in Dallas. The company's original goal was to deliver high-end service to Mary Kay customers and sales representatives at the company's hometown airport. Soon, though, the company realized that high rollers stepping off of million-dollar private jets were accustomed to luxury-level service, and a new business model was born.
Today, Million Air has bases worldwide. The company came to Tallahassee around 2009 when it bought the FBO side of Flightline, which continues to have a vital presence as a Piper aircraft dealer and maintenance provider. While both businesses rely on providing excellent customer service, Million Air caters more to the human element of general aviation, Eanniello said.
"Whatever a guy requires, whether it be fuel, oil, for us to get him a hotel room, for us to get him a rental car, for us to take care of his catering, for us to recommend where to go in town to eat, whatever the customer requires, we do as a customer service business," he said. "A subset of that is fuel, but we see ourselves as more of a concierge business that caters to aviation. And that's the big change in this business over the last 20 years, I'll say."
Making an overall customer impression is the only way to survive in this business today, Eanniello said. Like all top FBOs in the Panhandle, Million Air prides itself on providing luxury-level amenities.
"That's how we stay competitive in this industry, and my company has, five years in a row, been voted the best FBO in the country because of that overall customer service focus. We'll do anything," he said. "We modeled ourselves on the Ritz Carlton, and Disney and Southwest. People that bring in business jets, they wake up in a large house, somebody drives them to the airplane, they get on their $30 million airplane, they come here to see the governor to lobby about something, so they're used to a very high-end experience. We try to make the transition from the airplane to the business and from their business in town back to the airplane, like the rest of their life, if you will."
Gas and a Good Cookie
Not every pilot needs red carpet service when he or she arrives. Some are just looking for the usual complimentary snacks and drinks FBOs are known to offer.
"I judge a good FBO by the quality of its cookie," said Troy Kinsey, a Tallahassee-based reporter who covers the Capitol for Bay News 9 in Tampa and News 13 in Orlando. "If they have a good cookie and a good cup of coffee, that's what I like. That's what I appreciate in an FBO."
Kinsey has been a private pilot for about six years and is the proud owner of a 1974 Piper Cherokee Warrior. In his case, flying is more than a recreational luxury. It's an integral part of getting his job done, and he couldn't do it without FBOs throughout the Panhandle.
"It's a great gig, probably the best gig on the Capitol press corps because the bosses are 300 miles away," he said jokingly. "But I love it. It's a terrific privilege to be able to fly in Florida because it's such a big state, and if you're a journalist like me covering Florida politics, to get around as quickly as we can through the air is a terrific asset."
One of Kinsey's favorite FBOs is at the Quincy Municipal Airport, which is just minutes away from Tallahassee by air. Its laid-back, casual atmosphere is a refreshing contrast to the tightly controlled environment one finds at larger airports.
"Here, it's kind of a no-frills FBO," he said. "They've got a couple of restrooms, a conference room, they've got, well, pretty much every FBO has a flight planning computer so if you want to take a look at the weather (you can). Frankly, that's become very obsolete because we all have these ForeFlight apps."
Flying instructors Lacey Smith and Faith Drewry, co-founders of the award-winning FL Aviation Center in Tallahassee, also have a soft spot for small-town airports like those in Quincy and Apalachicola.
"The Quincy airport has a lot of general aviation traffic, and they're actually one of the few airports that have been growing," Smith said. "And they've been adding hangars; they had a waiting list for the longest time for hangars over there, so it's a very active general aviation airport, but it's also a lot more accessible. There's not all the badging processes that you have to go through, so the pilots like to be over there, and it's not that far from the city. They keep their airport in really good shape, and we have events over there sometimes, including a pancake breakfast."
Drewry said she enjoys hopping over to Apalachicola because it, too, is a relaxed setting.
"It's like, you land, walk up to the FBO and, you know, 'Can I borrow the crew car? We just want to run to town for lunch.' It's a casual, relaxed atmosphere, and pilots are continually in search of that kind of community and camaraderie," she said.
A typical business trip for Kinsey involves hopping between Tallahassee and Tampa/St. Petersburg, but on the weekends he likes to fly over to the Emerald Coast for a change of pace. That's about a two-and-a-half-hour trip by car from the Tallahassee area, but his Cherokee can make it in 45 minutes. Upon arrival at Destin Executive Airport, he taxis up to a Destin Jet terminal; a lineman will come up, ask him how long he's going to be there, and he'll park the plane. Then, if need be, he will use the FBO's crew car to get a bite to eat or go to the beach.
"At Destin Jet they don't charge a ramp fee, which is terrific," he said. "A lot of FBOs charge a ramp fee so when you land you'll pay a parking fee, but they view it as economic development, so the more private pilots they can get to fly in and park their planes, the better. I think a lot of piston aircraft pilots are dissuaded from using Destin Jet because of the 'jet' in the title, but I always go there. The cookies are hard to beat, and they have a 'wall of fame' full of autographed pictures of the celebrities who have flown in."
Naturally, aviation is a huge economic driver in the Panhandle. Commercial airports fly the tourists in, and the region's vast military-industrial presence is well known. Meanwhile, a network of avionic and maintenance shops keep planes and pilots in the air. Kinsey said his own maintenance tech in DeFuniak Springs is "perpetually busy."
"If you book an appointment with him, it's going to be three months before you get in there because he's working on so many planes," he said.
And the big economic driver for FBOs is the fuel consumed by private jets.
"They don't have a very big profit margin when it comes to concessions and things of that nature," Kinsey said. "But in terms of where they derive their profit, it comes directly, for the most part, from sales of fuel. And if they can sell jet fuel, that's where they get the bulk of their fuel revenue. Avgas (aviation gasoline) is nice, but on a plane like mine, I carry 50 gallons total. Which doesn't add up to a whole lot of money. In a jet, or a turboprop, like a (Beechcraft King Air) for example, you can have hundreds of gallons of jet fuel, and that really adds up. One King Air goes into Destin Jet and the fuel bill can be like 1,500 bucks, easily. On this one, maybe 100 bucks."
Back at Million Air Tallahassee, Eanniello said that small private planes make up a quarter of his business, which has four basic customer sets. There are the "little guys" who fly the piston planes such as the Cessna 172 and Kinsey's Cherokee. Military aircraft make up another quarter of the business. Million Air has a military contract with the Department of Defense, which is why visitors often see military aircraft buzzing around. Commercial airlines make up a third set of customers. As the only FBO on the field, Million Air Tallahassee handles all of their fueling. The fourth set is the high-end private jet traffic. That's the real revenue driver here, he said. Ultimately, it all boils down to overhead. And the "little guys" are just a drop in the bucket that covers those costs.
"My overhead cost, if you divide it out, is $277 for me to park an airplane," Eanniello said. "Now, do the math. These tiny Cessna guys, they cannot even take enough fuel for me to make that number. So I'm basically providing a public service for them. I lose money on everything with a propeller. With turboprops, I begin to break even. But all these little guys, which is a quarter of my business, it's a losing proposition. They cannot take enough fuel for me to make that $277. The military guys, for me, are a break-even thing because I get these little trainer airplanes that only have so much capacity. The jet traffic is what keeps me alive. They take enough volume that I can make that $277. They offset some of the smaller guys that I'm breaking even on or losing money on."
Blue Skies?
Underneath the glitz and glamour of the FBO business lies a troubling economic situation. As an economic sector, general aviation has been shrinking since the 1980s.
"General aviation has been depressed for probably 25 years now," Kinsey said. "It really started to take a nosedive in the mid-'80s, for a number of reasons; then 9/11 hit, and the entire civil aviation industry took a tremendous hit from that and people stopped taking flight training lessons. You had, as a result of that, fewer pilots entering the community, and you had less money going to maintenance shops and to fuel purchases at FBOs."
There have been other issues and challenges to general aviation. Product liability issues basically shut down new small-aircraft production before Congress passed liability reform in the 1990s. New private aircraft being produced today are often too expensive for just one private pilot to own. This means that private pilots like Kinsey wind up starting out in planes that belong to an aging air fleet.
"I think the average age of a general aviation aircraft is 40 years old now. And that really indicates the hit, the financial hit that the industry took all those years ago," Kinsey said. "Today, to find a new airplane like a new Mooney or a new Cirrus, you've got to have $80,000. Which is unaffordable for a private pilot. Anyway, FBOs have felt the impact of those declines in the industry over the years, and that's why a lot of them, frankly, have closed."
Fuel prices are another concern. Aviation fuel is subject to the same economic ups and downs that affect all of us. The high price of gas during the 2008-2012 recession provided another disincentive to private pilots.
"When we had the major recession, fuel prices went very, very high across the board," Eanniello said. "Not just for aviation, but even at the gas pump. We all felt it. Remember when it was $4 a gallon? Well, aviation fuel was the same way. It was $5.5, $6 a gallon."
The result of these high prices wasn't pretty. Many corporations that used business jets wound up doing some soul-searching and closed their aviation departments, Eanniello said. However, there is some good news.
"The last year and a half, we have seen a positive vector on those guys going up," he said. "Two, three percent a month from prior years, so the vector is positive on that, which is a good sign for us."
But the small general aviation guys, the ones putting around in Cessna 172s, Piper Cherokees and the like, were hurt the most.
"They had to decide whether they were going to pay their mortgage and still afford to do their weekend flying at that cost," Eanniello said. "So a lot of these guys sold off their airplanes and got out of it. They're coming back, slowly, but it takes a while for that rebound. Aviation is, for the most part, a high-end business. It's a luxury good, like boating. So if I lose my job, before I lose my house I'm going to get rid of my boat. The same applies to an airplane. So that's what you've seen in general aviation."
Aside from an up-and-down economy, there is intense government regulation, not to mention the time and money needed to go to flight school. This lack of new pilots entering the pipeline could have consequences for commercial aviation. As instructors with a passion for flying, Drewry and Smith are keenly aware of the pilot shortage and especially how it affects the FBO industry.
"There is an extreme crisis, a pilot shortage," said Drewry, whose flight school opened in 2012. "We don't have enough pilots to fly our airlines right now. Flights are being canceled because the airlines don't have enough pilots. Right now it's at the regional carrier level, but we're four or five years out from a significant shortage for the major carriers."
Smith said that if there are fewer pilots flying, there are fewer fuel sales. It also means there are fewer pilots renting hangars. That's not good for small airports, which depend on fuel sales and hangar rentals.
"So a lot of the small airports are struggling with competing fuel sales and trying to get the people to come there or stay at their airport because there's less of it around, in general," Smith said. "And with some of the apps available to pilots now, you can easily see which airports along your route have the best fuel prices. It really affects kind of how you plan your route to be able to go into those airports."
The good news is there have been some encouraging developments in recent years that might open general aviation back up to pilots old and new, Drewry said.
"On the flipside to all of these decreases, we've had a couple of big wins lately in terms of the industry," she said. "Manufacturers are safe to manufacture airplanes because there is product liability reform, and now just this year, we've also passed third-class medical reform."
According to the Aircraft Owners and Pilots Association, pilots who have held a valid medical certificate any time in the decade prior to July 15, 2016, may not need to take another FAA medical exam. Meanwhile, pilots — including student pilots — who never had an FAA medical certificate need only go through the process once. Also, once a pilot has met the initial requirements to fly under the reforms, he or she need only visit a state-licensed physician at least once every four years and take an online "aeromedical factors" course every two years. The reforms are considered a huge victory for private pilots who aren't going to carry more than six passengers.
"They have not eliminated, but reduced, the extraordinarily onerous burden that had been placed on private pilots to prove their medical fitness," Drewry said. "So those two things are entering the picture right now as an attempt to counteract what has been depressive activities on the industry for the last 20 years."