Flouting the Waste Stream
State's ambitious recycling goal eludes Northwest Florida counties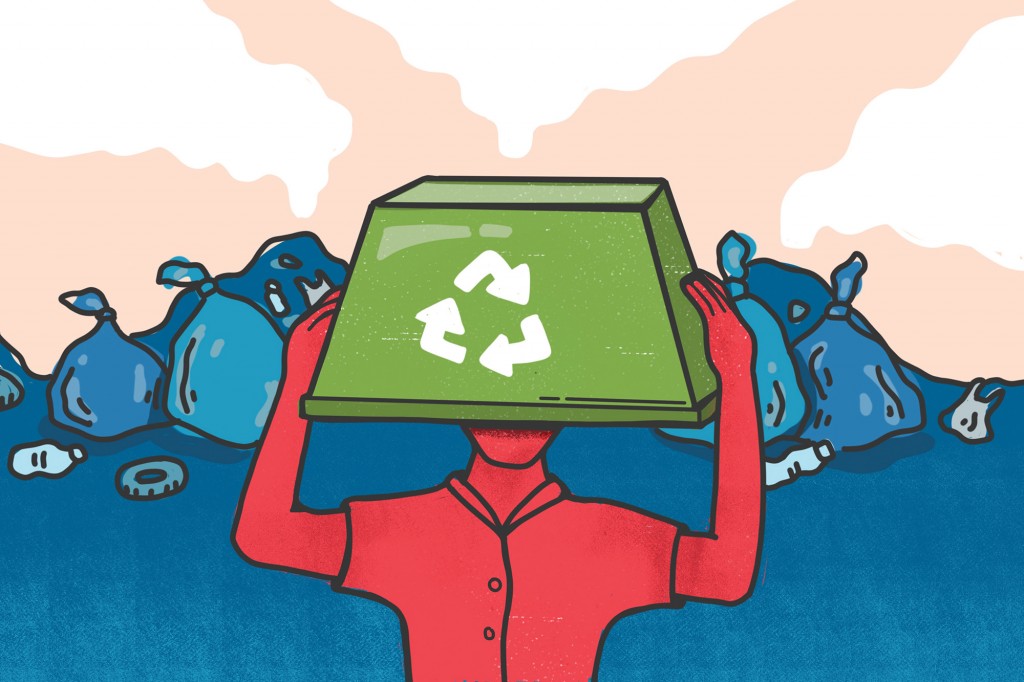 Pensacola is a beautiful city that, according to the city's new sanitation services director, needs a better recycling program.
"Our program overall is not good," John Pittman said in December.
That doesn't bode well for efforts to hit a state Department of Environmental Protection goal of 75 percent recycling statewide by this year.  "We won't hit it," Pittman said.
In that regard, Pensacola and Escambia County hardly stand alone — though they in fact stand stronger than most.
DEP tracks progress by county, and only four of the state's 67 counties met a 2018 interim goal of 70 percent recycling.
No Northwest Florida counties met the goal, though Leon County tied for third in the state at 60 percent in so-called traditional recycling and ranked 10th in the state at 62 percent in overall recycling. Though way off the state target, Escambia County ranked in the top 20 in both categories.
Traditional recycling emphasizes items collected in curbside and drop-off services.
Overall recycling rates include credits for renewable energy from facilities that convert municipal solid waste to energy.
The statewide overall recycling rate for 2018 stood at 49 percent, down from 52 percent in 2017, according to DEP. The statewide traditional recycling rate dropped to 40 percent in 2018 from 42 percent in 2017.
Citing "unnecessary waste and depletion of our natural resources," the Florida Legislature established the recycling initiative in 2008. It called the weight-based program aspirational but required public entities to annually report recycling data to counties.
Repeated attempts to obtain comment from DEP officials for this story were unsuccessful.
Regarding the DEP's goal, waste management officials point to problems that counties and municipalities have faced, including insufficient staff, resources and outreach; a high percentage of recycled items contaminated with food and other materials; and a sharp decline in markets for recycled items.
In response to the contamination problem, for example, China has implemented strict standards on the quality of recycled materials it receives, leaving U.S. counties and municipalities with an oversupply of glass, plastics, mixed paper and other items.
In addition to the labor to collect the items, governments now must pay to get rid of items for which they used to get paid, experts pointed out.
"A lot of the glass right now we're collecting at curbside, we don't have end markets for, and it's going right back to landfill," said Gene Jones, CEO of Southern Waste Information Exchange, a nonprofit organization that helps businesses and municipalities on waste management issues.
"We've got to have end markets. In real estate, we talk about the three key words: location, location, location. In the recycling industry, it's markets, markets, markets."
The state set a tough target, Jones and others agreed. Legislation introduced last year in the Florida Senate aimed for an extension beyond 2020 on the state's 75 percent goal. The bill was still pending in December.
"Plain and simple, 75 percent is a very high goal to achieve," said Tessa Schreiner, sustainability manager at Leon County's Office of Sustainability.
"We always say that the most difficult part about our job is enacting behavior change, and to reach a goal like 75 percent is going to take a massive effort for all stakeholders — businesses, producers, citizens, etc."
She said the state, through DEP, has provided technical assistance, research and insight on best practices. She said Leon County emphasizes related sustainability concepts, such as reducing and reusing, which decrease the waste stream.
Schreiner pointed out that public entities differ broadly on how they handle recycling. In Leon County, both the county and the City of Tallahassee provide curbside pickup of recycled items.
Some Florida counties, including Bay, use waste-to-energy facilities that create electricity but also ash that must go in a landfill.
Bay County's facility, which began operation in 1987, burns enough household garbage including recyclable items to create about 60,000 megawatts a year of electricity that it sells to Gulf Power, said Don Murray, the county's general services director.
The process includes the extraction and recycling of metals from ash residue.
"That was the biggest investment this county ever made to work toward a better goal of recycling," Murray said.
Bay County municipalities including Panama City don't offer traditional recycling programs.
Before Hurricane Michael devastated the city and the region in October 2018, the county had kept bins in Panama City and elsewhere for residents who preferred such programs, Murray said.
In 2018, the county's traditional recycling rate stood at 25 percent, tied for 37th in the state, and its overall recycling rate at 39 percent, tied for 25th in the state.
After Michael hit, Murray said, the county stopped its recycling-bins program and turned its attention to recovery and collection of debris — 17 million cubic yards through late 2019.
He said county officials have chosen not to revive the bins program because people were filling the bins with trash. That has left recycling enthusiasts frustrated.
"I can't even encourage recycling now, because nobody's doing any recycling except for the metal scrap yards that take batteries, aluminum, steel, cast iron, copper, stainless steel and all that stuff," said Henry Lawrence, a Bay County resident and Green Party member.
"Those are the only people who are doing any serious recycling."
In Pensacola, new sanitation services director John Pittman said he aimed to roll out early in the year a campaign to educate residents on recycling.
And in a key change, he said, residents would have recycling bins emptied on the same day as garbage collection.
He said he was eager to help the city and county reach the state's recycling goal.
In 2018, Escambia County ranked 19th in the state at 44 percent in overall recycling and 20th in the state at 40 percent in traditional recycling.
"It's important from an environmental perspective," said Pittman, who started in job in June.
"The more we recycle, the less we have to throw away, and there is a big cost when it comes to garbage."