Florida Ranks 4th on Tax Competitiveness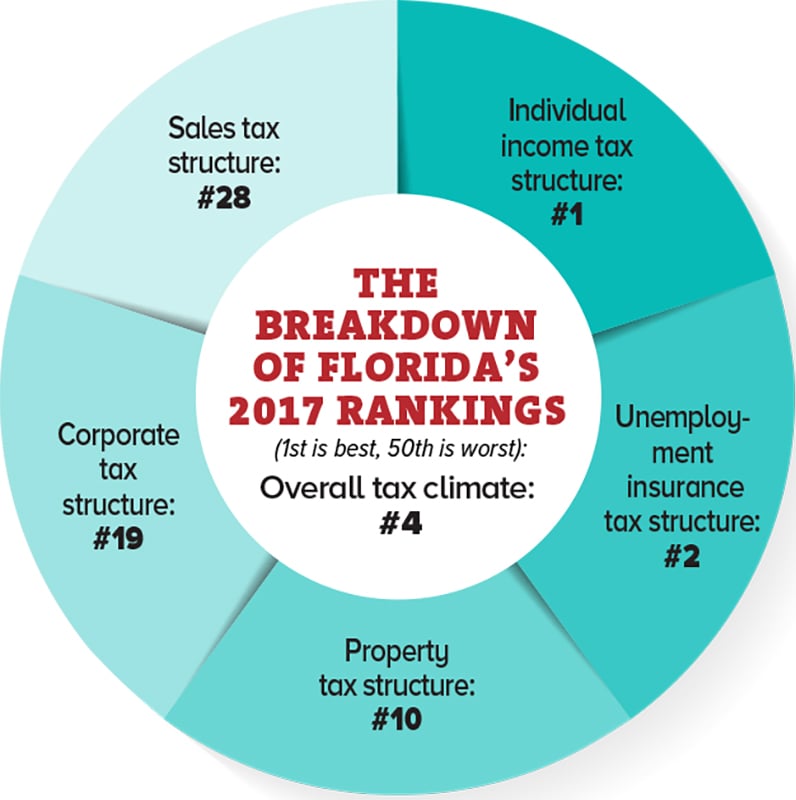 Florida has the 4th most competitive tax code in the nation, according to the 13th annual State Business Tax Climate Index, released by the nonpartisan Tax Foundation. The report measures how well-structured each state's tax code is by analyzing over 100 tax variables in five different tax categories: corporate, individual income, sales, property and unemployment insurance.
States are penalized for overly complex, burdensome and economically harmful tax codes and are rewarded for transparent and neutral tax codes that do not distort business decisions. A state's ranking can rise or fall significantly, not only because of its own actions, but also because of reforms made in other states.
"Our goal is to start a conversation between taxpayers and policymakers about how their states fare against the rest of the country," said Tax Foundation Policy Analyst Jared Walczak. "While there are many ways to show how much a state collects in taxes, the Index is designed to show how well states structure their tax systems and to provide a roadmap for improvement."
This year's most
competitive states include

This year's least
competitive states include

Wyoming

South Dakota

Alaska

Florida

Nevada

Montana

New Hampshire

Indiana

Utah

Oregon

41. Louisiana

42. Maryland

43. Connecticut

44. Rhode Island

45. Ohio

46. Minnesota

47. Vermont and D.C.

48. California

49. New York

50. New Jersey
Florida gets D+ grade on Adult Financial Literacy
Florida is one of seven states that received a D+ on the 2016 National Report Card on Adult Financial Literacy released by Champlain College's Center for Financial Literacy. No state received an A grade.
"Our report shows that our nation has dramatic room for improvement, so one should not be misled by grades," notes John Pelletier, director of the center. "For example, while adults in Florida perform well in important areas like students graduating with student loan debt, they can improve in other areas, like financial knowledge, housing credit and retirement readiness."
The report card assesses the problem of adult financial illiteracy nationally and gives grades to each state based on data gleaned from national organizations that track Americans' financial knowledge, credit, saving and spending, retirement readiness, investing and levels of insurance.
Seventy-two percent of Florida's grades were C, D or F (51 out of 71 financial literacy grades).
Florida's gradedata points
Financial Knowledge — D
Credit — D
Saving and Spending — C+
Retirement Readiness — D-
Protect and Insure — D-
Top states for
financial literacy

Bottom States

1. Minnesota

2. North Dakota

3. Utah

4. Hawaii

5. Wyoming

6. New Hampshire

7. Iowa

8. South Dakota

9. Vermont

10. Alaska

11. Massachusetts

12. Wisconsin

41. New Mexico

42. West Virginia

43. Texas

44. Georgia

45. Florida

46. Alabama

47. Oklahoma

48. Arkansas

49. Louisiana

50. Mississippi