Florida Is Among the Fastest-Growing Producers of Specialty Beers
Prost! The Forecast Sunny for Craft Beer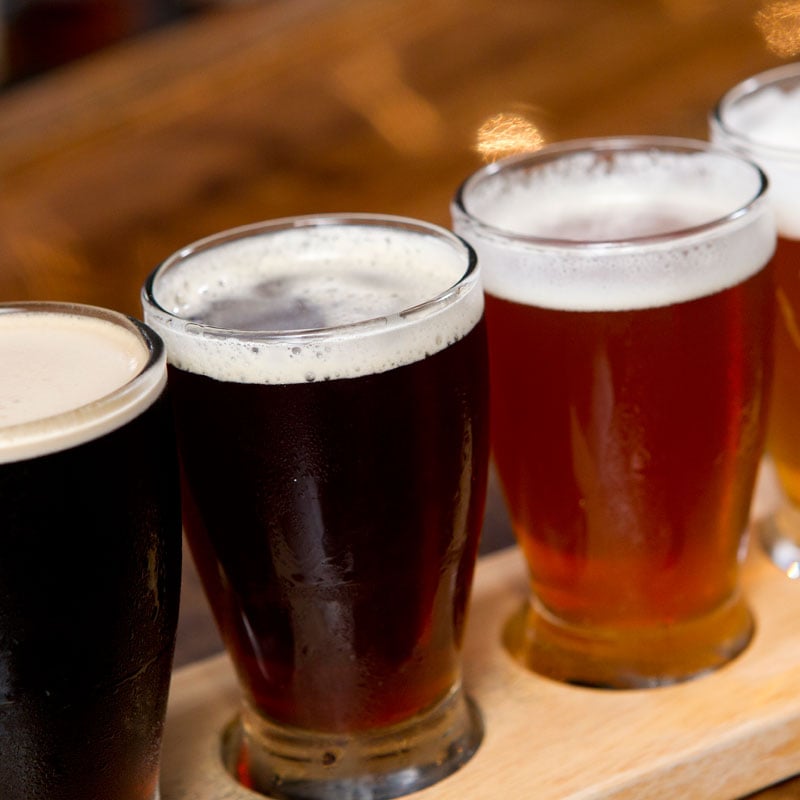 Between 2011 and 2012 alone, Florida craft beer production climbed from an estimated 64,531 to 92,512 barrels, a 43-percent increase, putting the state among the fastest growing craft-beer producers in the country, according to the Brewers Association (BA), the sector's national trade group. Taking note of the trend, Visit Florida, the state's official tourism marketing corporation, recently observed that, although still relatively small players in the commercial beer world, craft breweries and brewpubs now inhabit almost every corner of the state and are helping define a different kind of tourist destination, which development is borne out by figures from the Florida Department of Business Professional Regulation. The FDBPR listed 35 brewpubs and 43 craft-beer manufacturers in the state as of April 2013, compared with 23 and 18 respectively in July 2010, when it began keeping a more detailed breakdown of these enterprises.
Accounting for the growing popularity of craft beer are various and synergistic causes. These include a notable decline in the U.S. beer market in the last decade, accompanied by mergers of several of the major beer companies; repeal or amendment of arcane and archaic post-Prohibition bottling and distribution laws; greater availability of the products due to the import of domestic and foreign craft beers into the Southeast; developing palates among consumers as a result of exposure to the product; interest in all things local and sustainable; and yes, the explosion of brewpubs and microbreweries across the state in recent years.
Talk to craft-beer brewers, and you get a sense of their excitement and optimism.
"The Southeast is the fastest growing craft-beer area in the country," asserts Mike Halker, president of the Florida Brewers Guild, which represents 95 percent of the state's craft-beer brewers. "Whether you want to look at consumption or number of breweries, it's around a 14 or 15 percent growth … we're reverting to where we were 100 years ago, when there were breweries everywhere, before Prohibition shut everybody down."
People are extremely receptive to local beers as they are to local foods, offers Byron Burroughs, owner of Proof Beer Brewery in Tallahassee. "People realize it's something made fresh in their own market, and that helps create and support jobs and the local economy. It's been a little late in coming, but now it's exploding."
Add to that the fact that it's trendy to drink quality craft beer, says Elliot Eckland, co-owner of Pensacola Bay Brewery. "It's a phenomenon happening across the Southeast, which is about 15 years or more behind the rest of the country when it comes to microbreweries and craft beers. But with the laws changing and craft beers getting down into the Southeast, demand has really started to take off because people are getting familiar with good beers."
No question about it, whether you prefer to tap into domestic, imported, local labels or your very own brewed "basement" batch, you're not alone in your love of suds in Northwest Florida. Since it is Oktoberfest season, we thought we'd fill our pages — and a stein or two — with a sampling of the pubs and brewers we have found in the region.
Tallahassee on Cutting Edge
Momo's Pizza Brewpub on Market Street is one of three establishments in the capital city producing quality craft beer, compliments of headbrewer John Larsen.
"I brew a lot of classic beer styles and occasional specialties," says Larsen, a brewer for more than 25 years who has been with Momo's since mid 2011.
Momo's tries to have four or five beers on tap at any given time, including several types of India Pale Ales (IPA), porters, stouts, honey beers, spiced ales and Kolsch.
"We won two gold medals at the Best Florida Beer Championship," Larsen says. "We also won first place in Best of Show and first runner-up in Best of Show for our Moose and Squirrel Nut Brown Ale and Big Papa Porter, respectively."
Larsen sees a definite growth in the popularity of craft beer locally.
As for the reason, "Craft beer is just that good," he says.
He also sees potential challenges for the industry, both internally and externally.
"The big brewers and their distributors may attempt to place obstacles in the way of getting craft beer on the shelves," Larsen says. "Within the craft industry itself, market saturation might be the biggest issue; we might create more beer than the market can bear."
Proof Beer Brewery on Tennessee Street is Tallahassee's only licensed distributing brewery. Opened as a craft beer and liquor store in 2007, Proof quickly morphed into a craft-beer bar with a wide and award-winning selection of craft beers; it added its own brewery and two tasting rooms in 2012. The plan now is to expand into a full-scale distributing brewery in another part of town.
"We are in the process of doing that right now," says owner Byron Burroughs. "We should be online and distributing locally and out of town by this fall. Our goal is to be a regional distributing brewery."
Once the new operation is up and running, the Tennessee Street location will become a pilot brewery where batch and experimental beers are tested.
Proof is currently developing and perfecting its core beers. Burroughs identifies among the possibilities five that have won awards in the Best Florida Beer Championship, including an IPA, a pale, an amber and a rye.
Like the now disproven belief that Floridians would only consume big commercial beers, Burroughs is betting that college students will drink more than just light and inexpensive beers. Not only are young people extremely receptive to new styles and full-flavor beers, they are developing tastes and brand loyalties they will carry forward, he says.
He is excited about becoming Tallahassee's first full-fledged brewery.
"I think a brewery enables a neighborhood or city to have a sense of place," Burroughs says. "It's something people can be proud of; beer made locally, if well received, spreads the word about a town. There is much community that can be built around a good local beer brand, and all the peripheral things that go along with that."
The Fermentation Lounge on All Saints Street has been around more than four years. A retro-style neighborhood bar in a quasi-residential district, the Fermentation offers a rotating selection of 12 craft beers on tap, as well as an extensive assortment of bottled beers.
"We stock craft beers from all over the country and the world," says General Manager Andrew "Ace" Evans. "Whatever we can get our hands on we put here and rotate constantly. Our bottle menu can reach up to 100 to 200, depending on how many bottles we can fit at the time."
The Fermentation also produces a limited amount of craft beer onsite.
"Sometimes during a month we might pop out two beers, or we might take a break, like now where we're on a four-month hiatus," Evans says. "During a given year, I estimate we produce 10 to 12 craft beers."
And demand for craft beer?
"It's constantly increasing," Evans says, adding that the establishment will feature German beers on tap and discounted drinks during Oktoberfest.
Panama City Up and Coming
Panama City doesn't have brewpubs or microbreweries per se, although RateBeer, a worldwide consumer website dedicated to craft beer and craft-beer culture, identifies two locations.
One is the Fishale Taphouse and Grille, which bills itself as Bay County's first gastro pub, a type of bar/restaurant that serves high-end beer and food and conceptually traces its origins to Margaret Thatcher's 1980s England. Opened in early 2012, the Fishale features a wide variety of hand-crafted beers.
"We have 65 different beers on tap from breweries anywhere from Oregon to southern Florida," says General Manager Sean Palamarczuk. "We also have a brewmaster on hand every Tuesday who brings one of his own beers for tasting. Every week it's a different beer."
Uncle Ernie's Bayfront Grill and Brewhouse on St. Andrews Bay dates from 1993. Housed in a historic late 1800s building, the establishment offers a variety of craft beers, including three "homemade" that are actually produced by the SweetWater Brewery in Atlanta. General Manager Lee Clarke explains that SweetWater allows the restaurant to name the beers as its own. The establishment additionally offers 12 craft beers on tap, as well as a selection of other beers.
Raising the (Underground) Bar
It really wasn't that long ago when the term "homebrew" might have evoked images of moonshiners distilling "white lightning" in remote rural areas while remaining ever wary of federal government agents known as "revenuers."
But for at least the past 30 years, there have been some bold homebrew innovators proudly involved in what they will tell you is "zymurgy." Defined as "the branch of chemistry concerned with fermentation processes in brewing," Mike Nelson of Fort Walton Beach is quick to mention it is also the last word in the dictionary.
Nelson is president of Homebrewers Underground Emerald Coast Florida, which deliberately shares its HBU acronym with the term "Hop Bittering Units."
This club has been around since the early 1980s. Sometimes referred to as "a drinking club with a brewing problem," it has about 30 dues-paying members who live anywhere from Navarre to Ponce de Leon.
"Everything in the craft has gotten better," Nelson says, "mainly because of the availability of ingredients. Any brewer can go Internet shopping for supplies at 3 a.m., and we do it. Anything you can want your beer to taste like, you can make it happen."
Anything? "Quite a few of us have tried garlic beer," Nelson replies with a chuckle. "It sounds like a good idea, but some things just don't work."
But while some homebrewers enjoy bonding and sharing, others find a certain appeal in doing things on their own, without joining a club. Someone like Luke Girman is an example of this generation on the rise.
Girman is beer manager at Chan's Wine World in Destin. Introduced to homebrewing by a fraternity brother at Bowling Green State University, Girman has been making his own beer for nearly four years. In that time he's produced more than three dozen five-gallon batches, ranging from ambers to stouts to an Irish red and a vanilla porter. "But no India Pale Ales or pale ales — that's not my style," he says.
A five-gallon batch can cost anywhere from $20 to $60 to produce and the process can take from four weeks to two-and-a-half months. Basic ingredients are available in kits and involve grain (barley, rice, wheat or rye), yeast and hops.
First comes making the "wort," which is what becomes beer. The grain is boiled at a temperature of about 150 degrees and then left to sit for about an hour. This helps pull the natural sugars from the grain. Then the wort is brought to a full boil, and the hops are added at three different times. First comes the bittering hop (the most pungent) at the point of boiling. With about 15 minutes left in the boil is the flavor hop. When the boil is topped comes the aroma hop. Then the wort is left to cool to about 70 degrees, and this is when the yeast is added. This begins the fermentation process that turns the wort into the finished product of beer.
"You can do different things to get the alcohol content up, but in doing so, you sacrifice flavor," Girman says. "You can use more sugar and the stronger yeast, or you can even add table sugar or honey."
Just before and during fermentation, a hydrometer (a calibrated flotation device) measures the amount of sugar and the density of fluid. Sugar is dense, alcohol is lighter. Then comes a second stage or fermentation, in which the liquid is transferred to another vessel. This helps to clarify the beer and get rid of the sediment. Once that process is complete the brewer has to decide whether the beer will go into kegs or bottles.
"I bottle all my beer," Girman says. "A five-gallon batch yields about 48 12-ounce bottles. The good majority I give out to people. That way I can get feedback on what they like or dislike. It also helps to get people interested in brewing themselves.
"I had a couple batches where I was not overly thrilled," he recalls, "but the unwritten law is, 'You brew it, you drink it.' So you're not being wasteful."
But success apparently makes up for any failure while learning. "Vanilla Porter is by far my favorite," Girman says. "It had just the right amount of sweetness and the right amount of bitterness. It went down very, very easy."
Where to Belly Up to the (Micro Brew) Bar
If you don't have your very own brew in a barrel in your basement, don't worry, there are plenty of other options to fill your mug. While one local restaurant has patiently produced its own brew for almost 25 years, several other operations have recently tapped the Emerald Coast market.
"When we started out, craft beer was 1 percent of the overall beer market," says Tom Anderson, the brewmaster at McGuire's Irish Pub, which has locations in Pensacola and Destin. "Now we're at 11 percent and growing."
McGuire's offers six of its own beers on tap at all times, and annual rotation can mean it offers as many as 10 selections. So strong is their local identity that Anderson says of regional craft brewers such as Terrapin, SweetWater or Sierra Nevada: "We're not chasing them, they're chasing us."
Mainstays for McGuire's are beers such as Millennium Ale and Scotch Ale, and six-packs of its Irish Red can be found in many local retail stores. Anderson is particularly proud of his Imperial Stout, the ingredients of which include cherry wood smoke, malt, ancho chilies, Hershey's extra dark cocoa and 84 pounds of extra cherries.
"It's the port wine of beer," he says. "It's 9.5 percent alcohol by volume, and it has such a depth of character."
And, of course, Oktoberfest is always a seasonal favorite. "It's a little different every year, but we've got it pretty well dialed in," Anderson says. "When you've got that Munich and Vienna malt and German hops, you can't go wrong."
Located just off Seville Square near downtown Pensacola is the Pensacola Bay Brewery, owned by Elliott Eckland and Mark Robertson. It is not a restaurant or a pub, but you can get chips and a cheese platter if you visit the tasting room.
"Once you get used to drinking a good craft beer, it's very hard to go back," Eckland says. "It's like drinking fine wine, and then going back to MD 20-20."
Pensacola Bay Brewery's products are distributed throughout Florida and into Alabama, with demand continuing to increase.
"We're brewing four batches a week, and pretty soon may be up to five or six a week," Eckland says. "We've got five tanks with another coming and seven 30-barrel fermenters with two more coming. (A barrel is 31 U.S. gallons). We're growing and expanding our capabilities."
Raspberry Berliner Weiss was a big summertime hit, and a special Oktoberfest is being produced for this year's festival.
"Absolutely," Eckland says. "We make 15 different beers right now; nine we produce pretty much on a regular basis and also rotating ones like the Oktoberfest and Christmas ales."
As far as competition is concerned, Eckland says: "There are no secrets in the brew business. We all help each other … there's plenty of room for everybody."
It took five months for the first batch of beer to be produced at Props Craft Brewery — a Fort Walton Beach pub owned by Air Force pilots Nathan Vannatter and Michael Kee, which opened near the Brooks Bridge in late 2011. But the debut of Four Kings Brown Ale and Flying Coffin IPA proved extremely successful.
Props now has seven homebrew beers on tap, according to General Manager Brian O'Neill.
"About 83 percent of the beer we sell is homebrew as opposed to commercial," O'Neill says. "The big beer distributors are saying, 'Hey, remember us?' We have a porter we call the Prop Oil Porter, a blond we call the Blond Bomber Ale, a French Farmhouse Ale we call the Overlord Ale and a high-alcohol beer called Rye of the Tiger."
O'Neill says the conversation now is to make beers that are a little more hop heavy.
"There are a lot of light beers and pale ales on our board, and we want to get a little more hop bite, a little bit more bitterness and kind of bigger beers," O'Neill says. "This is the direction we're heading."
Jamey Price, founder and president of Grayton Beer, reports the completion of construction on a 30,000-square-foot building in the South Walton Commerce Park that will house his brewery. His expectation was to begin producing the company's pale ale and IPA onsite by August. Until then, a third-party brewer would continue to produce the two beers, which debuted in 2011.
"We expect to make more beers as we go online," Price says. "We'll be making an American-styled Kolsch, a stout, a blonde and also adding seasonal beers."
In July, Grayton announced a partnership with 30A.com to introduce 30A Beach Blonde, which should be on retail shelves and on tap locally this fall. 30A.com's Facebook fans were asked to help design the new label.
Grayton beer is presently distributed throughout much of the Emerald Coast. The goal is eventually to distribute throughout Northwest Florida and the Southeast.
Price compares craft beer today to wine in the '90s, when people in the Southeast were just developing a taste for it. Once people try craft beer, they don't want to go back to the watered-down version, he says.