Flight Training
FSU, GCSC add drone curriculum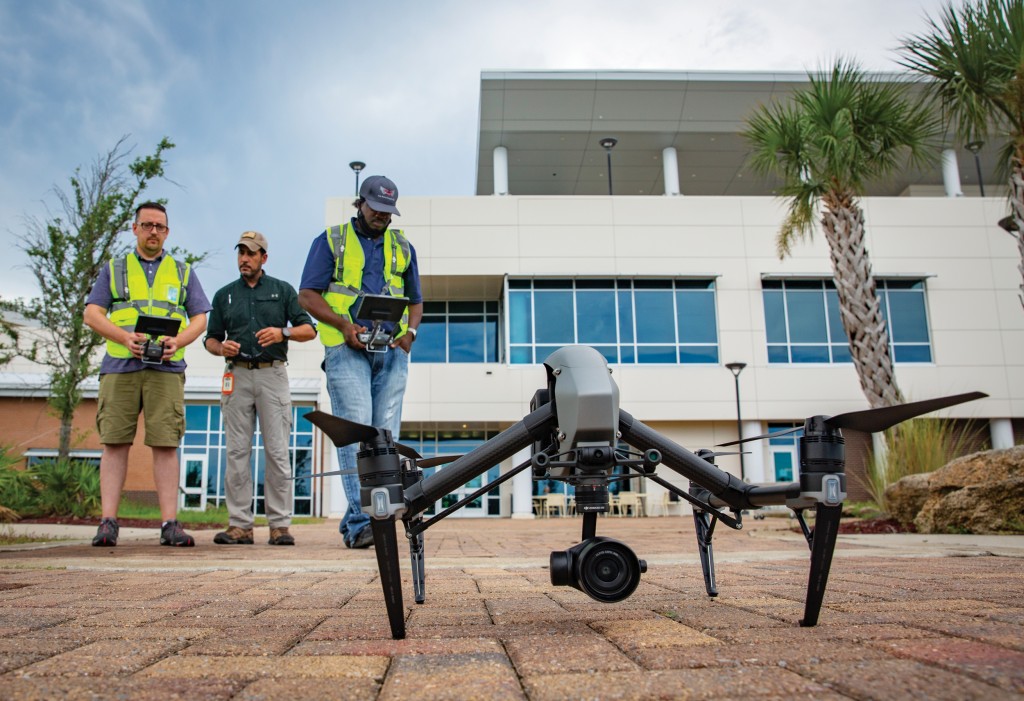 The technology is still in its infancy. But the sky is the limit for unmanned vehicles.
Hobbyists fly small drones that may be equipped with a high-definition camera. Beyond that modest activity lies an emerging business with air, land or sea devices that assist in a variety of fields: real estate, insurance, emergency management, agriculture and ecology.
Gulf Coast State College and Florida State University administrators realized about five years ago the value in launching a drone technology program, seeing a need for personnel who could fly, build and maintain the vehicles.
"That's when the college, along with Embry-Riddle, decided to start the program to provide the skills that will be needed in the future," said Jose Lopez-Baquero, who is an assistant professor at Gulf Coast State and the Unmanned Vehicle Systems Operations program manager.
Lopez-Baquero is a retired diving instructor who was once based at Tyndall Air Force Base. He was working on his graduate thesis on unmanned aerial systems when Gulf Coast concluded that he would be a good candidate to lead its two-year associate of science unmanned vehicles program. With face-to-face classes, labs and the opportunity to fly drones, it's easy to see why this has become a popular endeavor for students and the college.
Why is the field taking off? One reason is that the cost of drone photography is significantly less than the cost to send a photographer up in a helicopter. What could be a costly few hours for a pilot and professional photographer is instead around $ı50 for an unmanned aerial vehicle.
"From the beginning, it was really big in real estate," Lopez-Baquero said.
Realtors, contractors and insurance companies were early adopters of the technology. Insurance companies would often demand aerial photos of construction sites as part of progress reports. What an unmanned drone could do in less than an hour, and at a fraction of the cost, was evident. Some environmental groups have used unmanned devices for monitoring, tracking and research.
A drone can also fly over a pine tree plantation and assess the soil content.
"Say you had a 40-acre plot of pine trees, and you have to identify what areas are the healthier ones," Lopez-Baquero said. "It would take you a long time if you are doing it on foot. But with a flight, it would take maybe ı5 minutes and two hours of processing the data. In one day, you have an answer."
FSU professors in the Emergency Management and Homeland Security program felt the unmanned vehicle studies were a natural complement to their curriculum. Led by David Merrick, FSU's team has worked every hurricane since 20ı6 — including storms making landfall in Florida, Texas or the Bahamas.
When they arrived in Mexico Beach a day after Hurricane Michael's landfall there in October 20ı8, emergency managers were without communications. With roads often blocked by debris, Merrick's team sent up a fixed-wing drone.
"That was the first drone imagery that the county-level decision makers had seen of exactly how bad that area had been hit," Merrick said. "That was critically important. We ended up running air operations for three days."
Even with the limitation of a 90-minute flight time on the fixed-wing drones, they landed the aircraft throughout the day to swap out batteries and send them back up in the sky. Quad-copters have even less battery capacity, often just enough for a 20- or 30-minute flight, but are easier to fly and land. Fixed-wing aircraft also need a long and wide field, similar in size to a football or soccer field, for landing.
But the drones, costing just a few thousand dollars each, helped provide information that was critical in decision-making as Bay County officials looked to help residents as best they could.
"The difference between a good disaster response and a bad disaster response is typically going to come down to what decisions emergency managers and government officials make throughout that disaster timeline," Merrick said. "In order to make a good decision, you have to have good information about the situation.
"Our goal has always been, through whatever technology we have, to speed up that information-gathering phase so that we have better information faster and can make better decisions."
Fire departments have also sent in devices to determine if the air quality is harmful. A sensor detects harmful gasses, ensuring that firefighters aren't put into a situation that compromises their safety. Drones also are used in various law enforcement applications.
"Anything that is dull, dirty and dangerous, we use unmanned systems," Lopez-Baquero said.