First Place Partners Promotes West Florida
The organization is expanding its members and the two-county area it serves.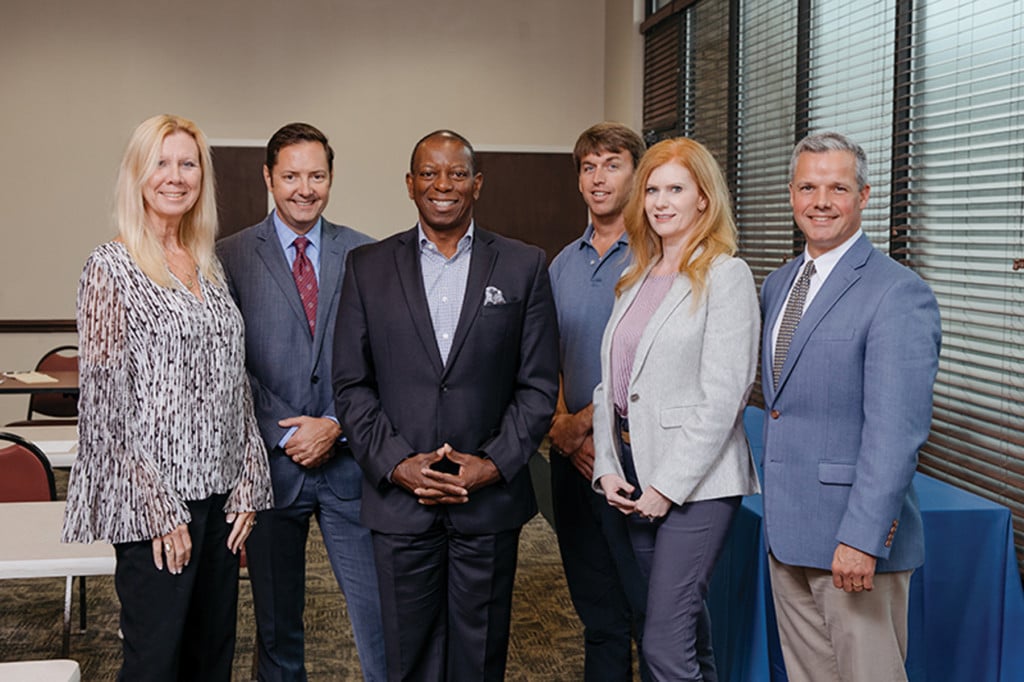 First Place Partners — a new grassroots organization dedicated to economic development in Escambia and Santa Rosa counties — has spent its first year not only raising the region's profile but also adding dozens of local businesses to its ranks.
The nonprofit, which formed in June 2017 and includes primarily private-sector entities, has grown to roughly 50 members.
"We've got our feet under us now, and we're ready to move out," President Keith Hoskins said. "We're just excited about what's ahead."
Hoskins, who is the western district general manager for Gulf Power Company, said the group's roster reflects a valuable cross-section of local knowledge and experience.
"We bring diversity and a variety of business owners who really understand Escambia and Santa Rosa counties and the need to develop a business-friendly environment," he said.
Current members include several major players — Gulf Power, Baptist Health Care, West Florida Hospital, Navy Federal Credit Union, Baskerville-Donovan — as well as smaller companies, representing a range of sectors from banking and construction to law and real estate.
"We've got experts in our organization, and we have all the silos talking to each other," said John Hutchison, director of First Place Partners.
First Place Partners secretary Ed Carson, of Carson Construction and Carson Lovell real estate development, said he's proud to be part of a group of business leaders investing their own time and resources into economic development.
"And, you know, there's an understanding that we are not self-serving," Carson said. "The site committee, for instance, isn't selling sites to each other."
The group's members, he said, are dedicated to improving the entire two-county area.
"Our first year was a learning curve and trying to set up committees and trying to figure out which members were interested in doing which tasks," Carson said. "I think we've pretty well got that worked out. I think we're really engaged."
Hutchinson and Hoskins described the group's role as supporting the efforts of FloridaWest and the Santa Rosa County Economic Development Office with its members' insights, contacts and experience.
"We're not going out and recruiting businesses," Hutchinson said. "That's the job of FloridaWest. … But economic development is a team sport, and it requires a lot of players."
First Place Partners is somewhat unique — in both message and action.
The group has pledged to remain entirely privately funded, using no taxpayer money in its operations. Its board of directors and members meet monthly, but they are committed to keeping costs low and have resolved to use members' facilities instead of paying for office space.
The members also believe strongly in reinforcing the notion that Escambia and Santa Rosa counties function best as a single economy.
"There's a river between us that divides us, but we're tied together — there's no question about it!" Carson said. "All you have to do is stand out on Highway 98 or Highway 90 in the morning and count cars heading into Escambia County."
The idea is that the two counties, which share one university, one state college, one major airport and one interstate, will be far more competitive approaching economic development from a united front.
Hoskins, who previously served as the commanding officer at Naval Air Station Pensacola, said First Place Partners wants to promote the two-county area in that same manner, making sure the rest of the state and the nation understand what Escambia and Santa Rosa have to offer.
Bringing in new jobs, he added, is also critical in helping both counties keep pace with even the moderate population growth they have seen in recent years.
Hoskins and his colleagues predict that a majority of those new jobs — along with the necessary workforce skills — will be increasingly high tech.
In that respect, Hutchinson said, Escambia and Santa Rosa counties are well situated, particularly in the areas of aerospace and aviation.
"We have a large contingency of military members coming out of the military who are already trained to work on aircraft," he said. "We need good jobs."
Carson agreed, saying the area must capitalize on recent wins such as VT Mobile Aerospace Engineering's new $46 million maintenance-repair-overhaul hangar at Pensacola International Airport.
"I think we're also well on our way to having a very significant resource with regard to cyber security," he said. "Not only UWF but Pensacola State College — both have very vigorous programs."
Carson said he prefers that any industry coming into the area not go beyond light manufacturing.
"I'm not wild about heavy manufacturing," he said. "Our environment here is very important to our future, and I just don't want to see anything happen to that. We have a very long history of not being very kind to our environment, and I think it's turned around, and I would like to see it continue in that direction."
One existing resource First Place Partners is happily promoting is The Bluffs — the 6,300-plus acre industrial campus near Cantonment.
"You've got rail access. You've got barge access," Hutchinson said. "You've got all the water you want because ECUA has its new plant there. … Basically, all we need to do is build a road that connects it north to south."
Carson said the site has major potential.
"It's a real golden opportunity, but it's going to cost money to get it ready," he said.
Hutchinson agreed, noting that all lasting economic development takes time.
"You're playing the long game," he said. "You have to invest today to have success down the road."