Finding Success in a Niche
Water and federal contracts help Hydra Engineering & Construction grow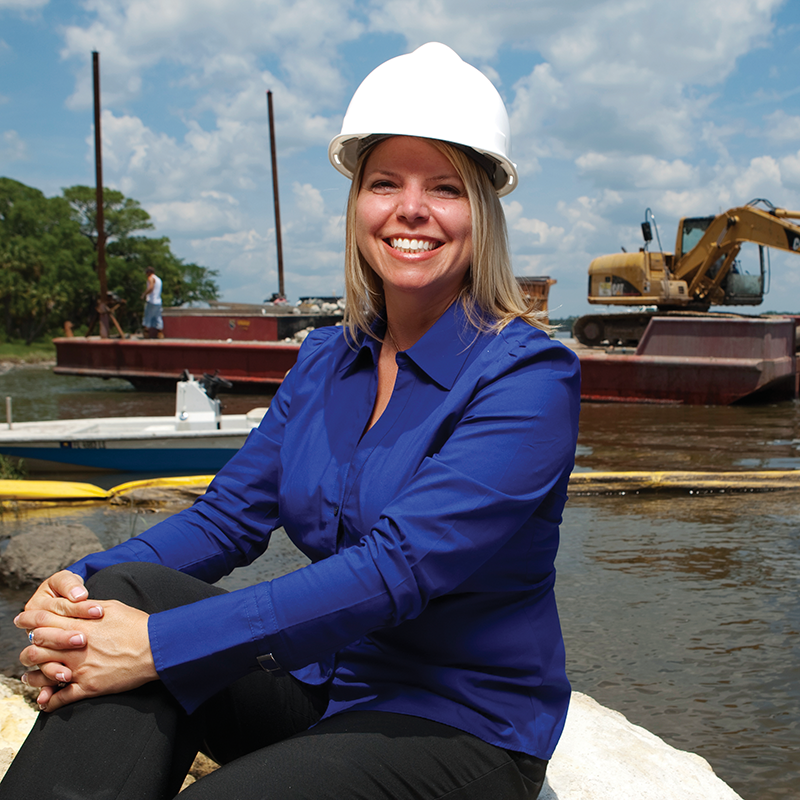 Starting up an engineering consulting firm during the deepest trough of the Great Recession may not sound like a recipe for success, but with a lot of one-on-one marketing and help from the Small Business Administration's 8(a) program, Leslie Hope's Hydra Engineering & Construction has soared. The Wakulla County-based company has gone from $100,000 worth of contracts in its first year to $12 million in 2015, with $18 million on the books for this year.
"I opened Hydra in 2008 (in) the worst possible economy, and it worked out great for me. I had a niche," Hope said. "Companies that did land development and private work, they died." But Hope focused her budding business on federal government projects, which were on the upswing because of the American Recovery and Reinvestment Act (aka the stimulus), passed by Congress and signed into law by President Obama in February 2009. Of the $787 billion dedicated to the program, $105.3 billion was earmarked for infrastructure projects.
"We were recipients of a few contracts for that. That helped," she said.
Hope, who is the sole owner of her firm, grew up in Tampa and got her engineering degree from the University of South Florida. Her professional career included 14 years working for an engineering company in Colorado, where she rose to the level of senior vice president. Hope and her husband (they have since divorced) had spent a year working in Tallahassee right after college and, when they were ready to move back to Florida to be closer to their families, started looking in the area.
Crawfordville, located just south of Tallahassee, had several attractions for Hope as a place to start her business.
"There were a ton of engineering firms in Tallahassee; there were none in Crawfordville," she said. Wakulla County's proximity to the water was another draw for the avid boater, as well as the quality of its schools for her daughter.
"My specialty is anything to do with water. Through college and all of my engineering career, it was stormwater, flood control projects, canals, bridges, roads, anything to do with water in general," Hope said. "That's how Hydra got its name."
Today, Hydra has 46 employees in its home office as well as branches in Albany, Georgia; El Paso, Texas; and Merritt Island.
Within her first year in business, Hope was accepted into the U.S. Small Business Administration's 8(a) program, created to help business owners who are socially and economically disadvantaged. The program is a nine-year commitment from the SBA to provide development assistance to these businesses and help them gain a foothold into government contracting.
"Our very first job with the federal government was a $2,500 design of a septic system at one of the springs in the Ocala area," she recalled. "They paid by a credit card, it was so small."
It's the government, so there was lots of paperwork, Hope said. Hydra's initial application to the SBA weighed in at 12 pounds.
"So many businesses say, 'I don't want to deal with the paperwork,' so they don't even mess with federal projects," Hope said. "The 8(a) process has taught us you've got to know how to do your paperwork. The ladies in the office, they're on top of the certified payrolls every week (and) all the documents you have to do to do a federal project."
The 8(a) program is broken into two phases, according to SBA Small Business Specialist Jay Choi, based in the agency's Jacksonville office. In the first four years, called the "developmental" phase, participating businesses are invited to seek sole-source contracts from federal agencies. In the second term, called the "transition" phase, "we want them to wean off" and find a percentage of their work outside of the 8(a) program, he said. "By their ninth year, they'll have a good, competitive mix and won't be dependent on 8(a)."
Choi supervises nearly 200 businesses in his district, which encompasses 43 counties from Pensacola to Orlando, and Hope is one of his stars.
"She's been very successful in the program, so we're very proud of her," he said.
Hope is proud, too, of her success and what it took to get her there. Early on, she returned to school to get a building contractor's license, which allowed Hydra to contract for more lucrative design/build projects. The SBA "hold(s) your hand, especially in the first couple years, but it's also what you make of it," she said. "I was on the road every week visiting headquarters of U.S. Fish and Wildlife in Atlanta or the U.S. Forest Service in Tallahassee or Gainesville . . . I was constantly marketing myself. If (your business is) your passion and that's where you want to be, then yes, the 8(a) program will skyrocket you. But if you just got it thinking, 'Oh, that's another certificate on the wall,' that's not going to do anything. (Federal agencies) don't call you up because you're in existence, they call you up because you say, 'Hey, I'm going to be in your office every other week until you give me some work.' "
One of her latest achievements was being awarded an Indefinite Delivery/Indefinite Quantity (IDIQ) contract from the U.S. Fish & Wildlife Service to provide design/build construction services throughout the agency's Southeast region for five years. It was significant, Hope said, because it was a competitive, open solicitation — no favoritism from the 8(a) program.
"All the big boys were there. We went through a two-part interview process, and we were one of six that won it," she said.
Close to home, she won the bid to oversee a $600,000 grant project to landscape and revitalize downtown St. Marks, including period street lighting, paving and sidewalks.
"She's a great gal," said City Manager Zoe Mansfield. "She did a wonderful job for St. Marks."
Hope also helped do stormwater modeling for Tallahassee's Cascades Park. City fathers like to call it "a stormwater management system disguised as a world-class park" that opened in 2014 and has quickly become a popular recreation destination in the city.
Her portfolio also includes military projects at the Aviation Survival Training Facility and Naval Air Station in Pensacola, Whiting Field in Milton and Eglin Air Force Base in Okaloosa County.
In a notable achievement, Hydra was named to the University of South Florida's Fast 56 Class of 2016, which celebrates the fastest-growing "Bull-led" businesses in the world.
And by the way, climate change is happening, said the hydrologist.
"I know the facts. The water level is absolutely rising in the Gulf and the Atlantic Ocean," she said. "The polar ice caps are definitely melting. I don't know that it's our fault so much as it may be just natural progression of the Earth," but it's something she has to consider when designing boat ramps, which are supposed to last for 50 years.