Finding a Niche
For marketer, success is a series of connections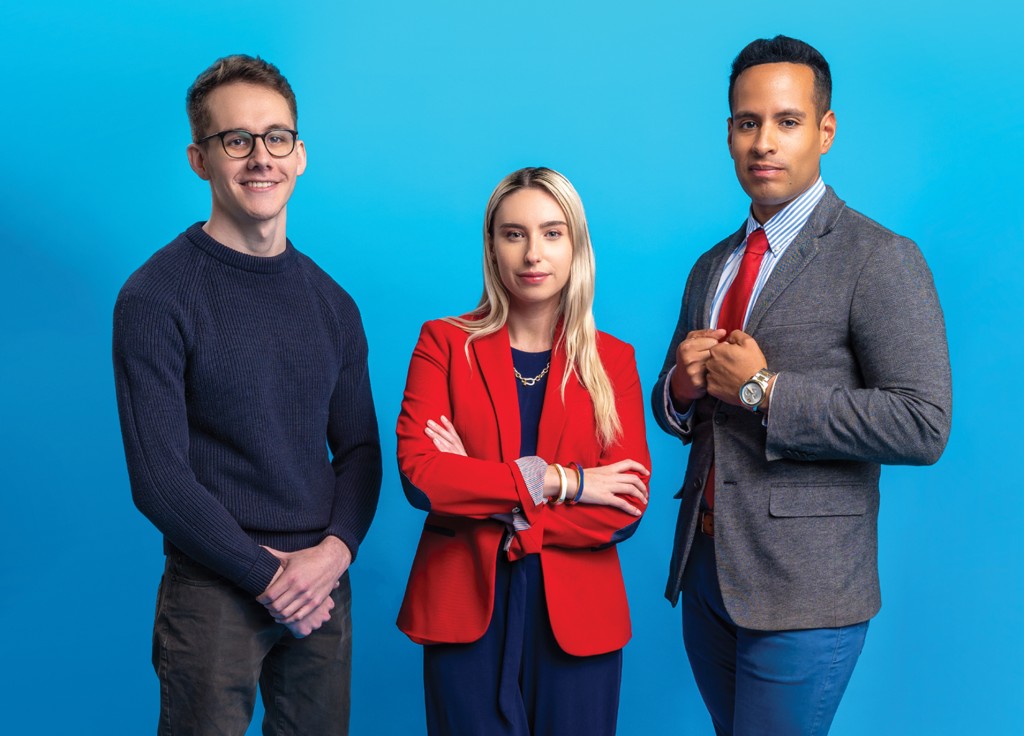 For Andrew Goldstein, success always has resulted from hustle and timing as much as inherent skill.
Goldstein is the owner and founder of Tally Entertainment, a media group known for captivating, narrative-style videography and event-related services.
Launched in 2020, Tally Entertainment already has established itself as a regional leader in multi-media services and has worked with clients including Florida State University, Charlie Park, Tallulah, Dunkin' Donuts and Marriott hotels.
"What sets us apart from other video production companies is that we find the story behind everything, whether it's a business or individual," Goldstein said. "What better way to relate to consumers than by showing them the story behind the business that you have."
Timing can only get you so far. You have to be ready to jump when the time comes. A self-described extrovert, Goldstein has never been shy seizing the opportunities that good timing presents.
As a teen, Goldstein worked as a grocery store bag boy and helped his mom with her event planning business. He discovered a fondness for social scenes.
While in business school at the University of Connecticut, Hartford, Goldstein worked as a promoter for clubs and restaurants. Then came a big break.
Fans of cable television's Real Housewives of New York City may recognize Tipsy Girl, a brand that gained traction both on the show and online.
Started by real housewife Sonja Morgan and her business partner Peter Guimaraes, Tipsy Girl wine opened its flagship restaurant in Hartford during Goldstein's years there. Dining there, Goldstein overheard Guimaraes say the restaurant was having trouble drumming up business.
"I've always been an outgoing guy, so I stepped in and said, 'Hey, this is something I can do for you.'"
He passed out fliers, spread the word about Tipsy Girl among friends on campus and did everything he could think of to get the word out about Tipsy Girl. Within a few weeks, Goldstein said, the restaurant was doing well.
Inspired by that success, Goldstein started a business, Promotonics Promotions, but found that it lacked sufficient backbone.
"What I realized is that a lot of these businesses needed the marketing aspect of things," Goldstein said. "Marketing is the spine of any business — not necessarily the heart, but definitely what sustains it long term."
Marketing, Goldstein explained, is more than creating a website on Wix or haphazardly posting to Facebook. It's about getting in front of your audience and telling a story.
Goldstein moved from Connecticut to Tallahassee in early 2020 with the goal of establishing himself in Florida. His arrival in the Sunshine State unfortunately coincided with the arrival of the COVID-ı9 pandemic.
"The pandemic threw our plans off quite a bit," Goldstein said. "But in marketing, when things like that happen, you have to pivot."
Tallahassee was a market vastly different than what he was used to, one that valued homegrown businesses and emphasized personal relationships, something that Goldstein was without when he first got to town.
"Honestly, the only way I made any connections in this area when I first moved was a local company called F45," Goldstein said. The franchise fitness company has a location in Midtown.
"They had this free outdoor boot camp for a while, and I became a member," Goldstein said. "I wanted to get out there and be active, socialize. I got really close to a lot of people there, and that's kind of how my whole network initially started."
One of the first connections Goldstein made was with a local videographer trying to get his business off the ground. The two sat down together and made plans.
Goldstein would bring his background in marketing and event planning to the table but let the videos take center stage. With people stuck inside on their phones and computers due to the pandemic, video was an ideal vehicle for connecting with audiences in a meaningful way.
Tally Entertainment was born, and Goldstein went straight to his buddies at F45. The business had plenty of marketing material but no videos.
Much to F45's and Goldstein's delight, a video produced by Tally Entertainment performed well. Goldstein had a Tallahassee toehold.
"I know we've helped a lot of businesses here, and it's been a great thing because this community is so much more tight than what I'm used to," Goldstein said. "Word-of-mouth has always been the most powerful marketing tool, and I think here, it's very easy to spread the word when you're a legitimate business looking to help others."