Filling an Urgent Need
Partnership is bringing community-based hospital to PCB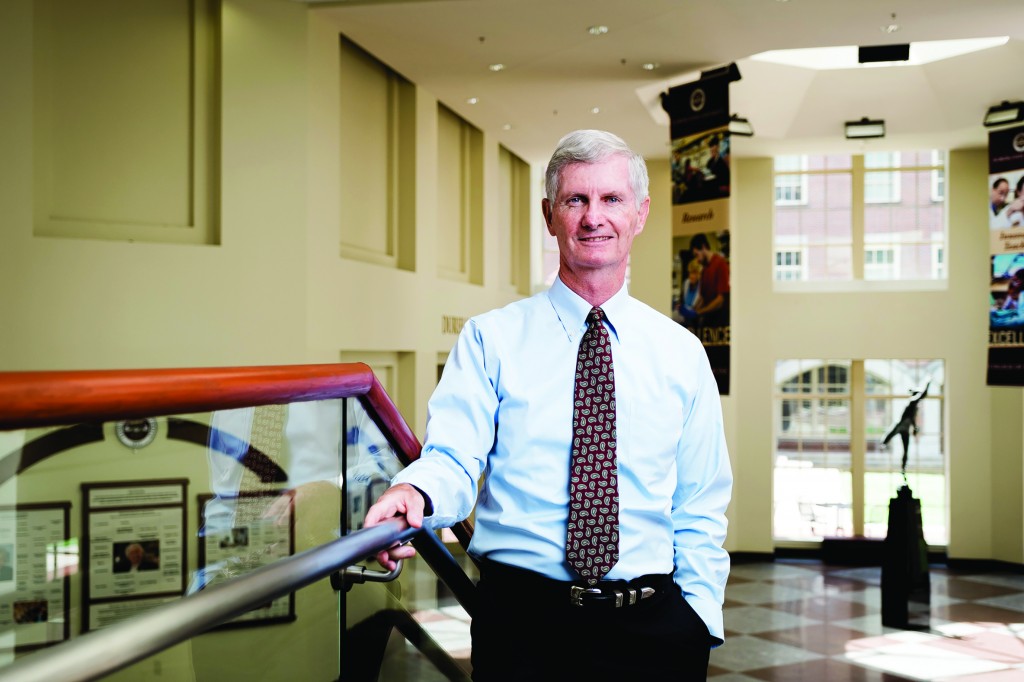 When the St. Joe Company began planning a massive new development to be called Latitude Margaritaville Watersound, the third iteration in musician Jimmy Buffet's collection of retirement communities, the word went out that Jorge Gonzalez, St. Joe's president and chief executive officer, would be looking for a health care partner to better serve the new community's residents.
"A person in our community, Ed Canup with Capital City Bank, had worked with St. Joe and Jorge Gonzalez for years and said, 'You have to meet this guy,'" recalled Mark O'Bryant, president and CEO of Tallahassee Memorial HealthCare (TMH), a private, not-for-profit community health care system that serves a ı7-county region in North Florida and South Georgia.
"What St. Joe recognized was that to attract that population — folks who want to find a lifestyle community who are 55 years of age and older — there were certain quality-of-life components that they wanted to make sure were available to their residents," O'Bryant said. "And one of the components that they're wanting to have available to them, in particular, is a high quality of health care services. I became very intrigued about the project, and the more we discussed it with Jorge Gonzalez and the St. Joe folks, the more we recognized that we had a lot of commonality in outlook and certainly a great synergy in where we both saw the community headed, especially on the health care side."
According to O'Bryant, St. Joe was looking for a partner that had a strong understanding of community-based health care, not just in the provision of services, but with a level of governance that was also community-based.
Community input
"We have a strong history of being a community asset and engaging the community," O'Bryant said. "And the governance of our institution is something that we discussed with them in creating an organization that would have a strong community level of input. A lot of health systems — if you're a part of a system that's a large profit, or even a not-for-profit system — your decisions are often made in other locations. And everybody who works in health care knows that the health care of your community is unique to that community, and there's very rarely a cookie-cutter program that really can best address that.
"So, what we do at TMH is build strategic plans based upon the needs of our specific community; we engage the community in those discussions; and we tailor what we do to best meet the needs of the community. That's where being community-based and not system-based has a play. And what St. Joe and Jorge Gonzalez recognized is that sense of tailoring services to meet the specific needs of a particular population is something that we have experience in doing a little better than systems that tend to be a little bit more generic in their approach."
Another aspect that O'Bryant says was a key differentiator in St. Joe's decision to partner with TMH was that the hospital could bring with it an educational and research component via its relationship with Florida State University's College of Medicine and its Department of Geriatrics and Institute for Successful Longevity.
"We were very interested in looking at a new community and whether we could begin to develop something that would be truly unique in terms of both the clinical approach and also research opportunities for the future," said Dr. John Fogarty, dean of the FSU College of Medicine. "We knew that Watersound wanted to be a unique community and that they were really interested in healthy lifestyles for a continued healthier life. And it certainly was attractive to us because we have as one of our mission focuses the care of the aging, along with the underserved and underrepresented.
"There's a lot of enthusiasm for FSU in the Panhandle, and TMH has a good reputation in the Panhandle as well. And the fact that we were talking about local governance and local control as opposed to a national corporate structure for a health care system — I think it seemed like it would be enthusiastically approved over there. So the opportunity for us to potentially expand our educational programs there by building a medical campus close to Panama City Beach, just a couple miles north of U.S. 98 and pretty close to the new Latitude development, I think was exciting for the Panama City Beach community."
Construction of Latitude Margaritaville Watersound, a joint venture between the St. Joe Company and Minto Communities USA, is currently underway with work completed on the community's first 248 home sites, including ı3 model homes. Located in the heart of St. Joe's vast Bay-Walton Sector Plan, the community site encompasses approximately ıı0,500 acres with almost ı5 miles of frontage on the Intracoastal Waterway near Northwest Florida Beaches International Airport in Bay County. Approximately 3,500 homes are planned for the first phase of the development, which will also include, at buildout, a Town Center with stores, bars and restaurants, recreational activities and a full-size concert stage, among other amenities.
The nearby health care campus is to be located on an 87-acre parcel near the intersection of State 79 and Phillip Griffits Sr. Parkway, just minutes from Margaritaville. It will initially comprise an ambulatory and urgent care center with groundbreaking as early as 2022. Future plans include the construction of an emergency center and a ı00-bed inpatient facility offering services such as gastroenterology, urology, gynecology, cardiology and general surgery, among others.
"One of the things we're working on right now is really programming that campus so that it's built in the right direction and at the right pace," Fogarty said.
O'Bryant agrees.
"We recognize that the campus has to be developed for the long term," he said. "What we anticipate is a series of buildings that will include, within five to six years, a ı00-bed hospital. As we 'chase rooftops' and as St. Joe builds out, that campus is going to become larger; it will likely end up being several hundred beds in the future. So, we have to plan out that campus, anticipating that level of growth. We're looking at a long-term structural design that will allow for growth in stages.
"We're also looking at how we can bring health care to the members of that community through their town centers — how we can make health care not only high-quality but convenient. So, we'll be looking at ways in which we can provide health care services in a 'golf cart proximity' to patients, but also how we can use technologies, especially virtual technologies, to create health care services in the home."
FSU Health
"TMH will provide a lot of the backbone — the infrastructure for the practices," Fogarty said. "But we're really hoping that we are branding this as FSU Health and that people will see that as a really positive brand. The teaching hospital is probably a few years down the line. As we develop, we will be able to actually start to send medical students, residents and PA students to the campus to begin to train there."
The FSU College of Medicine, at just 20 years old, is a relatively small medical school without a big clinical presence.
"So, this St. Joe partnership actually comes at a really, really good time because it allows us to build both the clinical and the research infrastructure over there," Fogarty said. "The College of Medicine is very excited to be partnering with TMH and St. Joe on this project as it is something unique for us."
"We appreciate the vote of confidence that St. Joe has provided us," added O'Bryant. "I think that Jorge Gonzalez, Dan Velazquez (SVP, Commercial Real Estate) and the whole St. Joe Group have a really clear vision, and the one thing that they have made very clear is that they expect quality; they expect to provide an outstanding service to their community, and they want to make sure that all partners have that same commitment.
"This is starting off as a small project, but as we look ahead ı0, ı5, 20, 30 years, people are going to be amazed and see a whole change in how health care is delivered in that community. And that's all starting here and now."