Ferries and a Flurry of Activity Excite Gulf Countians
The beginning of deliverance on the area's economic promise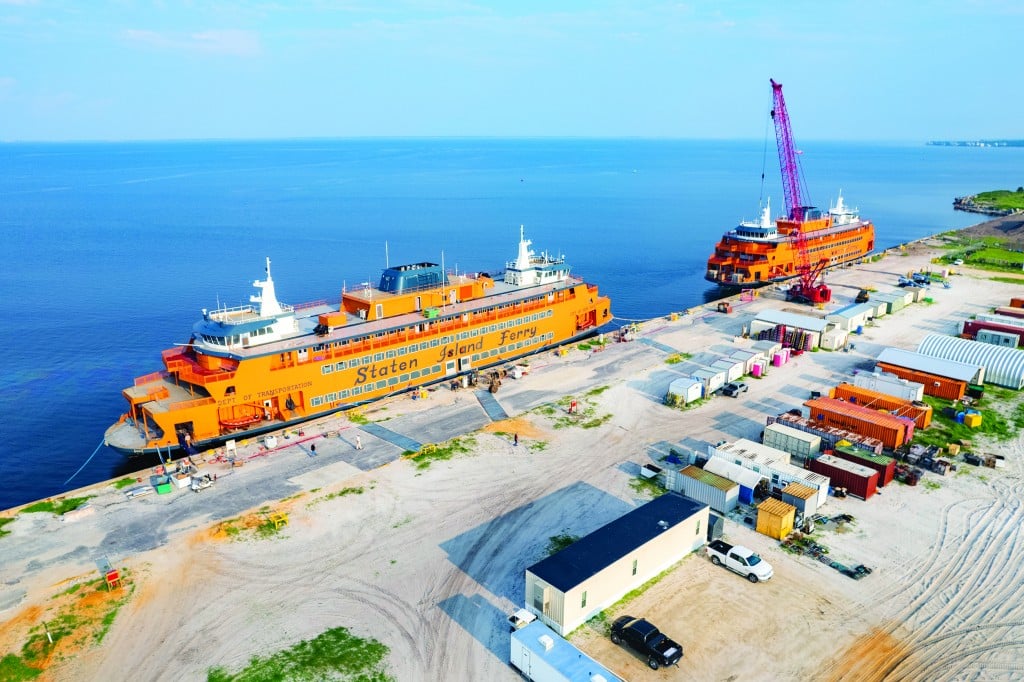 After two-plus decades of dormancy, the port at Port St. Joe is showing signs of revitalization, giving the seaside community hope that the facility may soon return to its former viability and deliver on its economic promise.
"There's been a flurry of activity that hopefully will continue," Port Authority board chairman Guerry Magidson said in June. "It's gathered great interest from other companies that now see us as a possible outlet for their products."
Magidson was referring to the large boatload of woodchips that the Twin Rivers Company (TRC) had shipped to Honduras in May. Biomass plants in that country power its textile industry.
The shipment — the port's first in 20-plus years — generated headlines across the region, signaling not only the port's return to business but to international trade. The TRC, which has established a wood-chipping yard on the grounds of the former paper mill site, expects the shipments to continue, with the woodchips coming from the innumerable acres of timberland devastated by 20ı8's Hurricane Michael.
The other happening to stir a buzz, Magidson said, was the arrival of two Staten Island ferries at the auxiliary shipyard that the Eastern Shipbuilding Group opened at the port in February. Eastern is building three 4,500-passenger ferries for the City of New York at its Allanton home base in Panama City and outfitting them at its Port St. Joe facility.
"You can't believe the excitement when all of sudden the ferries arrived," said Jim McKnight, director of the Gulf County Economic Development Coalition. "They were just big and bold! Some people thought they were in a time warp. What is a Staten Island ferry doing here? The news is that Eastern competed nationally and got the contract."
McKnight expounded on the significance of Eastern's shipyard, noting that when the St. Joe Company closed the paper mill some 20 years ago, the loss of its major employer had crippled the community.
"People who were used to making really good money had to take jobs making half of what they made," McKnight said. "It was catastrophic."
Now, he said, the former paper mill site was alive again with activity.
"These are workers who go to lunch every day and spend money," McKnight said. "And every day that goes by, some more of our folks get employed."
Additionally, he said, the school district initiated a welding program at its two high schools in anticipation of the shipyard opening.
"They've already graduated two classes of young people with the basic skillsets to work at the shipyard," McKnight said. "So, we're helping to create a workforce."
Eastern, moreover, already has a contract to build four Coast Guard offshore patrol cutters, with an expected 20 to be built over a ı5-year period.
"These cutters will be built in Allanton and outfitted here," McKnight said. "It will mean more job opportunities."
Lastly, McKnight mentioned construction of a floating dry dock, a project still in the planning stage and for which state and federal funding is being sought.
"It would be a great asset," McKnight said. "It would complement the Coast Guard cutter project, allowing other ships to be brought here and repaired."
A major issue that these activities have accentuated, however, is the critical need for deepening of the shipping channel, a longtime goal of the Port Authority. Because the U.S. Army Corps of Engineers maintains only active waterways, Port St. Joe's long inactivity has allowed sedimentation to accumulate in the channel, making it too shallow in places.
To dredge it to its ideal 37-foot depth, the Authority is seeking a combined $45 million in local, state and federal funding, with the St. Joe Company to contribute $ı2.5 million in land value. All told, the dredging project is estimated to cost nearly $59 million.
Port St. Joe officials are excited about what they see happening both at the port and their city.
"Anything that brings jobs and diversity instead of just service jobs is welcome," Mayor Rex Buzzett said of the port activities.
In terms of the town, Buzzett enumerated the many positives happening, including reconstruction of the city marina and a planned seaside hotel; downtown businesses thriving; some 500 homes going up; tourism booming; and several grant awards for infrastructure upgrades, a new city complex and the rehab of the historic Port Theatre.
"It will be the jewel of downtown Port St. Joe when it's completed," Buzzett said of the theater.
City Manager Jim Anderson agreed that things were looking up. He noted that after Hurricane Michael, the town had lost 400 utility customers, a heavy toll for the small community.
"Today, we're up 200 customers to the good," Anderson said. "So, bad as the storm was, our little community is recovering."
"There's definitely a lot going on," said Buzzett, echoing McKnight. "We're excited about our future."