Federal grant, interstate cooperation combine to train local workforce
Alabama and Florida colleges get millions, making way for a newly educated rural workforce.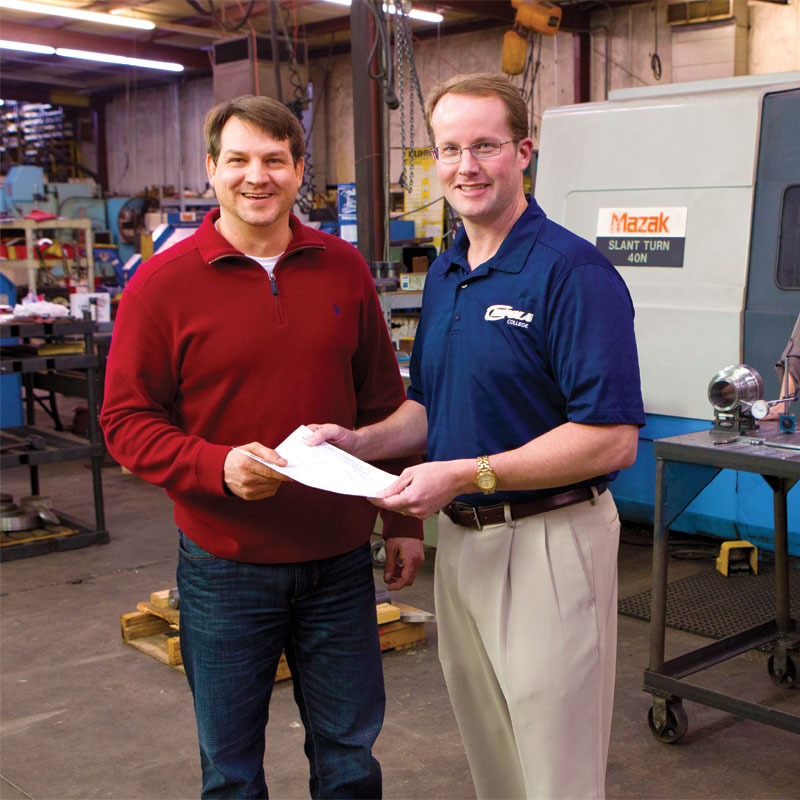 In the manufacturing industry, a well-trained workforce means higher productivity, higher quality, higher profits and higher growth for the company. And that translates to more good-paying jobs for workers. The availability of skilled labor is one of the top concerns for manufacturing companies, especially those that want to expand or relocate their operations.
"Delivering a final product to the market does not begin or end with a machined part," says Jason Gilmore, chief operating officer for Bonifay-based Manown Engineering. "We must continuously research and develop products that provide value to the end-user, have the capability to design tools, test the products' effectiveness and create demand at the user level."
In an effort to develop a future workforce and to meet emerging technical needs of manufacturing firms like Manown, the U.S. Department of Labor provided $500 million in grants to community colleges and universities around the country for the development and expansion of innovative training programs. The grants are part of the Trade Adjustment Assistance Community College and Career Training (TAACCCT) initiative, which promotes skills development and employment, and will offer opportunities in fields such as advanced manufacturing, transportation and health care, as well as science, technology, engineering and math careers.
One of the approved grants went to the "Alabama/Florida Technical Employment Network (AF-TEN)." Targeting trade-impacted workers, as well as the region's large population of veterans, the network will focus on areas of southern Alabama and Northwest Florida where many adults have difficulty earning a family-sustaining wage. The project will focus on emerging high-growth jobs such as welding, electronics and other specialties in advanced manufacturing, and use online and hybrid learning, mobile welding units, simulation technologies and open educational resources to expand learning opportunities, particularly in rural areas and small towns where access to education is especially challenging.
Colleges in the consortium are Wallace Community College (the consortium leader) and Lurleen B. Wallace Community College in Alabama, Chipola College, Northwest Florida State College and Pensacola State College in Florida.
"This strategic investment will enhance ties among community colleges, universities, employers and other local partners while ensuring that students have access to the skills and resources they need to compete for high-wage, high-skill careers," says U.S. Secretary of Labor Hilda L. Solis.
Gilmore says it is challenging to find applicants with even a working knowledge of the shop floor at a production company, so the grant isn't expected to help immediately. "Our production demands can exceed our capabilities practically overnight," he adds. "If a customer's volume increases quickly, then adding swing shifts or second shifts may be the only way we can keep up."The goal is to move graduates into employment within six months, Solis adds. "We're confident this goal can be met. Many workers in Florida already have strong manufacturing skills," she says. "Some were laid off when their factory closed or their jobs were moved overseas through no fault of their own. These folks just need to learn about the latest processes and innovations, so they can adapt their skills."
But because of the speedy training program, he does expect to see results in the near future. "This consortium will play a major role in our region's attractiveness," he adds. "Besides providing students with specific skills that are in high demand locally, this grant's curriculum will introduce them to unique demands of local manufacturers. When we need employees, it is usually a 'right now' need. A basic understanding of the manufacturing industry should shorten the time from entry level to operator."
As the consortium leader, Wallace Community College is pleased with the investment by the Department of Labor. "The colleges that form the AF-TEN network believe that this will make an immediate and positive impact to create highly skilled workers in a high demand area," says Linda C. Young, president of Wallace.
Wallace will purchase a mobile welding unit designed to travel to remote areas that are underserved in terms of traditional training. "The mobile unit will house green welding simulation technology, which will give students the basic skills necessary for entry into this growing field," says Young. "Mobile units can also be used for business and industry to train or retrain workers in the newest welding techniques."
"We are excited about the opportunities this program will provide for the citizens in our district," says Jason Hurst, executive vice president of Baccalaureate and Occupational Educational Programs at Chipola College. "Welding is a targeted occupation that offers high wages and excellent benefits for trained welders."
Chipola College will also provide a traveling welding lab and virtual lectures for its students. "We are excited about the opportunities this program will provide for the citizens in our district," says Jason Hurst, executive vice president of Baccalaureate and Occupational Educational Programs at Chipola College. "Welding is a targeted occupation that offers high wages and excellent benefits for trained welders."
The Chipola project will utilize online/hybrid learning, mobile welding units, simulation technologies and open education resources to expand learning opportunities, especially in rural areas.
According to Workforce Florida, workers with a welding certificate can start out making nearly $17 per hour, and the state projects annual growth of 13,500 jobs in advanced manufacturing and construction, with 75 percent requiring postsecondary training. The Alabama Department of Industrial Relations (ADIR) lists welding among Alabama's "Hot 40 Jobs," with expected annual growth of more than 2 percent through 2018.
"For our part, Northwest Florida State College will focus on expanding the supply of advanced skill welders by offering a new Applied Welding Technology program designed to be delivered simultaneously to all of our service areas through use of videoconferencing and a state-of-the-art mobile welding lab," says the college's president, Ty Handy. Lectures will be broadcast live from the main campus in Niceville to the other college locations. The broadcast will be interactive, allowing students to ask questions, participate in real-time discussions and engage in other activities normally requiring two or more people to be in the same room.
"While the theoretical portion of welding can be learned in the classroom, properly developing welding skills requires hands-on use of welding and welding-related equipment," Handy adds. "The mobile welding lab will focus on 'green' welding strategies and utilize training simulators to reduce wasteful use of supplies."
Lurleen B. Wallace Community College in Andalusia, Ala., will use the $1.7 million it will receive for a three-year mobile welding and manufacturing technology project.
"We are proud to partner in the consortium and grateful for the federal grant funding," says the college's president, Dr. Herb Riedel. "Our goal is to produce a highly-skilled workforce to meet the needs of business and industry."
LBWCC's portion will be used to purchase equipment, including six traditional welding stations and two virtual welding simulators, says Jimmy Hutto, associate dean of workforce development and adult education. The grant will also cover salaries and professional development for a welding instructor, electronics instructor, curriculum specialist and a career coach.
For manufacturing firms like Manown, this means delivering a quality product to clients who demand precision and a quick turnaround.
"Manufacturing will always require producing a quality product, controlling cost and constantly improving processes," Gilmore says. "I sometimes wonder if there is anything more challenging in the manufacturing industry than developing a product that provides value to the end-user, a profit to the distributor and sustainability for the company and its workers."
---
Florida Stats
Nearly 18,000 manufacturers in Florida employ more than 311,000 workers — or 5 percent of the state workforce. They produce 93 percent of Florida's exported goods. Florida manufactured goods exports have grown 142.6 percent since 2000, according to Enterprise Florida. Northwest Florida has 850 traditional and advanced technology manufacturing companies and more than 25,000 employees.
Alabama/Florida Technical Employment Network Total Consortium Award Amounts
Consortium Leader:
Wallace Community College: $3,466,011
Consortium members:
Chipola College: $1,552,236
Lurleen B. Wallace Community College: $1,723,498
Northwest Florida State College: $1,332,816
Pensacola State College: $2,008,675
Through the initiative, each state plus the District of Columbia and Puerto Rico will receive at least $2.5 million in dedicated funding for community college career training programs. In total, 297 schools will receive grants as individual applicants or as members of a consortium. The grants include 27 awards to community college and university consortia totaling $359,237,048 and 27 awards to individual institutions totaling $78,262,952.