Fabbro Marine Expands Footprint in Milton
Builder of Cape Horn boats expects major growth in new manufacturing facility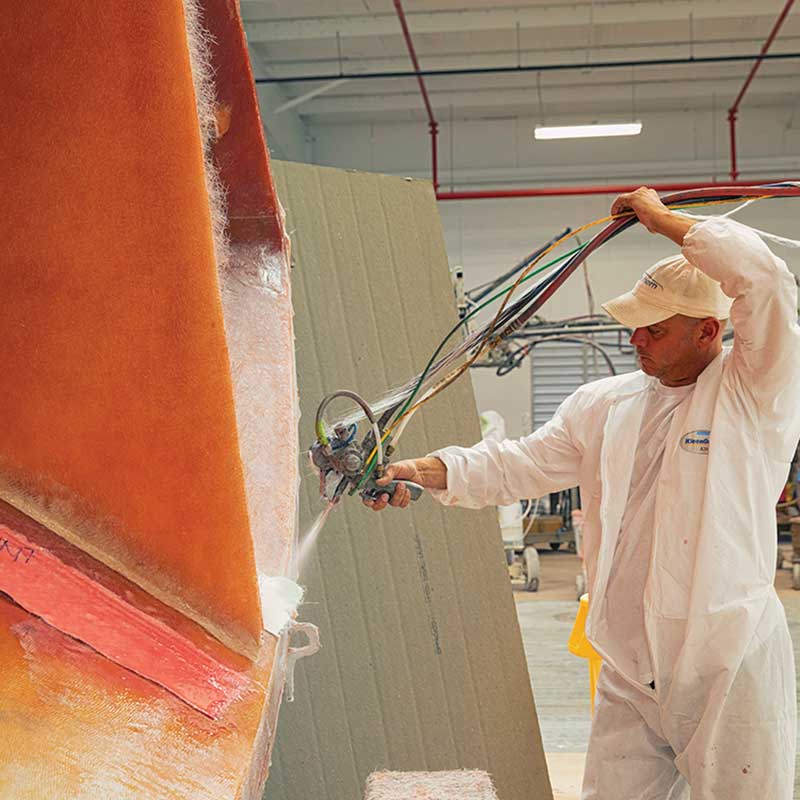 Six months ago, in December 2017, Fabbro Marine Group Inc. marked the end of three decades in business with a huge move.
Literally.
The company, which designs and builds the world-renowned Cape Horn fishing boat, vacated its location on Industrial Boulevard and settled into a sprawling new home on Jeff Ates Road at Santa Rosa County Industrial Park East.
With Fabbro Marine's success, it could land most anywhere in the world, but the family-owned boat builder chose to remain in Milton.
"Santa Rosa County is receptive to manufacturing," Vice President Tyler Cesar says. "It's very close to the interstate, and everything we make, we have to ship. … And this place is awesome. This is why we are here."
But the driving force behind Fabbro Marine's decision to stay local was its employees.
"Any company is people, and we would be nothing without all of the people who work at this company," Cesar says. "And if we were to move, you take a huge risk of losing a lot of people. Like having a limb amputated — you would never intentionally do that. When we thought about it, there was no thought. We had to stay here."
Fabbro Marine was the first company to build on one of Gulf Power's Florida First Sites, an initiative that offers project-ready industrial sites through third-party screening and certification.
Shannon Ogletree, director of the Santa Rosa County Economic Development Office, praised the company's decision to stay local.
"It shows the county commissioners are committed to our existing companies," he said. "They are just as appreciative of them as these new companies we are pursuing. … And we have a highly trained workforce with a military spin on it. Companies are able to take advantage of their training and their work ethic."
For Fabbro Marine, upgrading to a larger facility was a necessity because it had simply outgrown its previous "hodgepodge" of buildings in the original Santa Rosa Industrial Park, Cesar says.
"We were sitting on top of each other," he recalls. "It was just insane. Remember those, I think it's called a Chinese puzzle? Where you move all the squares around? We had to do that to get to something. It was always this strategy of, OK, if we move this back, then that can go over because we're trying to get to this mold over here to build a boat. It was an extreme waste of energy!"
In the new 78,000-square-foot facility, there's more than enough room for its roughly 42 employees, equipment and the quality and innovation that have become the hallmarks of Fabbro Marine's product. With its opening — and an investment of more than $5 million in the 20-acre property — the company is poised for major expansion.
"We could triple in size, and that's our plan," Cesar says. "Every year, keep growing and keep growing. That's what we've done for 30 years."
'Hard-core fishing boats'
Chris Fabbro formed Fabbro Marine in 1987 in Pensacola, but his deep connection to boat building stretches back to his childhood in Akron, Ohio.
"I have had a lifelong passion for boats," he says, having grown up exploring the Portage Lakes, a network of eight glacial kettle lakes and reservoirs just south of Akron. "I lived on the water my whole childhood, and I built wooden race boats starting at age 11. My father's family boated, and my father, Robert, built his own race boat as a kid."
Escaping the harsh Midwest winters, the Fabbro family moved south and fell in love with the Emerald Coast. With Chris Fabbro as the main designer, they began perfecting their idea of a reliable fishing boat that could accommodate family outings and also withstand the rigors of a tournament.
"It's all about creating," Fabbro says. "Making a boat is like being an artist. You're creating a brand-new product, something that is completely unique."
He named the brand Cape Horn.
"The name Cape Horn was probably the hardest challenge," he says. "A name will make or break you. Since we wanted to build an indestructible boat capable of any sea condition, Cape Horn just came to mind. It's the tip of South America. It's the roughest, most unpredictable water in the world."
Fabbro spent years refining the lines and curves of the boats because he wanted a Cape Horn to be recognizable from a mile away when out on the water.
"They're handmade, completely handmade," says Cesar, a Wisconsin transplant and lifelong fisherman who joined the company in 1989. "Very few things are still like that anymore today. And completely unsinkable. … In reality, there's only a handful of boats made today that are unsinkable."
In a Cape Horn boat, the entire vessel is pressure-filled with foam, and every square inch underneath the floor is solid foam.
"We would never go off shore in a boat that could sink," Cesar adds. "Our boats are hard-core fishing boats, and that's what they are designed for."
Today, the company also includes Greg Fabbro, vice president of production and Chris' brother, and Scott Davis, chief financial officer. They are gearing up the company for increased demand, and that means growing its workforce. While the team loves to hire workers with experience, the majority of its employees are trained on the job.
"Boat building is pretty much done the way it was 50 years ago," Chris Fabbro says. "Processes have been automated, but boat building is a hands-on type of manufacturing."
That attention to detail is why Fabbro Marine has customers across the globe, sending its boats far and wide.
"They go everywhere — Australia, Turkey, the Middle East, New Caledonia, South America, Hawaii, Japan," Cesar says. "The core customers are fishermen … but we are finding all these new people who are coming in."
An increasing number of casual boaters, newer to the activity and with discretionary income to spend, are buying Cape Horns. Cesar's theory is that more people are looking for ways to experience freedom.
"When you go offshore, it's the last great frontier," he says. "There are no speed limits. There are no fences. It's a great feeling!"
Although new Cape Horn models appear each year, Fabbro Marine does not spend time chasing trends.
Instead, Chris Fabbro says, the company focuses its attention on what it believes are the key characteristics of a good fishing boat — rough-water capability, huge live wells, huge fish boxes and lots of fishing room.
"Our success is sticking to a base philosophy from day one, preserving a unique look and not trying to compete head-to-head with the high-volume manufacturers," he says.
"These things are just core to what we are."