Eyeing the Future
The Port of Pensacola works hard to stay ahead of the game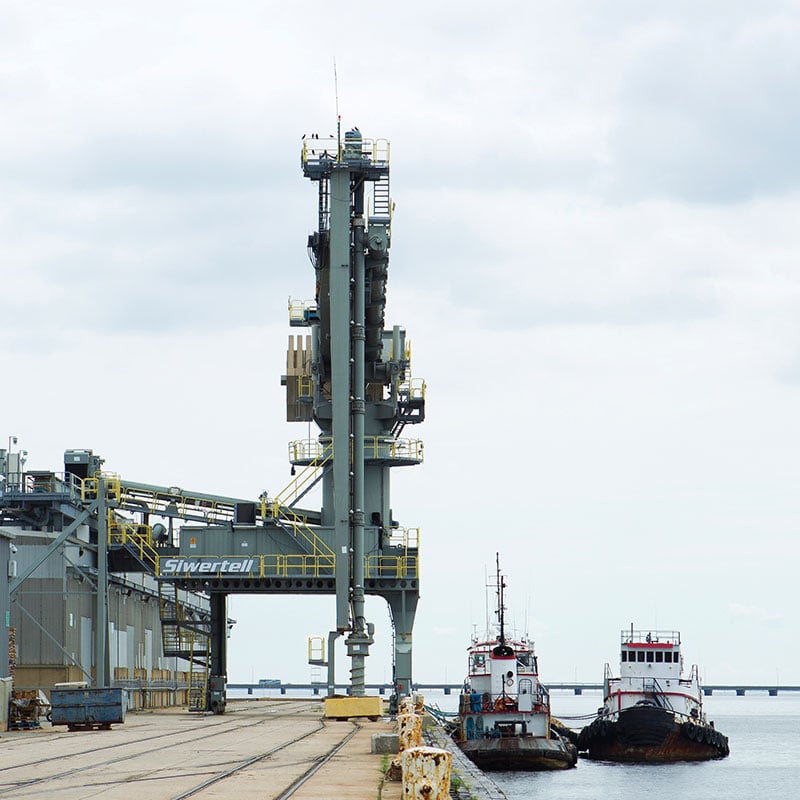 There are seaports that make a living moving cargo and ports that fill a different role. The Port of Pensacola is one of the latter. This Panhandle port doesn't measure its success so much in terms of cargo tonnage. Instead, it's made a living servicing ships that service Gulf oil exploration.
"The offshore industry doesn't (produce) cargo. We view our success as vessel dockage days. There were 443 dockage days last fiscal year ending Sept. 30, 2015. So that industry sector is still going very well for us," said Amy Miller, port director.
The port can always count on "topside" maintenance service to carry the day if the economy falters, as it did a few months ago when oil prices took a nosedive. A direct result of this caused the construction of a multi-million dollar DeepFlex submersible pipe plant to hit a snag. However, port tenant Offshore Inland Marine & Oilfield Services — the company involved in running the plant when it's finally operational — hasn't slowed down its maintenance service. In fact, quite the opposite has happened.
"Offshore Inland still has a vessel service depot here for various projects in the Gulf; the dive support ships, the surveyors," Miller said. "They perform topside maintenance and repair on those vessels, and that activity has been strong because as production has slowed down many ships in the Gulf and elsewhere are coming into port to get their maintenance work done."
Miller said they are hopeful the pipe-making industry will make a comeback soon.
"DeepFlex had difficulty finding investors given the current market conditions," she said. "The price of oil has slowed down the pipe manufacturing plant so that facility is 90 percent (complete). By lease, they have until 30 May of 2016 to obtain a certificate of occupancy. There is language in the lease that allows an extension. My guess is they will seek it. The city will look upon that request favorably, I think."
In the meantime, Miller said, the tenant is still paying rent, so the DeepFlex slowdown hasn't really hurt the port at this point.
"Certainly we had hoped that in first quarter of (2016) they'd be in production. It's not going to happen as quickly as we hoped, but the slowdown hasn't hurt us," she said. "If the facility is never completed, we got basically a brand spanking new warehouse at the port with a 50-foot ceiling. You could get an overhead crane capable of lifting 40 feet into the air in there. Even if the worst happens we are left with a highly marketable asset."
Although not a big cargo mover, some very big players move some massive cargo on a regular basis.
"GE is still an important customer for us. They've got the wind generator nacelle production plant in Pensacola, so we move about 800-1,000 of those units a year for their international, and a portion of their domestic, shipments. That's been very steady business for us, and we expect that to continue into next year," she said. "And then we have our anchor customers. Cemex is still here, the Martin Marietta aggregate rock import and distribution center is here, and both of those business lines are picking up a little bit coming out of the recession. The rock business is construction-dependent so as the construction industry comes back and the economy gets better, their volume should continue to pick up as well. So that's the lay of the land going into 2016."
Of course, the port is always looking for new tenants. Some site work has turned a six-acre parcel into marketable land that could be used for some kind of maritime or shipping related activity such as a warehouse. While that search is going on, some essential capital improvement projects will be getting underway. Plans call for burying some overhead utilities and creating a "heavy lift" roadway to accommodate oversize cargo haulers, and performing some needed dock renovations.
"We're in the process of selecting an engineering firm to renovate the port in a five-year contract," Miller said. "Berth 6 on the southeast corner needs rehab. The value of that project could flux considerably. It's a multiphase project somewhere in the $12 million to $15 million range. After Berth 6 we have to do an assessment of Berth 5, so we expect a rehab project on it in the next few years. Our other berths, 1, 2 and 3 ought to be in good shape. After Berth 5 and 6 we should be in good shape with the docks."
Meanwhile, there's another challenge to be faced. Construction of a new, $450 million Pensacola Bay Bridge is expected to start in 2017. The bridge is a vital link between the mainland and Gulf Breeze, and planners are looking for any way to ease traffic problems during the four-year project. Construction will be a headache for locals and tourists alike.
"When the bridge goes into construction it will be disruptive to people trying to get to the beach by car," said Clark Merritt, economic development manager.
The city is rising to help meet this challenge by establishing a passenger ferry service. The Pensacola Bay Ferry System would consist of two 150-passenger catamaran-style boats that would shuttle visitors between the city, Pensacola Beach and Fort Pickens. Docks and passenger terminals will be built at Commendencia Slip between the Port of Pensacola and Plaza de Luna, and Quietwater Beach on Pensacola Beach. Service is expected to start in March 2017. A private company will run the service under the direction of the National Park Service and is expected to operate seasonally from mid-March to the end of October. It's estimated that 65,000 people will use the ferry system annually.