Eyeing a Lasting Vision
Destin mayor wants city to solve problems, declare values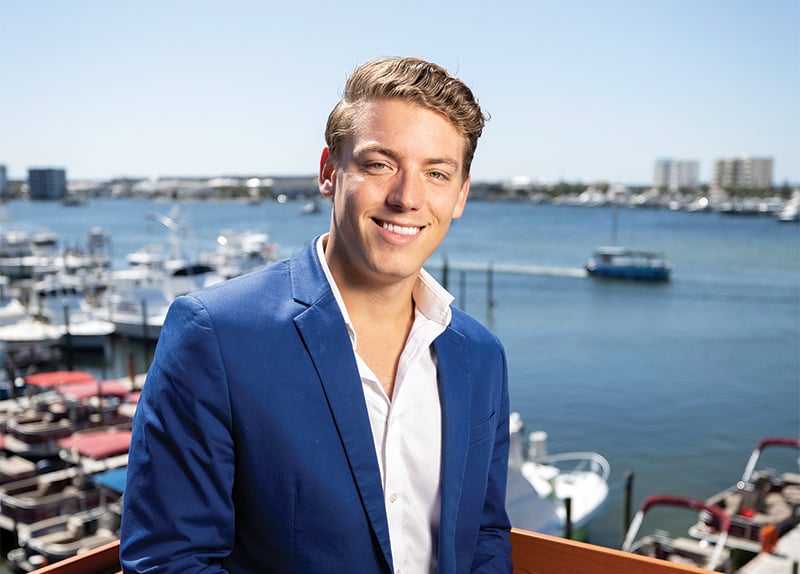 Bobby Wagner has always believed in the law of attraction.
Concentrate on and manifest the good, he said, and great things will come.
Wagner, 28, is the youngest mayor in the history of Destin. A few months into his first term, he said he is focusing his energy on creating a strong, sustainable future.
For Wagner, everything starts with a vision. He plans to meet with the members of the Destin City Council to tweak the town's vision statement which, as it stands, reads: "Destin is a family-oriented beach and fishing community where people want to live, work and play and where visitors are welcomed to respectfully enjoy our community and its resources."
"What does that really mean?" asked Wagner. "We have a 'vision session' every year, and to me, it's whiplash. Saying we're going to change our bedrock every year means we don't have one."
Wagner previously served as a city councilman and realized a city is only as good as the projects it approves. When campaigning for mayor, he ran on the platform "Revive, Reclaim, Sustain," emphasizing an urgent need for smart development and the preservation of the environment.
"For me, I want Destin to be the most connected city in the state of Florida, whether that's a connection to our natural resources, a connection through alternative modes of transportation or connecting with each other through futuristic technologies," Wagner said. "Our city staff is amazing. We have good, intentional people who are wizards at what they do. But, without that vision and ambition to grow beyond what we're used to, we're going to be voting on things that are only above average."
Wagner hopes to be an inspirational visionary.
"As mayor, I lose the power of voting, but I gain the power of inspiring," he said. "I want to be this communicative burst of energy and optimism because we have no reason not to be. Where we put our intention and energy is what grows."
Politics were never in the cards for Wagner, or so he thought. Born in upstate New York, Wagner moved with his family to Destin when he was in sixth grade. A shy, introverted kid, Wagner said he never really came out of his shell until he picked up the trumpet.
"I got last chair in band in seventh grade, then first chair in eighth grade," he said. "I think that was the first time I really put my mind to something and became motivated to work hard."
While attending Fort Walton Beach High School, Wagner discovered another passion when he enrolled in a video production course. He later attended Troy University with the goal of obtaining a degree in music education and becoming a band director. But Wagner ultimately pursued videography when an internship led to a job as a video producer, prompting him to suspend his education.
In 2014, he launched Land Air Sea Productions, an agency dedicated to telling the stories of local small businesses and nonprofits. But Wagner readily admits he was a poor business owner.
"I was more interested in being creative than trying to grow my company," he said. "I wanted to do things my way and do them for the people I wanted to do them for, and I wanted to be successful enough to have time to do other things."
Wagner began devoting his spare time to volunteering for Trees on the Coast. He cleaned beaches, planted trees and provided environmental education. Upon becoming executive director, he became interested in group collaboration and city management.
"I would have to pitch projects to Parks and Rec and get their approval and, if I did, those projects would go to the city council," Wagner said. "I wound up sitting in on several meetings, took it all in and realized this wasn't some big, scary government; it was just local people making local choices to effect change. This is where you can make a real impact."
Wagner said he's a "big manifester and a little woo-woo." Though he lost his initial run at city council in 2021, he still believed he would make it. When he pulled a "Judgment" card at a Tarot reading in Destin, his reader told him a woman would lose a court case and the result would work in his favor.
"A few months later, a councilwoman got in trouble with the Sunshine Law and was suspended with a year left in her term," Wagner said. "Our charter says you can appoint someone in this case, and the next thing I know, I'm in with a 4-2 vote."
Wagner refers to his time as a councilman as his "redshirt freshman" year. He went to training throughout the region and state, hopped on several committees and absorbed all he could about finance, code and public works.
"When I want to learn about something, whether it's how to lay bricks or about local government, I go all in," he said. "It's almost this ADD-level of obsession until I get it."
Wagner was met with some skepticism when he announced his mayoral candidacy, but he considers his age to be an advantage.
"Maybe I'm too optimistic, or I haven't been beaten down yet by the system," he laughed, "but I see an opportunity to impact not just the locals who live here, but the 5 million people who come through here each year. I want to put us on a course to solve problems and make a statement of what the city wants and what our values are."
Wagner's first order of business is creating a new town center. Located on Main Street, the city's new hub is slated to provide a multiuse recreational and retail space with its own shuttle system. Wagner visualizes a place that locals will want to visit two to three times a week. He sees rooftop bars, green space, shops and art.
"We're no longer a fishing village, but maybe this could be the new fishing village," Wagner said. "I want a harbor feel with a modern vibe, something that aesthetically honors our heritage and solves problems, like workforce housing and childcare services."
Wagner's dream may be a ways away from realization, but he said the city council approved "starting the vision of a new town center" in 2022. Meanwhile, Wagner is prioritizing buying back the beach, workshopping new mobility plans and "taking a holistic approach to the projects we need to become sustainable," he said.
"When I was campaigning, residents said they felt they were unheard, that industry and hospitality had destroyed this area and are running wild without any sort of plan," Wagner said. "So, instead of attracting the fight we've always had, let's attract something we want.
I'm here for projects over politics, and I want to make sure we do things the right way, not the cheap way.
"This year, I'm going to help us lay out our concept step by step, and next year will be the implementation," he said. "I'm used to holding the shovel, and I'm here to get things done. I'm willing to be vulnerable, tell people what I don't know and be in workshop mode along the way."
---
Okaloosa County Community Profile
Source: Applied Geographic Solutions, Florida Chamber of Commerce
Total Population: 215,468
Age Distribution:
0–9: 26,119
10–19: 26,400
20–29: 29,797
30–39: 26,847
40–49: 26,070
50–59: 27,601
60–64: 13,803
65+: 38,797
Educational Attainment:
<Grade 9: 2.69%
Grade 9–12: 4.68%
High School: 25.16%
Some College: 24.41%
Associate Degree: 11.06%
Bachelor's Degree: 19.49%
Graduate Degree: 12.53%
Okaloosa County Metrics
5/08/2023
» Jobs added: 3,323
» Children in poverty: 16.1%
» 3rd Graders Reading at grade level: 58%
» Housing permits issued: 1,272
» Sales tax revenue: $56.23 million
» Poverty rate: 12.8%
» Land in conservation: 53%
---