Experiential Learning
Partnership is working to bring seas to life for students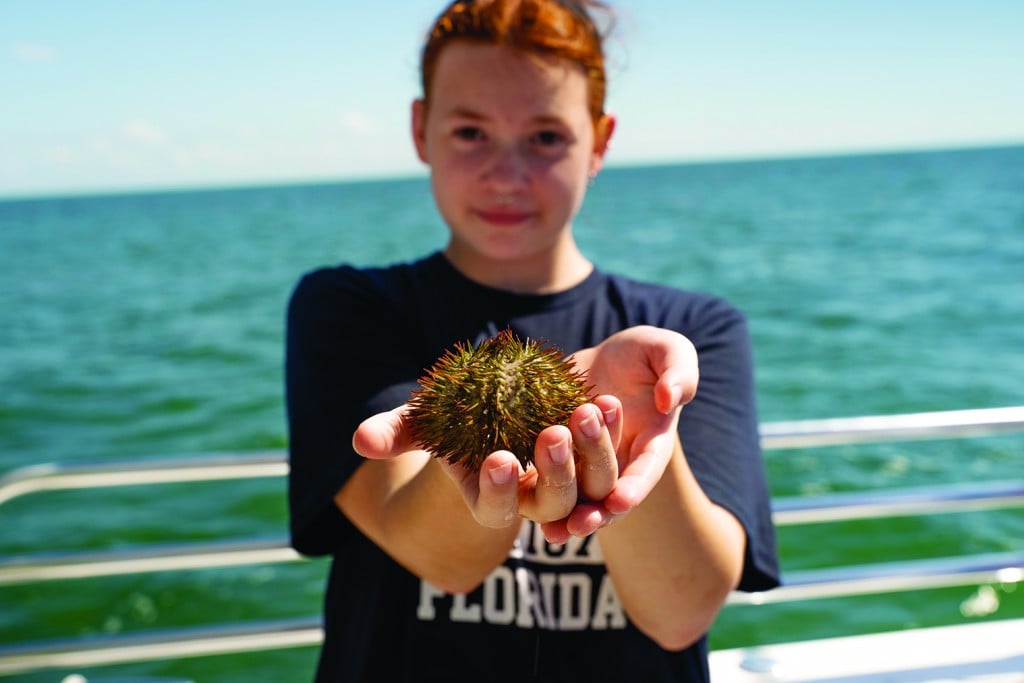 The St. Joe Community Foundation is advancing efforts by the Guy Harvey Ocean Foundation (GHOF) to ensure that students in Florida are exposed to marine science — in depth.
Executive director April Wilkes called the St. Joe Community Foundation's award of a matching $99,500 grant to GHOF a perfect fit.
"Our pillars are environmentalism and education, and of course, we are right on the Gulf of Mexico," she said. "Plus, the art component that Guy Harvey can bring to this is very cool."
The grant funds will be used to provide Guy Harvey STEAM (Science, Technology, Engineering, Art and Math) curriculum and professional development workshops to science teachers in Bay County non-charter elementary, middle and high schools — 34 schools in total.
In some cases, teachers who are science leads will relay lessons learned to colleagues, but all will receive some direct training.
Former state legislator and Panama City mayor Scott Clemons introduced the two foundations to one another. For nine months before she received a grant application, Wilkes monitored the progress that GHOF was making with its education initiative.
She gained an appreciation for the void that GHOF is working to fill.
"We quickly discovered a real lack of marine science curriculum in Bay County schools," Wilkes said. While chapters in biology textbooks may address the subject, there have been no classes devoted entirely to marine science in Bay County.
Wilkes has become familiar with the Guy Harvey curriculum pertaining to identifying sharks and to efforts by the Guy Harvey Research Institute to track movements of the apex predators. On a trial basis, two Bay County schools, Breakfast Point Elementary and Northside Elementary, tried on lessons and activities revolving around sharks — they're not dinosaurs, but they're close — in 2020–2ı school year, ending with their own Shark Week.
Students inspected shark teeth; learned how far-ranging, especially whale sharks, can be; found out how the age of sharks is determined; and visited the Guy Harvey Ocean Foundation website. To add to it all, Erin Brack, the elementary science specialist for Bay District Schools, paraded about in a shark costume.
"I'm all in," Brack said about herself. She credits Deniece Moss, the principal at West Bay Elementary School in Bay County, with introducing her to the idea of transforming classrooms to align with units being studied.
"At Breakfast Point, we made it so that when you walked into the fifth-grade hallway, it was like walking underwater," Brack said. Walls were decorated with representations of a coral reef. She suspended the bottom of a boat from the ceiling.
In her role at Bay District Schools, Brack works with teachers on techniques for delivering hands-on experiential learning.
"We go beyond the textbook to get our kids ready for life in general and for the state assessment we take in fifth grade," said Brack, who focuses most of her attention on schools where the need for her services is greatest.
In addition, Brack, who holds a master's degree in biology from Miami University in Ohio, has written curriculum for GHOF. A friend who was aware of marine research that Brack has done for the Vermillion Sea Institute brought her to the attention of GHOF.
Brack spent part of this past summer in Alaska, where she and her daughter Emery witnessed humpback whales engaged in bubble trap feeding, and then made her way to Mexico's Baja Peninsula, where she documented whale shark sightings.
The trial Shark Week runs at Breakfast Point and Northside enabled Brack to "kid test" curriculum and presentations before rolling it out more widely.
"If something doesn't work for them, the kids will let you know very quickly," she said.
A K-5 "Dive Overview," otherwise known as a lesson plan, specifies instruction on shark anatomy and physiology, marine habitats and marine food webs and prescribes related activities such as:
Trophic Pyramid Jenga
Divide Jenga blocks into the different layers of the trophic pyramid (from primary producers to predators), and color in each block to represent their trophic layer. Now, build a Jenga tower with primary producers at the bottom and predators at the top. One student at a time, select a problem card, read it aloud to the group and remove the piece indicated by the problem card. Discuss the threats that the marine food web faces and how they affect the environment.
The teacher development workshops made possible by the St. Joe Community Foundation grant are designed to ensure that teachers are confident and empowered to teach the marine science material and engage students. The grant covers costs for transportation, lunch, dive bags, teaching resources, field trips and travel expenses for a GHOF consultant. The dive bags double as a swag bag and contain Guy Harvey signature items; items supplied by other project partners; classroom activity materials; and gift cards for teachers to use in purchasing curriculum project supplies.
Amanda Martin, GHOF's director of development and operations, said in June that the foundation was at work developing an "Educator Professional Learning Experience" for presentation to middle and high school teachers in Bay County in October. She said seven to nine workshops in total eventually would be developed, including sessions for elementary school faculty.
The workshops will entail both classroom instruction and field training designed to prepare teachers to deliver 150 hours of marine science instruction.
A limited number of Bay County teachers, those who serve as science leads, will travel to the Guy Harvey Marine Lab in Key Largo for an "immersive" three-day workshop that will include boat trips and a visit to mangrove environments. Those lead teachers will share what they learn with fellow teachers in Bay County.
"We want to make their experience fun and unforgettable," Martin said. "Because, at the end of the day, if teachers are excited about what they are teaching, students are going to be impacted more."
Brack will participate in the train-the-trainer activity in Key Largo by facilitating instruction. She said field training back home would take place at St. Andrews State Park, given the diverse ecosystems it presents, and quite possibly at the National Marine Fisheries Lab in Panama City Beach.
Martin said Bay County is the first county in which all science teachers will directly receive some training.
"The St. Joe Community Foundation grant made that possible," Martin said. "We feel blessed and are grateful for their support. The environment will be protected when people are educated to understand its importance."
"I hope it is a continuing relationship," Wilkes said of the St. Joe Community Foundation/GHOF/Bay District Schools partnership. "Teachers are changing all the time, and it's a great program because it focuses on teacher development. I don't think teachers have enough opportunity for that these days. They are told what to teach, not how to teach it."
Wilkes said the St. Joe Community Foundation is hoping to host a visit by Guy Harvey to Bay County and is working to establish a marine science program in Walton County public schools.