Expanding Treatment Options
Tallahassee Memorial HealthCare expands its community reach, adds clinic in southeastern quadrant of the city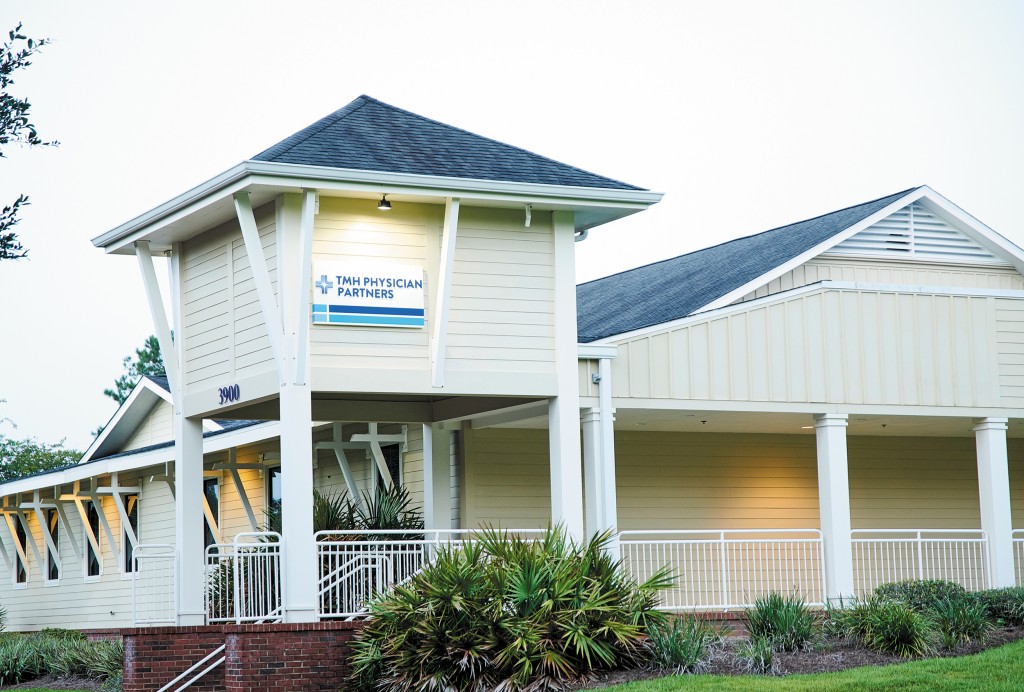 Tallahassee Memorial HealthCare (TMH) is a private, not-for-profit community health care system that serves a ı7-county area in North Florida and South Georgia. Originally founded in ı948 as Tallahassee Memorial Hospital, TMH has grown in size, scope, offerings and services over the years.
Today, TMH comprises a 772-bed acute care hospital, a psychiatric hospital, multiple specialty care centers, three residency programs, 32 affiliated physician practices and partnerships with other medical institutions. There are more than 650 physicians on staff at TMH, representing more than 50 specialties. Its workforce exceeds 5,000, making it the largest employer in Leon County.
TMH has a long and distinguished record of medical "firsts" created for the benefit of its patients in the greater Tallahassee region. It had the area's first blood bank, its first ambulance service, home health care program, cardiac catheterization lab, freestanding emergency center, neonatal intensive care unit, and Level II trauma and emergency center, among others. It also has the first and only neuro-intensive care unit, comprehensive stroke center and animal therapy program. TMH has the longest continuously accredited cancer program in Florida, is home to the Panhandle's most advanced neurosurgery team, and its specialties of gynecological oncology and surgical oncology are exclusively available in the region only at TMH.
This past July, TMH was once again recognized by U.S. News and World Report as a Best Hospital for 202ı–2022. It earned six "High Performing" ratings: in COPD (Chronic Obstructive Pulmonary Disease), Diabetes, Heart Attack, Heart Failure, Kidney Failure and Stroke Care.
Other recent news at TMH includes the introduction of Abbot's NeuroSphere Virtual Clinic into the treatment paradigm for patients receiving Deep Brain Stimulation (DBS) therapy for movement disorders related to a variety of neurological conditions such as Parkinson's disease, dystonia (a disorder characterized by involuntary muscle contractions) and essential tremor.
DBS patients are outfitted with implanted electrodes and a pacemaker-type device that helps control these movements while reducing symptoms and the need for prescription medications. The new virtual technology allows physicians to both communicate with patients as well as provide new device treatment settings as necessary, in real time, regardless of location. Any changes are relayed directly to a patient's compatible Smartphone or Apple iPod touch mobile devices.
Most recently, TMH opened its second Urgent Care Center to provide increased access to residents in Southeast Tallahassee. Urgent care remains the best treatment option for individuals who need medical attention after normal business hours, cannot wait for a doctor's appointment or don't have a primary care physician. Both Urgent Care Centers are equipped to serve patients experiencing sprains or strains, skin rashes or infection, fever or flu, muscle or stomachaches, earaches, as well as those who need minor stitches.
The new center is located in the SouthWood neighborhood at 3900 Esplanade Way. According to Dr. John Streacker, medical director of both Urgent Care Centers, the new facility was created out of a former TMH primary care office and a rheumatology office.
"We retrofitted it to become urgent care, and it's a beautiful space," he said. "It's a wonderful option to be able to offer health care services to those further out from Tallahassee proper."
Streacker adds that another goal of the center is to help lighten the load at the hospital's emergency department while offering patients the care that they need in an acute setting. And while not offering primary care, per se, the Center "does a great job of filling that role," Streacker notes. "And we do our best to help the patient at discharge by offering resources for them to establish a relationship with primary care. That's one of our main focuses."
Although the new Urgent Care Center officially opened on Aug. 25, 202ı, there was no ribbon-cutting ceremony at that time due to the entire TMH community's focus on the ongoing COVID-ı9 pandemic.
Nonetheless, Streacker said, "We're open for business. We're here and available to take care of anyone's needs. We're open Monday through Thursday 9 a.m. to 8 p.m.; Friday and Saturday from 9 a.m. to 5 p.m.; and, hopefully, in the future, we're going to expand those hours."