Essential Mission
TCC pivots to help displaced workers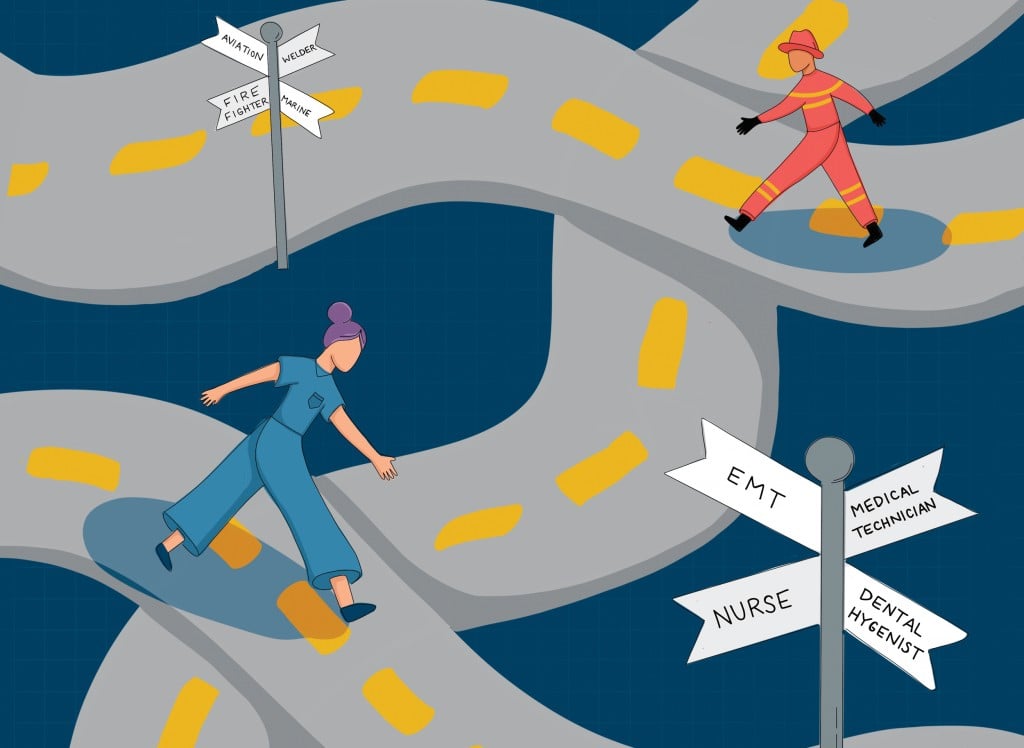 Tallahassee Community College has adopted "Be Essential" as the slogan for its current marketing campaign. But the same can also be said about TCC, which is providing essential training that is closely aligned with the needs of employers.
TCC has matched up hundreds of people who are learning new skills with its extensive network of businesses in Tallahassee and the Florida Panhandle. More particularly, the school is helping many students who were left unemployed due to the COVID-ı9 pandemic qualify for new career paths.
"What we did is we started looking at data, talking to business leaders," TCC executive vice president and provost Madeline Pumariega said. "Who is hiring? What jobs are available? I know we could always focus on the jobs that are not available. But what is available?"
Based on that inventory, the school provides programs of varying duration that are designed to place students in essential occupations.
The mission is critical, especially with unemployment rates soaring. Florida reported a ı4.5 percent unemployment rate in May. But the goal is also one that is well within TCC's grasp. In a few months, students can revitalize their resume and make themselves attractive to employers.
TCC estimated about ı2,000 people were unemployed in the region in late spring. But at the same time, it's clear that some sectors are hiring, notably health care. Nurses, emergency medical technicians and firefighters are in demand. One example: TCC fulfilled a dental office's request by sending applicants from the hygienist program, filling ı0 spots. Pumariega also mentioned a need for welders, truck drivers and probation officers.
Chelsea Countess is among recent graduates of TCC's programs. In a year, she completed two certificate programs, gained hands-on experience in a hospital and landed a job as a certified surgical technologist.
How much is her field in demand? A hiring manager asked Countess and her classmates why they hadn't applied for available positions. At the time, they were months away from earning certificates, but the manager said they should apply early. Countess landed a job at Capital Regional Medical Center three weeks before she graduated and has now moved on to Atlanta.
Countess spoke about the duties of a technologist with confidence.
"We come in and we get the room ready, we get all of our instruments, all of the supplies for the case," Countess said. "We are the surgeon's second pair of eyes. We are putting instruments in his hands before he asks for them. We're anticipating the surgery. We try to stay ahead of him so he doesn't have to wait on us."
Countess enjoys those responsibilities and also doing advocacy work for patients. As a technologist, she has played a critical role in maintaining the sterility of operating rooms. She estimated that 65 percent of her certified surgical technologist colleagues at Capital Regional were TCC grads. The job is demanding but rewarding, Countess said.
"I love being able to work with patients, speaking for them and making sure their surgery goes very well," Countess said. "We treat them like family. That's my motto: I treat every patient like they're my mom and dad lying on the table. It's very vital that we are there. It's very demanding, but it's also very much in demand. There are tons of places you could work."
Through the TCC2Work program, students can complete degrees or earn certifications in months in fields like health care, public service, business information and technology or digital media. A full list can be viewed on TCC2Work.com. Employers or prospective students can also learn more about the program by calling (833) TCC-JOBS.
TCC has also established opportunities for students needing financial aid.
"A student that may not have the funds today, that should not be what keeps them from coming back or continuing their degree," Pumariega said. "We are really working hard with our financial aid programs and scholarship programs to help those in our community and help families."
TCC's programs are valuable because of the job retraining but also because of its connections to employers in the region. The career center knows who is hiring and acts quickly to connect graduates with hundreds of employers. And even if those jobs are now remote, or interviews are done via phone, FaceTime or Zoom due to COVID-ı9, graduates are prepared to promote their new skills to those who are hiring.
"Through our career center, we've continued to maintain the relationships we have with employers who would typically post with us," Pumariega said. "We have continued to be in touch with our employers in the area, finding out what they need and getting that out to students as well."
While TCC may be best known as a connector to Florida State, Florida A&M or other public state universities, the adaptability of the community college has proved invaluable to people who were recently laid off and looking to move into another line of work.
"Community colleges are uniquely positioned because of who we are," Pumariega said. "We're these institutions that are open access. We're the community's college; we're responding to what's happening in the community.
"I also like to call them future-proof skills. If you have these skills, they are transferable to that next job."
A next job that often leads to financial security and a rewarding career.