Entrepreneur Seeks Economies of Scale
The prepared fish market is harder to navigate than it seems.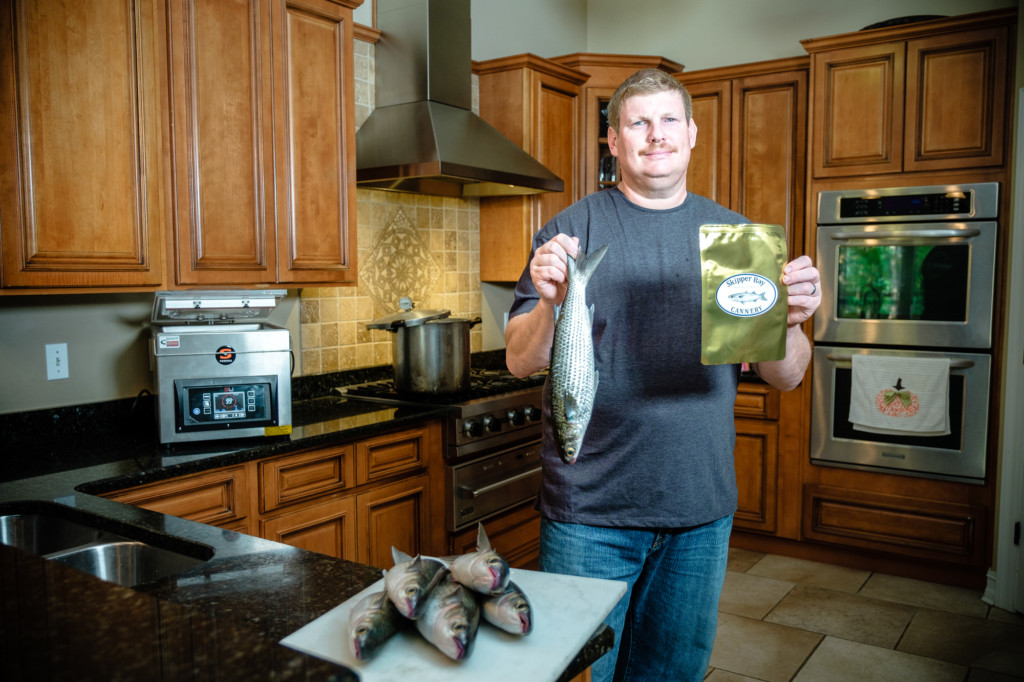 Some 30 years ago, David Moody went fishing with a senior, lifelong Wakulla County resident, Henry Vause.
Vause, in the course of the trip, asked Moody to reach beneath a boat seat and retrieve what he found there.
"It was a pint-size Mason jar, and he had me open it up," Moody readily recalled. "It popped when I unsealed it, and I drained off the juice and we enjoyed canned mullet on crackers. I had never had it before, and I always remembered how good it was."
Ever since, Moody has canned fish whenever he catches more than he can immediately consume. He has experimented with different recipes and tried them out on friends.
Mullet has performed especially well in those informal taste tests, beating tuna, Moody said.
"Everyone wants some, and I tell them that I just can't be giving it away in canning jars  — and glass is a little hard to transport anyway," Moody added.
So, he has begun to can mullet in "retort pouches," a type of food packaging made from flexible plastic and metal foils.
"It's kind of like an MRE wrapper," Moody said, "referring to the meals-ready-to-eat familiar to military veterans. "It's the same material, when you go the grocery store, that tuna comes in."
Moody has acquired equipment that allows him to bag mullet on a small scale, and he is confident that he is onto something. He has visions of a commercial cannery.
Moody is, as far as he knows, the only person who has worked to develop a mullet-in-retort-bag prototype.
He has been talking up the cannery idea with John Shuff, the president of the Wakulla County Economic Development Council, and other "economic development types."
The retort bag makes the mullet shelf-stable, said Moody, who estimated that the fish should be good for two years or more.
"It's not like a jar," he pointed out. "You don't have to worry about the lid rusting off. My next move is to get U.S. Department of Agriculture approval for a food-grade production process and get some product on store shelves in two to three years."
But a full-blown cannery? There are some if's involved. Certain economies of scale would have to be achieved.
Said Moody: "Provided we can get fishermen the gear they need to catch the fish and provided we have enough fish, I think we can have a valuable enterprise. But if mullet is to be maintained as an available, low-cost seafood, we're going to have to re-evaluate the fishery from a regulatory perspective, especially in terms of harvesting methods."
There was a time when fishermen using beach seines deployed from well boats with their engines positioned forward of the stern made livings catching and selling mullet.
The activity was especially lucrative during roe season. Mullet was a staple at seafood restaurants and was at the center of backyard fish fries and political rallies.
Then came voter passage in November 1994 of a constitutional amendment commonly known as the Florida net ban, a measure that while hailed by sportfishing interests, dramatically curtailed historic net fisheries including mullet.
The ban limited nets, including beach seines, to 500 square feet in size and a maximum stretch mesh size of two inches.
"It's hard to catch much fish with that net," Moody said. "Some commercial guys use them, but you have to get a second boat involved so that you can surround the fish with four nets."
Too, given the small mesh size, non-marketable fish such as pinfish and undersized mullet get caught in the net, making for a tedious sorting chore.
Moody emphasized that he was speaking personally and not in his capacity as a federal employee with law-enforcement responsibilities when he said he would like to see mullet managed with quotas versus gear restrictions.
An individual fisherman might, for example, be permitted to catch 10,000 pounds in a year and to use any harvesting method within reason. His total catch would be tallied based on individual trips tickets obtained when fish is sold to a wholesaler.
"He's got a good idea," Bob Jones, the longtime executive director of the Southeastern Fisheries Association, said regarding Moody's preference for quotas and relaxed gear restrictions. "There's just one thing that stands in his way: Article 10, Section 16, of the Florida Constitution."
Indeed, the amendment provided that "nothing in this section prohibits the establishment by law or pursuant to law of more restrictions on the use of nets for the purpose of taking any saltwater finfish, shellfish or other marine mammals."
What it didn't provide for was the relaxation of restrictions.
"Getting that changed is a tough row to hoe," Jones said.