Enter the Spin Zone
Dr. Bill Heyser goes high-tech to treat the brain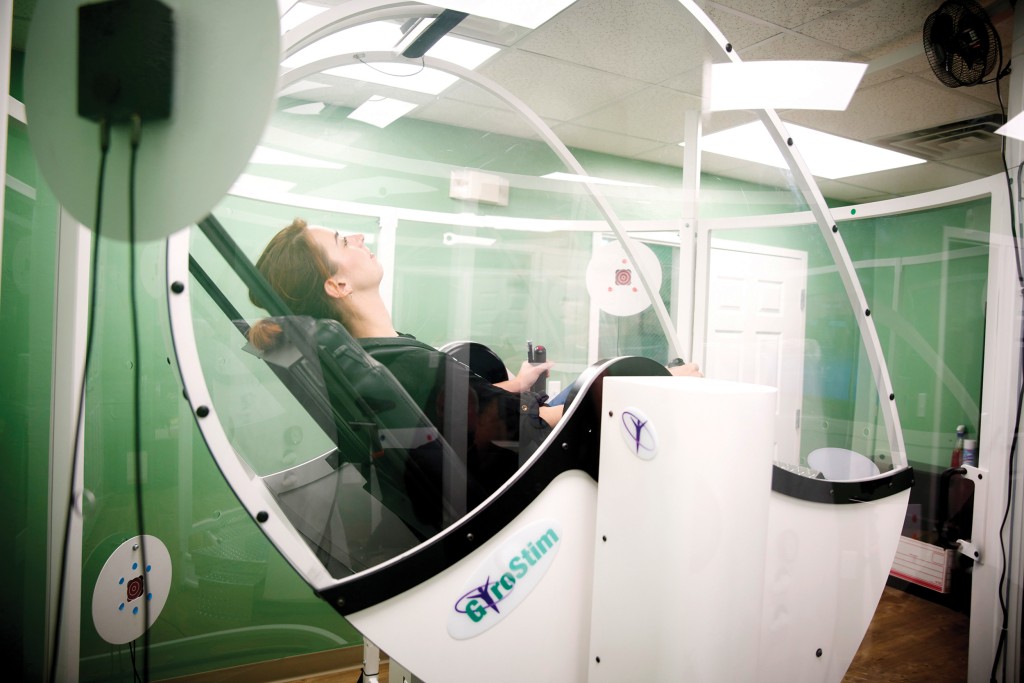 Anyone suffering with a neurological condition traditionally has had only two medical treatment options: pharmaceutical and surgical. Those approaches are often very effective but may result in unexpected side effects and extended recovery times, among other issues.
There is, however, a third option. A neurologist in Tallahassee is making strides in a fast-growing field that focuses on natural healing and the human potential to adapt to new circumstances in the brain.
Dr. Bill Heyser has been practicing functional neurology since he first found out about its possible applications for his patients. Its central principle, according to Heyser, is "building up the parts of the brain that work to compensate for whatever the patient is lacking."
In order to effectively construct new neural highways in the brain, physicians including Heyser start with "scaffolding" — patients exercise their brains by completing tasks and challenges related to their condition. Functional neurology has been based on simple and noninvasive treatment, but advancements in technology have led to a small revolution in the field. Heyser and others are now making use of high-tech equipment to make these brain exercises more effective and more fun.
One of the most important tools in the doctor's arsenal is also one of the more unassuming pieces of equipment: an electronic balance board connected to a monitor. Using it, Heyser has patients try to remain balanced while hitting marks on the screen. The setup allows Heyser to check for weaknesses in balance, focus and vision, all in a format that feels more like a game than a test.
If Heyser notices a weakness in vision, he might have a patient play on another machine in his toolkit called RightEye. This iPad-like device is capable of precisely tracking a person's eyes and pinpointing the deficiency. For instance, a patient might excel at tracking a ball moving slowly across the screen, but that same patient may struggle with rapid eye movement. As Heyser strikes possible issues off the list, the treatment becomes more specific and helpful.
The most eye-catching piece of machinery within Heyser's office is unquestionably the GyroStim. This contraption resembles a simulator used by fighter pilots, and even operates like one, but is used to treat maladies from vertigo to severe concussions.
Heyser has the patient sit in an elevated seat, strapped in with a snug five-point harness. From there, Heyser can have the chair spin along a horizontal and vertical axis, meaning the patient will move both head over heels and in a circle.
At times, the patient may feel like he is ı0 years old again, rolling down a hill in an old rubber tire, moving with the motion of an ocean wave, or just spinning gently on a lazy Susan, depending on what they can handle. Through every step of the process, the patient is totally secure.
Treatment on the GyroStim shifts to the next dimension with a process that Heyser calls "stacking." The doctor adds tasks for the patient to complete while taking a ride on the machine.
For example, the patient may be asked to hit targets situated around the room with a laser pointer while spinning, which would help with hand-eye coordination; furthermore, they could add to that a cognitive challenge, like calling out the name of a state on every target hit. Heyser believes that stacking challenges on top of each other helps to safely prepare the patient for real-world situations which require multitasking, like driving a car.
Heyser is a trailblazer in the use of the GyroStim. He was among the first to make clinical use of the technology and is thrilled to see his work pay off. Recently, the GyroStim was fully approved by the FDA, which has concluded that the machine is safe and effective.
Additionally, the FDA has designated the machine a Breakthrough Device, lauding it as a quantum leap in neurological treatment. As more neurologists catch on to the potential of this machine, it will certainly become more popular and available around the country, but for now, Heyser's practice is home to the only GyroStim in the Big Bend.
A pioneer, Heyser is working to make Tallahassee a destination for people seeking remedies other than drugs and surgeries.
---
Get In Touch Dr. Bill Heyser practices medicine at Heyser Jordan Chiropractic Neurology at The Brain Center, 2457 Care Drive, Tallahassee; (850) 668-0444; BillHeyserDCMD.com.