Enlivening Downtown
Cascades project adds critical residential component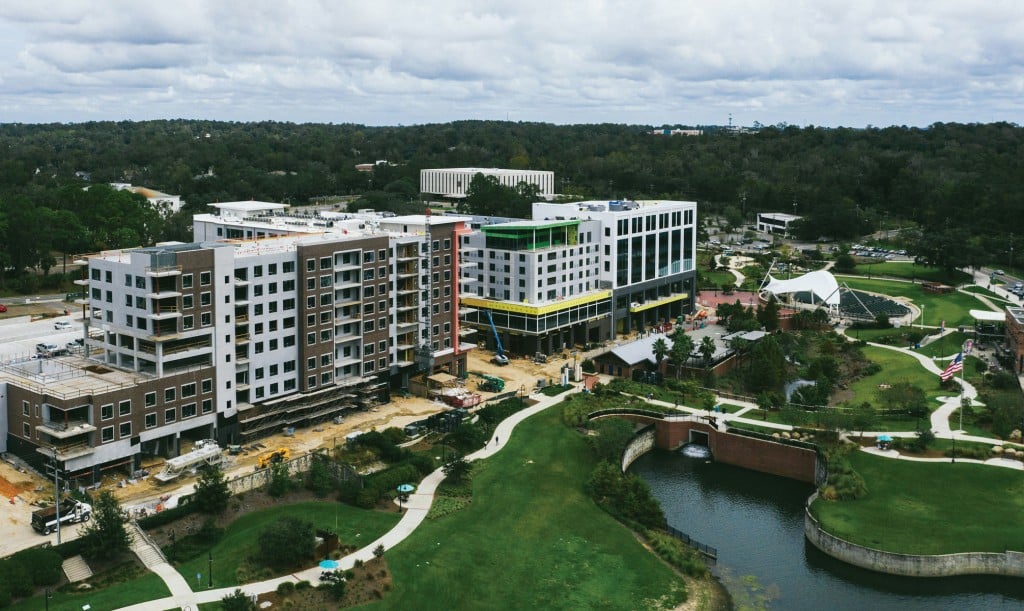 When the Tallahassee Community Redevelopment Agency (CRA) floated a lofty proposal for a mixed-use, ı8-hour, downtown-style redevelopment of two city blocks bordering Cascades Park, a 24-acre green space in the heart of Florida's capital, it didn't surprise Shawn McIntyre that he was the first and only developer to express interest.
The proposal, said McIntyre, reflected the CRA's desire for a residential component, a boutique-style hotel and retail and office space, and left out many developers unable to assemble the required financial package and collection of tenants.
But North American Properties, where McIntyre is a partner and senior vice president, already had successfully invested in Tallahassee over $220 million across six projects, including a Gaines Street student housing development in 20ı3.
"And, we're firm believers that public infrastructure brings private investment," McIntyre said.
The Cascades Project, according to a CRA study, will be one of Tallahassee's largest economic development initiatives in recent years, estimated to create around 700 permanent jobs and add $64 million annually to the local economy.
Its first year in operation, said the CRA, will generate approximately $ı.29 million in new tax revenue.
For McIntyre, the project has been a long time in the making. Negotiations and design discussions began in 20ı7 when the City of Tallahassee called for an "urban edge" to Cascades Park in the form of a concrete-and-steel, industrial-grade build.
"We had over 80 different touches with the public, whether they were public hearings or meetings, and a full-blown public hearing with the Tallahassee-Leon County Planning Commission, City Commission and the CRA," said McIntyre. "But, then, the fun began. We got to build the darn thing."
Phase I construction, including a public plaza, 44,000 square feet of office space, a ı54-room hotel, about 28,000 square feet of retail space, ı6ı apartments, 250 public parking spaces and another 600 spaces of internal parking is nearing completion.
Next spring, Phase II will see the build-out of nine, three-story townhomes fronting Gaines Street, followed by another ı00 apartment units in the fall.
A Marriott International AC Hotel, situated within walking distance of state agency offices, university attractions and downtown businesses, will begin receiving guests in March 202ı, McIntyre projected. He said the hotel will feature European styling, more than 5,000 square feet of meeting space, a rooftop bar and observation deck.
Also in the spring, Phase I apartments will be available for lease, McIntyre said.
Those apartments range in size from one to three bedrooms and come equipped with appliances, lots of closet space, and access to cable and internet. Tenants are entitled to use of a fitness center and pool.
"We have one bedrooms that, for $ı,200 a month, you can live here with all the amenities and access to structured parking," McIntyre said. "Our studio spaces, with full kitchens and stacked washers and driers, are perfect for single professionals who want to walk to work."
And, work could be just a building away. At this writing, Artia Solutions, a pharmaceutical consulting firm, has committed to becoming the first tenant at the Merestone office building at Cascades and will occupy about 7,500 square feet of space. Negotiations with other prospective tenants are underway.
All tenants will have access to collaborative commons spaces, an elevator from covered parking directly to the tenant floor, ground-floor retail businesses and restaurants, as well as an on-site fitness center and the park's outdoor trails for team-building exercises.
But while offers may be pouring in for professional space, the same can't be said for restaurateurs.
"We had a couple of letters of intent for restaurants, but once the pandemic became an issue in the spring, we were notified they could not proceed until they better understood what their business model would look like post-pandemic," McIntyre said. "So, we're continuing to build out the spaces, but the interiors will not be complete until a restaurant tenant steps back up."
But with a beautiful location on the promenade of the park and vaulted ceilings and state-of-the-art design, McIntyre has no doubt that, once things settle down, restaurants will be chomping at the bit.
Too, the pandemic created delays in materials shipments. Windows arrived late and created a ripple effect on what could be completed, but workers simply attended to other tasks until progress could resume.
"We can only play the cards we're dealt," said McIntyre. "During the March shutdowns, construction was still seen as an essential business, so we continued spending about a million dollars a week on payroll, materials and labor with about ı80 to 200 people working here each day. For that, we were grateful, but we definitely began practicing safe policies."
Workers practice social distancing, wear masks and must pass through a nurse's station where their temperature is taken. So far, no positive COVID-ı9 cases have been detected.
While McIntyre wishes restaurants could open around the same time the hotel and apartments debut, he is relieved that the pandemic has caused nothing more than a hiccup in progress.
"Ultimately, we're going to see ı,000–ı,200 people a day come through this development, creating this urban environment that the city wanted," McIntyre said. "Soon, you will be able to live here, take a five-minute walk to work, and then return home to enjoy a nice meal at one of our restaurants without ever having to get in your vehicle. You don't want a downtown where people drive in, work and drive away, that is if you want to revitalize a downtown neighborhood; it needs life."