Employment Rebound
Job market heats up; health, tech jobs in demand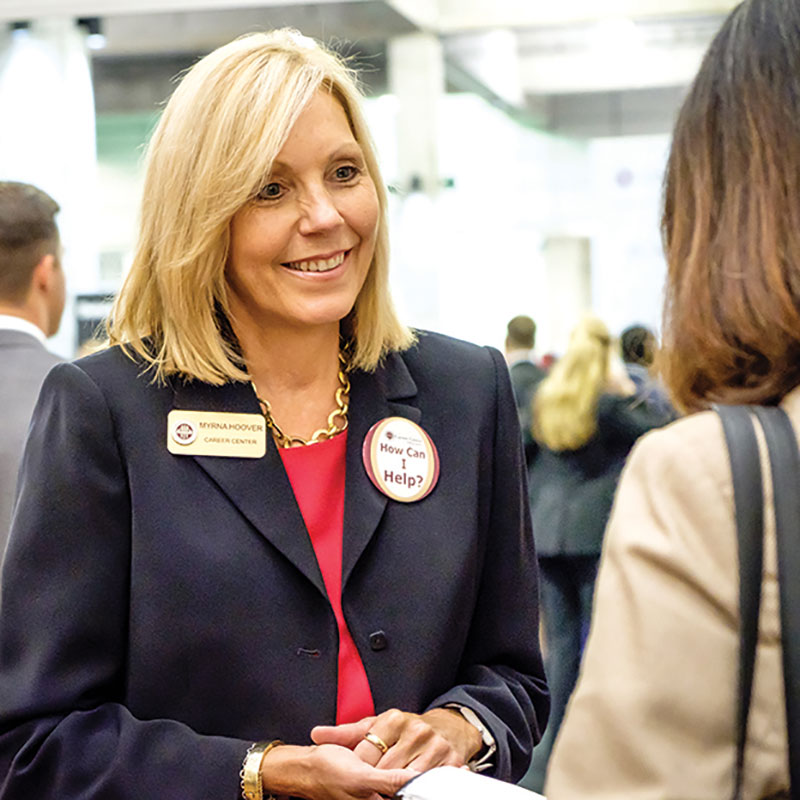 Joey Castagnaro "bounced around" for a year after graduating from Florida State University in 2016, but he landed well. At age 23, he's now a business analyst for Tallahassee-based Diverse Computing, a technology provider for law enforcement agencies, acting as a liaison between clients and the firm's software developers.
Karen Shouppe is a former teacher and stay-at-home mom who decided to go back to college to become a registered nurse. At 56, she will be graduating from Tallahassee Community College's Ghazvini Center in December, aiming to get a job in women's health care.
Castagnaro and Shouppe may be launching different careers but they have something in common. They've chosen two of the hottest professions in a post-recession economy — technology and health care.
"Our teachers assured us that there are plenty of jobs out there," said Castagnaro. "This is exactly what I was looking for."
While some professions are suffering, the 2017 job market is at one of its strongest points in decades.
The U.S. unemployment rate was 4.4 percent in August. Florida's seasonally adjusted unemployment rate was 4.0 percent in August 2017, down 0.1 percentage point from July 2017, and down 0.9 percentage point from a year ago, according to the state Department of Economic Opportunity. There were 408,000 jobless Floridians out of a labor force of 10,095,000.
The unemployment rate in the Gadsden, Leon and Wakulla counties was 4.2 percent in July 2017, 0.9 percent lower than the region's rate in 2016 of 5.1 percent, according to the DEO.
"Florida has a lot of people who are not necessarily unemployed but underemployed who want more work or more highly skilled jobs," said Tom Feeney, president and CEO of Associated Industries of Florida.
At the Sept. 28 FSU Seminole Futures career fair, more than 200 participating employers included tech companies, bankers, retail stores, accounting firms, law enforcement and insurance companies. Representatives of Apple, Amazon and the Air Force Office of Special Investigations were among the recruiters greeting eager students milling around the Donald L. Tucker Civic Center.
"I'm networking today to go anywhere," said FSU senior Blake Tipping, at the fair both as a student job seeker and president of the university's Career Center Ambassador Program.
His interest? "Project management and business analytics," said Tipping, currently an intern with DEO. The prospects? "Thirty percent growth within the next four years," he said. "Business analytics is going to be the next big thing."
Tipping said he double-majored in finance and management information systems to acquire the hard skills but also gathered experience at leadership and team building.
STEM (science, technology, engineering and math) jobs are well represented on the list of top jobs but if you're a history or English major don't lose faith.
"We hire all majors," said Teri-Anne Brennan, group talent acquisition manager for Enterprise Holdings, which expects to hire 50 to 60 FSU grads in 2018.
The company promotes from within so is looking for candidates with a good work ethic and professionalism, she said. "At the end of the day the most important thing is leadership," said Brennan, a 2004 FSU graduate.
Industries will post about 14,000 job listings a year, said Myrna Hoover, director of FSU's Career Center.
"There are opportunities out there," said Shereada Harrell, director of the Career and Professional Development Center at Florida A&M University, which also held a job fair in September, featuring more than 100 employers and nearly 900 students. "We just added 15 more companies than we had last year."
Along with job fairs and career centers, a new free tool is available to help students assess their potential job outcome based on programs at public institutions and training programs. LaunchMyCareerFL.org highlights in-demand jobs, desirable skills and what students can expect based on their major. The initiative is a partnership with the Florida Chamber Foundation and the DEO, with funding by Strada Education Network.
"This is a piece of gold that has been given to the folks who work directly in schools," said Rebecca Schumacher, executive director of the Florida School Counselor Association in a statement to the press.
In Leon County, 92.3 percent have a high school degree and 45 percent have a bachelor's degree. But help is also available for people who haven't graduated high school.
"We can help them through the GED process, pay the exam fees and help them figure out what to do next," said Ruthann Campbell, marketing and communications coordinator for the state's CareerSource program in the Capital region.
"We're essentially career coaches but we don't cost anything," she said. We help you get a job but our main goal is to get you a career, no matter your age." Clients have ranged from 16 to over 70.
The career center steers people toward "in-demand careers," said Campbell. "Those are the ones we pay for, the ones that are growing and have a large need. We're not paying for jobs that won't exist in five years."
Identifying opportunities is just one of the roles of the state's CareerSource program, which also helps with resumes, counseling and financial aid.
"It's not a loan, it doesn't have to be paid back," said Campbell.
CareerSource Gulf Coast helped Heather Hunter pay for tuition, books and other costs so she could become a licensed practical nurse and later a registered nurse. She's currently working as a case manager for Hospice Covenant Care in Panama City and pursuing a bachelor's degree at Gulf Coast State College.
"I don't think a lot of people realize that CareerSource provides this kind of help," said Hunter, who wants to become a nurse practitioner. "If they hadn't helped me I wouldn't have been able to finish."
Health professions offer growing opportunities at every level, said Campbell.
"Every single month, registered nursing is Number 1" on advertised job listings, she said.
"I knew I would never have a problem getting a job," said aspiring nurse Shouppe. "But that wasn't part of my thought process. Being a nurse is something I always wanted to do."
The industry needs more people like Shouppe, said health administrators.
"There's a shortage of nurses nationally so it's always going to be a good field of study with guaranteed job placement," said Dr. Stephanie Solomon, executive director of the Ghazvini Center for Healthcare Education and dean of healthcare professions at Tallahassee Community College. "There will always be a demand for nurses, but there will probably also be a demand for EMTs (emergency medical technicians) and paramedics."
The nonclinical field of health information management is also growing rapidly, said Dr. Solomon. These technicians play a critical role in gathering, coding, managing and maintaining patient health information.
To expand its services, CareerSource Capital Region, along with local businesses, educational providers and economic development entities, have created a new Career Pathways Project to help people entering their first or second career find local training programs and financial aid opportunities.
Anyone interested in health science medical administration, for instance, can visit www.mycareerpathways.org and learn three possible options, with training and salary information, that could take you from entry level to higher skilled jobs.
For instance, an entry level job as a medical administrative specialist, which requires a certificate and two semesters of training, will pay $10 to $11 per hour. The next steps — health informatics & information management and healthcare management will require a four-year degree but the salary range will increase from $20.19 to $58.44 per hour.
"Entry level jobs are different for every industry," said Campbell, at CareerSource. "Retail looks very different from technology careers. And entry level positions can change very rapidly."
Nonprofits can also offer employees the chance to move into management.
Nonprofits are major employers in Leon County, said Jessica Lowe-Minor, executive director of FSU's Institute For Nonprofit Innovation and Excellence. "One in 10 jobs in Leon County is a nonprofit job," she said. "These range from institutions as large as Tallahassee Memorial Hospital to small nonprofits with one or two staff. Altogether, there are 2,000 nonprofits that collect $3.1 billion in revenue."
Finding a good job doesn't always require a four-year degree. There's a growing emphasis on training and short-term certification programs geared to the needs of employers.
The I/O Avenue Code Academy (which stands for Input/Output) is a new 12-week, $6,000 bootcamp tech program that focuses on web development. There's also a $500 introductory course available.
The Academy is a collaboration between Domi Station, Florida A&M University and the office of Tallahassee Mayor Andrew Gillum "to help fill a need in Tallahassee," said Ryan Kopinsky, the academy's director. The academy will be able to offer "an underserved community" the latest technological developments, he said.
Seventy percent of the 200 applicants for the program's first classes in September were female, which is "encouraging" in a male-dominated field, Kopinsky said.
"There are 500 tech jobs every year that go unfilled," he said. "These are high-paying jobs and we don't have the people to fill them."
Educators and business leaders have been working more closely in recent years to offer skills needed in Northwest Florida with the educational system and programs like Workforce Development at Tallahassee Community College.
"In 2013, what I saw was a huge gap between what employers were asking for, and what educational institutions were delivering, in terms of what skills students had and the knowledge they had," said Kimberly Moore, vice president for Workforce Innovation at Tallahassee Community College.
The Workforce program offers courses that can help an employee gain skills or change careers. The program offers short-term certification in fields like air-conditioning, driving a commercial truck, cyber security, maintaining industrial machines and welding. Most classes are offered at night.
"In 12 months or less, students can embrace a new career," said Moore. "The ultimate goal is for individuals to gain employment. We listened to employers when we designed the curriculum."
Feeney, of AIF, said "all sorts of companies need people with vocational skills. It's important "not to be locked into one job or location or learn how to do one thing."
Plumbing and electrical work are among fields that stay in demand. "You can work with robotics without being a robotic engineer," he said.
Shifting Economy
"Forty or fifty years ago, young people were expected to work at the same facility for decades, retire at 65 and get a gold watch," said Feeney. "Now it's not what company are you working for but what project are you working on."
A shifting economy has helped make entrepreneurship a growing alternative for innovators of all ages.
"There have always been people who have decided to go out on their own," said Susan Fiorito, director of the Jim Moran School of Entrepreneurship at FSU. "But during the recession, when companies started downsizing, people had to figure out whether they could work for another large corporation or go out on their own."
In 2015, Jan Moran and The Jim Moran Foundation committed $100 million to FSU to expand the Jim Moran Institute's operations statewide and create the School of Entrepreneurship.
The university accepted 80 students as entrepreneurship majors in the new school program. Of those, 60 are pursuing commercial businesses and 20 are going for nonprofits and businesses geared to helping the community or society as opposed to a product or service.
"They have to have that inner passion," said Fiorito. "Not everyone can be the CEO of a company but you can be the CEO of your own company."
Faculty members are entrepreneurs including Mark McNees, the founder of the nonprofit Red Eye Coffee, which now has five locations.
"Entrepreneurship allows you to create the career you want but it's not for everybody," said McNees who works with students seeking internships in entrepreneurship.
Doug Tatum, a member of the Jim Moran School of Entrepreneurship faculty, CEO and author, said the school has developed a specialized plan or an "internship in a box" that allows students to work with small or mid-size companies that wouldn't otherwise have the resources to work with a student.
---
Occupations in Demand
The top 15 advertised occupations in Gadsden, Leon and Wakulla counties
(August 2017)
Registered nurses
Computer systems analysts
Management analysts
Business Operations Specialists
First-line supervisors of office and administrative support workers

Software developers, applications
Computer user support specialists

Marketing managers
Medical and health services managers
First-line supervisors of retail sales workers
Heavy and tractor-trailer truck drivers
Social and human services assistants
Web developers
Information technology project managers

Retail salespersons
Source:
The Conference Board, Help Wanted Online, prepared by the Florida Department of Economic Opportunity, Bureau of Labor Statistics
---
CareerSource Capital Region Top Private Employers
Tallahassee Memorial HealthCare

3,674
Walmart 2,631
Publix 1,563
Capital Regional Medical Center 968
McDonald's 826
Winn-Dixie 759
Pizza Hut / KFC / Taco Bell 685
Tallahassee International Airport 620
Capital Health Plan (a) 600
Marriott Hotels 489
Chick-fil-A 447
Capital Health Plan (b) 401
Sears / Kmart 389
CVS Pharmacy 384
Coastal Forest Resources Co 350
Westminster Oaks 350
HealthSouth 343
Target 330