Embracing Altruism
Amavida Coffee and Tea Company profits while doing good.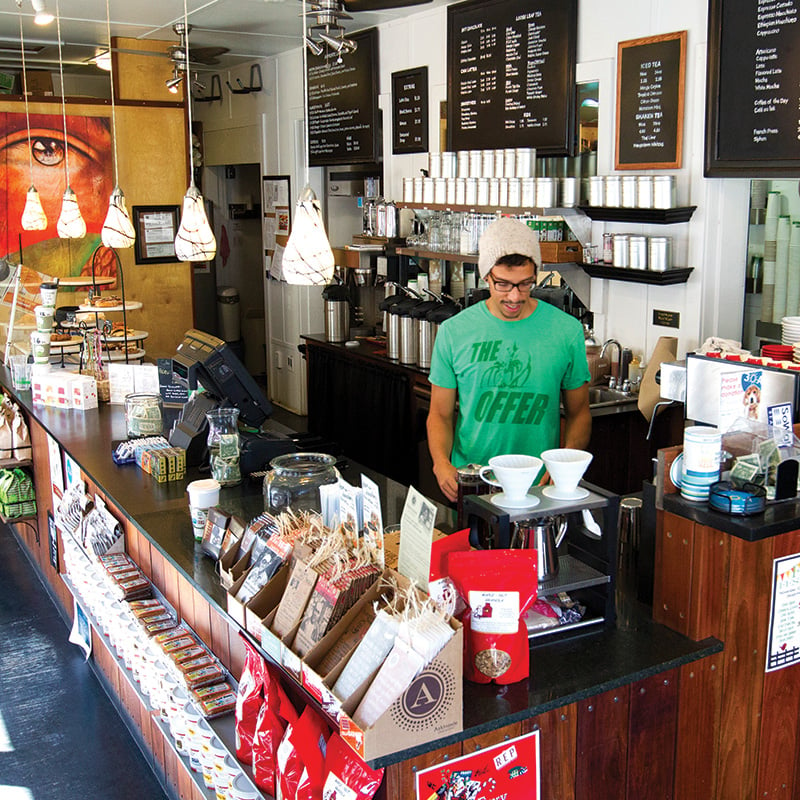 Amavida Coffee and Tea Company represents the vanguard of a global movement of businesses that aim not only at making profits, but also doing good. The only B or benefit corporation so far in Northwest Florida, Amavida — the name combines the Spanish words for "to love" (amar) and "life" (vida) — signals an ethical shift in how businesses operate, according to its founder, president and CEO, Dan Bailey.
"We basically use business as a force for good," Bailey says of his Walton County-based company.
Today, according to the B-Lab, the nonprofit certifying agency, Florida has 13 B Corporations and 18 benefit corporations. (Amavida has earned both designations.) All are part of 1,900-plus businesses worldwide, representing 130 industries and ranging from single-person service operations to large-scale international companies, whose common goal is to redefine the meaning of business success.
B Corporations and benefit corporations embrace higher standards of accountability, transparency and performance than conventional companies while also employing their business power to help solve societal problems. A key difference is that whereas B Corporations participate voluntarily, and are scored and rewarded accordingly by the B-Lab with its B-Certification seal of approval, benefit corporations are legally bound to achieve the standards. In the latter case, as one B-Lab representative puts it, the company's morals and mission are baked into its very DNA.
"The certification is the thing that differentiates us from a lot of others," Bailey says. "We're pretty proud of it."
A coffee roaster/retailer/distributor, Amavida buys organic coffees from around the world and operates a roasting plant in Panama City Beach and cafés in Seaside, Rosemary Beach and Panama City. It also distributes its coffees regionally and out of state. And it actively engages with its growers to promote their welfare and quality of life.
That means providing the growers — most of them small, independent, struggling farmers from places like Colombia, Kenya and Honduras — with financial, technical and training assistance. A USDA-certified organic handler, as well as a Fair Trade partner, Amavida both encourages sustainable agriculture and pays fair prices for growers' crops to help the latter improve their social and economic statuses.
"We know our growers, and we know their families in many cases," Bailey says. "We know the conditions they live in. So it's very important that we work directly with them. And it's very important to them, also — the direct connection with us."
One of the growers' biggest challenges, Bailey says, is getting products to market globally. Absent Amavida, he says, the growers rely on intermediaries. Often called "coyotes" in Latin America, these are individuals whose self-interest precludes offering fair prices.
"Coyotes will drive up and say, 'I'll buy your coffee right now,'" Bailey says. "The growers, already living in duress, sometimes make choices that favor short-term outcomes, just to survive. Oftentimes, we offer solutions that help them refinance, so they can survive while they're growing their crops, and they're not tempted to sell to intermediaries for significantly lower prices."
Amavida also helps growers transitioning from conventional to organic practices by buying their crops at organic prices even as they go through the lengthy certification process. And it partners with humanitarian groups, such as On the Ground, to undertake community projects that improve the growers' quality of life.
"The growers become friends," Bailey says. "If you look at a community of farmers and ask, how am I to improve their lives, just buying their coffee isn't enough. You start to look at other things that are missing in terms of community health, like the need for water, education, health care and in some extreme cases, gender equity."
He cites water projects as typical of works that are relatively simple and inexpensive to accomplish by American standards, but that can have a profound impact.
"It gives productivity back to communities," Bailey says. "The women and children no longer have to spend large parts of their days lugging buckets of water back and forth. It allows the women to work more in the field with their husbands. It allows the kids to go to school. We figure it costs us about $200, and it affects 40 or 50 people. That's pretty significant."
For Amavida, Bailey says, the challenges are largely logistical but also involve aligning the company's business ethos and goals with the marketplace.
"You want to pay more for the crops," Bailey says. "But the market has to align with that. We're basically the voice of the farmers in the United States. Our ability to improve prices for them is directly affected by what we can achieve with our customers. My challenge is to convince a restaurant or business owner that our product is better quality, adds more value and its social impacts are stronger than a conventional, lower-quality coffee they can buy at a much lower price."
For Amavida, it means walking a fine line between advocacy and corporate viability, which, under the benefit corporation model, entails more than simply selling products.
"It means paying employees a living wage or better," Bailey says. "It means honoring women's rights and having the right equity when it comes to women and men. It means not having a large disparity between our lowest-paid employee and me. We have an obligation to our community to make it better. Our environmental impact is also important — not only our products, but also our behavior. We use 100 percent sustainable energy, for example. I'm broad-brushing many of the areas, but it's to show how it all connects."
When he started Amavida in 2004, it was a life-changing shift, Bailey says. Formerly a principal in a consulting firm, he had achieved corporate success by every measure but still felt unsatisfied. He wanted to do more — something with global impact.
"I'd always had a goal to serve globally," says Bailey, who grew up in Yauco, a small town in a coffee-growing region of Puerto Rico that afforded Bailey connections and also gave him an insight into poverty.
Since its inception, he says, Amavida's vision and values aligned perfectly with the benefit corporation model — although the B-Lab didn't exist until 2006 and the first benefit corporation legislation wasn't enacted until 2010 in Maryland.
Florida authorized benefit corporations in June 2014, becoming the 25th state to do so. Amavida soon after attained the designation.
"When benefit corporations came along, we said, 'wow, this fits like a glove'," Bailey says.
The goal now, he says, is to continue growing the company and its social impact.
"We have a lot of metrics we are targeting: everything from pounds of coffee sold to what our B Corporation score's going to be," he says.
It's also his goal to ensure the company's longevity.
"We're trying to structure the company so that it has life after us," Bailey says, quipping that at 55, he still has another 10 good years left in him.
Meanwhile, he's enjoying the ride.
"Self-actualizing is hard to do," Bailey says. "Finding it is finding a purpose. For me, I just quit asking what I wanted to do and started looking for what I was supposed to do. Don't get me wrong. It wasn't easy. A lot of it is still hard, but it's definitely an improvement."