Educated Workforce in Jackson County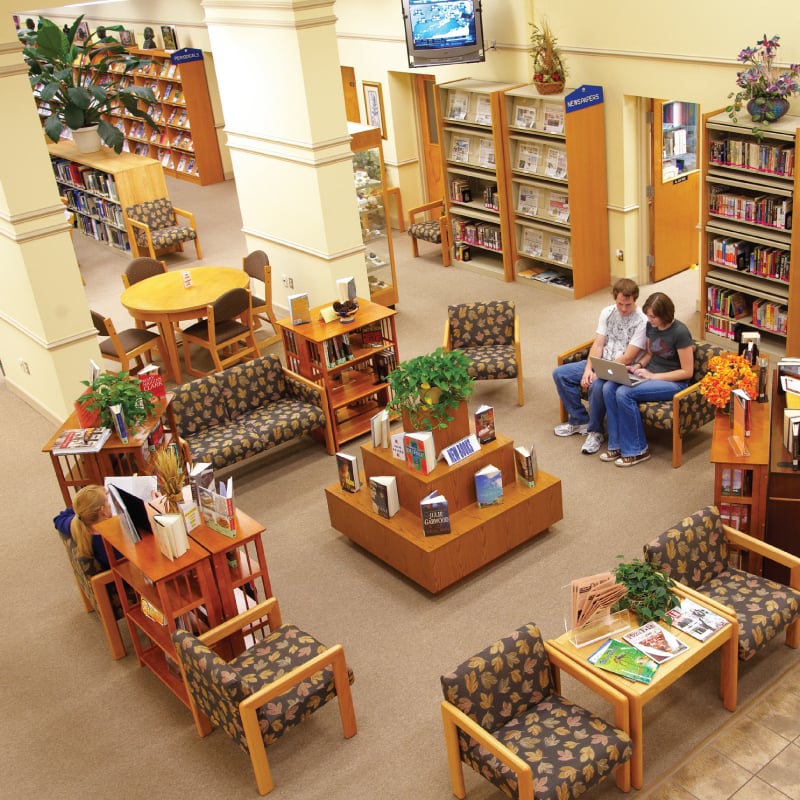 Jackson County's students — secondary and post-secondary — enjoy tremendous opportunities, some of which are rare for rural communities. High school students have a public school system with a high B average from the state (all area schools received either an A or a B in 2012). Those who aspire to seek higher education can choose between two institutions of higher learning that differ in focus, but have the common denominator of success: Chipola College and Baptist College of Florida.
Jackson County Public Schools
Education in the state of Florida has recently faced much scrutiny, spurring statewide efforts for standardization and improved performance. Jackson County's public schools already have a head start in performance; most area schools earned an A grade in 2012, and the average is a high B. No school in the district received below a B.
"The biggest push in Jackson County is just to provide the highest quality education we can within the guidelines given," said Larry Moore, deputy superintendent and director of human resources for the Jackson County School Board.
There are changes being made statewide as to how information is delivered to students and how those students' knowledge is ultimately tested. Like in every district, Jackson County schools are beginning to implement these changes. Common core standards, for instance, comprise a different method of instruction developed by governors and commissioners of education from 40 different states.
"It's basically a different method of delivery for instruction," explained Moore. "It really doesn't change the content … It really just changes the method of delivery."
There is also a new teacher evaluation instrument, which (among other things) instructs that teachers' annual evaluations are to be based at least 50 percent on student performance throughout the school year and on standardized tests. Next year, that instrument will apply to administrators, too.
The Florida Comprehensive Assessment Test (FCAT) is also slowly on its way out, says Moore, as end-of-course exams replace the standardized test. These comprehensive exams will enforce an educational standard statewide, with tests in various subject areas.
Moore cites a close relationship between the school board and the teachers' union as one important factor to the county schools' success. "We have a really good working relationship with our teachers' union, the Jackson County Educators Association. And there's a cooperative effort on the part of the JCEA leadership and our administration to keep teachers informed of current issues and requirements. We've been fortunate in that regard."
Graduating seniors in Jackson County have a choice of two colleges without leaving home — a rare opportunity for small, rural communities. Chipola College and Florida Baptist College each have their own specific niche but also seek to be as inclusive as possible while providing a supportive environment for students' success.
Chipola College
"Chipola's mission is to provide accessible, affordable, quality educational opportunities to all who choose to attend," said Gene Prough, president of the state college.
Chipola is the third smallest and third oldest school in the Florida college system and was also one of the first three community colleges in Florida to begin offering bachelor's degrees in 2003. The college now offers Bachelor of Science, Associate in Arts and Associate in Science degrees (with 40 programs total), as well as workforce development programs.
The majority of Chipola students pursue Associate in Arts degrees, transferring to universities like Florida State University and the University of Florida as juniors after two years. Chipola proudly prepares these students for university education, and that preparation pays off.
"On average, students who start at Chipola do better at the university than students who start at the university," noted Prough, who largely attributes this success to the high percentage of full-time faculty compared to adjuncts, in combination with an inclusive philosophy that works with students as individuals to help them achieve their academic goals. "We don't ask students to fit our mold; instead, we stretch and change to accommodate them without compromising academic standards," he explained.
Such support systems as the ACE lab (which, Prough said, significantly improved Chipola graduation rates), offer students free peer tutoring, test reviews and supplemental instruction for high-risk courses, further promoting student success.
Students emerge from Chipola amply prepared for the workforce; the teacher education programs have nearly a 100 percent placement rate, and the others are not too far behind. Such success certainly comes from hard work but also from close collaboration with the area workforce board. Chipola participates in the annual regional career fair sponsored by the workforce board, and one of the school administrators serves as a member.
Additionally, the school's Career Resource Center was established this year as a partnership between Chipola and the board, with a success coach to assist students with job searches, resumes, interview preparation and interest surveys, and provide information about demand occupations, job openings and projected pay for various occupations.
But these successes do not come without challenges. "Our greatest challenge is limited funding," said Prough. "With greater resources, the college could offer additional programs to better respond to changes in the job market and the emergence of new targeted occupations. The college also needs additional resources to maintain and improve the physical learning environment for our students."
Baptist College of Florida
When Tom Kinchen took over as president of the Baptist College of Florida, he was told, "You've got 18 months." If the school did not turn around, it was going to close. Now, 23 years later, the school offers 20 undergraduate degrees and two graduate degrees, and is still expanding.
"You have to pay your dues, get out and get to work," said Kinchen, who is a firm believer in community outreach — both for the college's and the community's benefit.
Concerning students, Baptist College works to be inclusionary but focused.
"We are very much a niche market — our trademark is changing the world through the unchanging Word," said Kinchen, explaining that the majority
of the student body is comprised of older students seeking out higher education (although the school has drawn increasingly more young students).
"We're not here to weed anybody out; we're here to strengthen them and build them up," Kinchen stressed, adding that for students, the college is a supportive institution in an often-impersonal world — a "safe place to explore what God wants you to be."
To that end, the campus is very family-oriented: a small, intimate setting with the largest residence hall housing 40 students. Despite its small size, the campus is still brimming with activity; in addition to a new student union and center for technology and lab studies, the college also just opened a new first-class wellness center. In addition to construction, the school's program selection is growing: All programs have now been approved for online distance education, and the school just began its graduate degree program with two Master of Arts degrees.
"We're drawing a much stronger student body than we've ever drawn," noted Kinchen. Over the last two years, the college has seen 93 percent of its graduating student body move on to graduate school or find jobs in their respective fields. Of 51 Baptist colleges in the United States, Florida Baptist College ranks 47 in cost of attendance and second in the number of students graduating to vocations in Christian service.
Kinchen pointed out that the college achieves all of this without debt. "We operate in the black," he said, adding, "I'm not losing sleep over servicing debt." But these successes do not come without occasional difficulty. Recently, Kinchen says that the greatest challenge has been the economy, with cuts of 10 percent of the overall operating budget in the last five years as contributions to the Florida Baptist Convention wane. However difficult times can be, Kinchen gratefully enjoys the support of the local community in Graceville.
"We are delighted to be a part of this area," he said. "We consider ourselves blessed to have our home offices here."
Programs that train workers for local jobs are valued by companies like Manown Engineering. Shown here are: (L-R) Jason Gilmore, COO of Manown Engineering, with Jason Hurst, VP of Baccalaureate & Occupational Education at Chipola College, with Cheri Gilmore, owner of Manown Engineering, and Darwin Gilmore, president of Manown Engineering, at the Manown Engineering facility in Bonifay, Florida. Photo by Scott Holstein
Educating the Workforce
The central goal of the Chipola Regional Workforce Board is to help people seeking employment (or better employment), says Executive Director Richard Williams. But this effort can necessitate a variety of resources — and one of the most important is education.
The Workforce Board often connects people who are not currently students with classes at the community college or vocational center to learn new skills. They reach out to students through such resources as their center at Chipola College.
"We also work with both in-school and out-of-school youth … trying to prepare them to enter the job market," Williams added, explaining that includes outreach efforts through career guidance to help high school students educate themselves about opportunities in the local workforce and guide them toward the skills needed to enter those jobs.
"I remember years ago, we did a study — a survey of graduating high school seniors. We found that a high percentage of them told us that they wanted to stay in this area, but they didn't think there were any opportunities for them."
To fix this, the Workforce Board started a program in which the student would receive a stipend to spend three days with local employers to learn what they do and what they need out of students.
In the end, the focus of all of these efforts is simply to connect people with good employment opportunities and train them with the technical and soft skills necessary to take advantage of those opportunities. Williams stressed that each regional workforce board has its own efforts, and the educational and outreach efforts of the Chipola Regional Workforce Board are tailored specifically to local need, concluding, "I always tell people, 'It doesn't matter what I can do — it matters what you need me to do.'"