ECP Gets Ready for More
As Bay County grows, so does its airport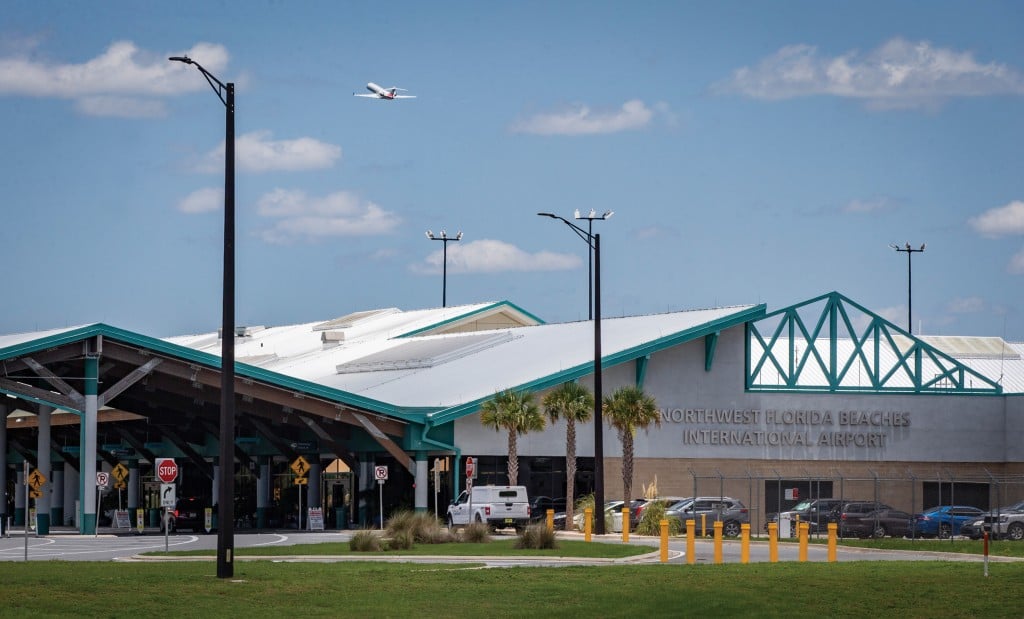 Several times a year, Parker McLellan, the executive director at Northwest Florida Beaches International Airport (ECP), pitches Panama City Beach to prospective carriers.
To convince them, he is never without a hand-sized treasure chest containing a sample of the powdery, bright white sand unique to Panama City beaches.
McLellan encourages airline reps to sift the sand through their fingers while he assures them, "The coast makes us who we are, but we have abundant inland attractions, too."
It's a soft sell with a sharp impact as ECP's steady growth in its first decade in operation reached new altitudes in 20ı9.
"You look at where ECP started in 2009, and there were two signatory airlines carrying about 25,000 passengers through our gates each year," McLellan said. "Last year, we saw a record-breaking number of ı.3 million. Our current partnerships with Delta, Southwest, American and United Airlines give us four legacy airlines, and with new flights to Denver, Kansas City, Chicago and Washington D.C., we're able to broaden the spectrum of travel destinations for our residents, as well as encourage tourism."
While much of ECP's success is attributable to visitation from the addition of more than ı6 non-stop routes in major hub cities, McLellan counts as factors Bay County's economic development and the airport's efforts to make travel "ECP" — that is, easy, convenient and painless.
"It's important to us that our facility remains modern, that we are still attractive and an easy airport to travel in and out of," McLellan said. "As tourism grows, so must we."
In a June interview with 850 Business Magazine, McLellan noted that the airport was finalizing a 7,000-square-foot terminal expansion, which provided all seven of its gates with its own loading bridge.
The airport is in the early stages of implementing a 20-month master plan that addresses runway systems, parking, surrounding business development and environmental issues.
Year to year, travel at ECP was down in April by 95 percent due to the COVID-ı9 pandemic, an event that McLellan views as a "speed bump, not a wall."
Traffic rebounded in June after beaches were reopened and a ban on short-term vacation rentals was lifted.
The airport has adopted "ECP Ready" procedures to "instill the highest level of confidence that ECP is the safest, cleanest, and most secure airport for our employees and passengers." Key components of the plan call for aggressive facilities maintenance, clear communications, organizational resilience and achieving economic recovery.
ECP's social distance markers for travelers are placed as a recommendation but are not a requirement. Abundant hand sanitizing stations, McLellan believes, will likely stick around, but it's still too early to predict any permanent changes to ECP etiquette.
"As for new marketing efforts, our No. ı priority right now is to instill confidence in passengers again," said Katie Spillman of Moore, a Tallahassee marketing agency. "Safety and security of passengers and staff have always been priorities, but now more than ever we need to be communicating that message so people feel comfortable, ready and know what to expect when they arrive."
"We are all moving forward," added McLellan. "We had two or three projects that were underway prior to COVID-ı9 and that we've kept going. We continue to work with the Bay Economic Development Alliance in attracting new jobs so that we can diversify our region's economy and seek funding for future projects."
Meanwhile, the state Department of Transportation is rerouting and four-laning State Road 388 from State Road 79 to the airport.
That project will include a two-lane roundabout at the airport's entrance for facilitated accessibility. The project, estimated to be complete by 2024, will link the airport to the Margaritaville Latitude adult living community currently in development.
"What's exciting about Margaritaville is that there are 3,500 homes in phase one of its construction," said McLellan. "In a survey, potential residents indicated that access to an airport with good commercial service was more important to them than golf. That's 3,500 people who, between their travels and their families coming to visit, are going to help us go from a summer destination to one that is year-round.
"I've watched this terminal grow from two airlines to four, and hopefully there will be more," said McLellan. "We like to say there's an 'E-C-P' in every escape. For us, it's Emerald Coast Paradise."