Ecotourism
The Promise and Challenge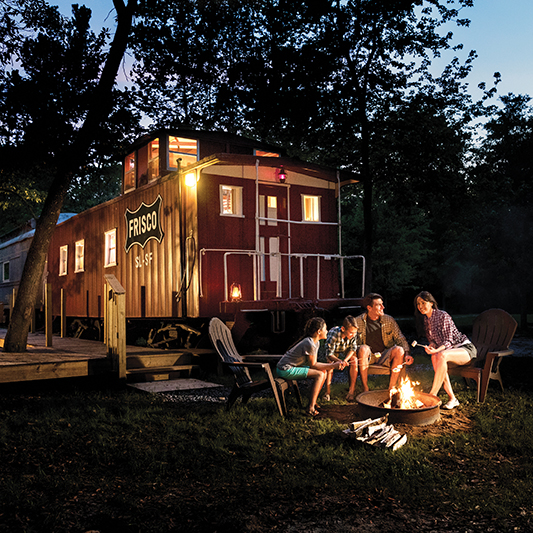 Tourism, hands-down Florida's No. 1 industry, has been on a steady climb since 2011, with 2016's count expected to top 2015's record-breaking 105 million visitors when the final numbers are determined. It follows, then, that ecotourism, a vital component of tourism, would also be on the rise. And in fact, the anecdotal and statistical evidence bear this out.
Although Visit Florida, the state's official tourism-promoting agency, doesn't distinguish, per se, between tourism and ecotourism, its data profiles offer a glimpse into visitors' participation in activities generally regarded as ecotourism-related. Granted, the number of travelers who visit state and national parks or engage in camping, hiking, wildlife viewing and other nature-based activities is nowhere near the number of those who prefer shopping, sightseeing, theme parks and similar pursuits; still, they represent a significant and growing segment.
Vicki Allen, senior manager of research for Visit Florida, notes that while the percentage of visitors engaging in nature-based activities hasn't changed much, the number of participants has increased.
"The share of visitors who participated in these activities has remained relatively the same," Allen says. "However, the number of visitors to Florida from 2011 to 2015 has increased. So yes, the number of visitors who have participated in nature activities has grown proportionately."
Data from other sources support her point. The Florida Park Service reports that 31.8 million people visited state parks in 2016, up 732,413 from the previous year, with 4.1 million of them favoring Northwest Florida parks and St. Andrews in Panama City Beach ranking among the 10 most popular. Meanwhile, a five-year study by the Florida Fish and Wildlife Conservation Commission, "2011 Economic Benefits of Wildlife Viewing in Florida" (the next study won't come out until spring 2017), ranked Florida first among states for wildlife viewing by out-of-state residents and found wildlife viewing second only to beach-going as the most popular outdoor activity.
Representatives of North Florida's various tourist development councils, moreover, vouch for ecotourism's viability in their respective markets.
"For us, tourism and ecotourism are interconnected," says David Demarest, public relations manager for Visit Panama City Beach. "I would say 100 percent of our visitors enjoy some level of ecotourism, given how much our model is geared around outdoor activities."
Jackson County Tourist Development Council Executive Director Christy Andreasen says, "Ecotourism is huge for us," while citing her area's wealth of cultural, historical and natural resources.
Taylor County Chamber of Commerce and Tourist Development President Dawn Taylor echoes the sentiment.
"For us, ecotourism is primarily our tourism, because that's basically what we have to offer," she says.
Taylor also chairs Visit Natural North Florida (VNNF), a 14-county coalition whose members include Jefferson, Madison, Taylor and Wakulla counties, and whose singular mission is to promote ecotourism by showcasing members' cultural, historical and natural assets.
"The great thing about the VNNF region is that every member county has its own little extra something to offer in its ecotourism package," Taylor says.
Coming of Age
Depending on how one defines the word, ecotourism has not only come of age in the past 20 or so years but is arguably in its heyday, if not sometimes at risk of being used merely as a buzzword or marketing ploy. Indeed, critics accuse some of the bigger players and even governments of increasingly and cynically employing the term as a money-making promotional tool with little or no consideration for benefits to local communities or conservation. Certainly, the word is much bandied about and its meaning interpreted differently by environmentalists, entrepreneurs and tourism professionals, among others.
Even within the tourism industry, ecotourism encompasses a continuum of activities that can range from genuine to "lite" to pseudo.
Fishing and hunting, for example, come to mind as activities that purists would argue are not ecotourism in the strictest sense because they are consumptive. Too, Ecotourism is not infrequently confused or used interchangeably with ethical tourism, green tourism, nature-based tourism, responsible tourism and sustainable tourism, each of which carries a slightly different meaning. Then there are the niches or subsets of tourism that are integral to, or intersect with, ecotourism, such as adventure tourism, agri-tourism, culinary tourism, cultural tourism, heritage tourism, spiritual tourism and wellness tourism — to name just a few. Indeed, there appear to be as many types of tourisms as human interests, making it easy for one to get lost in the welter of definitions and interpretations.
Historically, the word, "ecotourism," was coined in the late 20th century, although there is some dispute as to who coined it: Mexican architect Hector Ceballos-Lascurain in 1983 or Californian academic and adventurer Claus-Dieter Hetzer in 1965.
The International Ecotourism Society (TIES) defines ecotourism as "responsible travel to natural areas that conserves the environment and improves the well-being of local people." TIES recognizes six abiding ecotourism principles. These include travel that impacts minimally, builds cultural and environmental awareness, provides direct financial benefits for conservation, and provides financial benefit and empowerment for the local people. Ecotourism typically is associated with relatively unspoiled natural places rich in flora, fauna and cultural heritage.
Today, ecotourism is embraced to one degree or another by businesses, governments, world organizations, environmental groups and the tourism industry, as well as being taught in colleges — its acceptance and popularity growing in tandem with the Green Movement and greater public awareness of the environment and sustainability. Integral to ecotourism is the idea of recycling, energy efficiency and water conservation. The Green Lodging Program exemplifies the latter concept. A voluntary initiative launched by the Florida Department of Environmental Protection in 2004, it recognizes lodging facilities that commit to conserve and protect the state's natural resources. Increasingly, studies suggest, consumers are willing to pay more for sustainable brands that make a commitment to social or environmental values.
Visit the websites or speak with representatives of the various tourist development councils and others who promote ecotourism in one fashion or another, and the word's varied interpretations becomes readily evident — with its definition ranging from recognition of the core principles to simply "anything outdoors." Under its banner, too, are activities ranging from hiking, kayaking, snorkeling and wildlife viewing to boating, fishing and hunting.
Visit Tallahassee Executive Director Kerri Post, who has long familiarity with the concept of ecotourism and describes herself as more of a traditionalist or purist, prefers nature-based or sustainable tourism.
"Ecotourism, in its purest sense, is non-consumptive," Post says. "Fishing, while you're in nature, is not ecotourism. And fishing's a big part of the nature-based tourism product that Tallahassee and Northwest Florida offers. Hunting also, by strict ecotourism definition, wouldn't work because it's consumptive. Yet some schools of thought say hunters, if you're talking species management, are actually very conservation-minded. But I think sustainable tourism or nature-based tourism is a more accurate reflection of the product we offer."
Post, in fact, sees ecotourism, with its strictly defined principles, as a niche or vertical subset within the larger umbrella of nature-based or sustainable tourism.
She cautions, however, that one can get "hung up on labeling" and too much into slicing and dicing tourists. Vacationers don't necessarily self-identify as ecotourists or nature-based tourists when they're traveling, Post says. Rather, they typically engage in multiple activities, some nature-based, others not.
"I caution about labels, because labels can mean different things to different people," she says.
Steve Hayes, president of Visit Pensacola, agrees.
"The great thing about the tourism industry is there are lots of ways to classify visitors," Hayes says. "The bad thing about the tourism industry is some of us classify visitors differently."
Even so, consensus exists among tourism professionals as to a few industry trends that touch on ecotourism.
By the Numbers
One trend is this region's increasing number of visitors, attested to by the different tourism-development representatives. Part of it, undoubtedly, stems from Florida's overall tourism growth. But another factor may be operating here — one given credence by Visit Florida: It's a belief that other parts of the state have reached capacity, and tourism's future growth in Florida lies in this region.
This idea — explicitly outlined in Destination 2020, a Visit Pensacola study that looks at tourism trends relevant to Escambia County — is one Hayes embraces. Not only have Central and South Florida reached capacity, but travelers are wearying of their offerings, Hayes poses.
"We're reaching more international visitors who are tired of doing Central or South Florida," he says. "They want to see something new and different, and guess what — it's up here in Northwest Florida."
Andreasen agrees.
"A lot of people go to South Florida because it's what everybody does," she says. "But after a while, people run out of things to do and look for something new. We get a good bit of international visitors — people who come from all over to dive in the caves at Merritt's Mill Pond, which is world-known."
Demarest expands on the theme.
"I can tell you, our part of Florida is generally seen as undiscovered on an international scale," he says. "It's a blank spot on their maps. And when they find it, they feel as if they've really discovered something."
Whatever the cause or origins of the increase, Post sees the trend as boding well for ecotourism in this region, given its rich biodiversity and cultural and historical richness.
"We're certainly known for our great beaches, and that's our cash cow, if you will, in the coastal communities," she says. "But we have an opportunity to broaden the narrative in terms of the nature-based product we offer. We have first-class paddling and biking trails, our topography is unique from the rest of Florida, and we have a lot of history, too."
She makes the point that people today are more attuned to conservation and sustainability and often are seeking off-the-beaten-path experiences, especially as cities and their urban jungles grow more intense and take a greater toll on people's psyches.
"I think that's only going to increase as the pace of our world gets busier and more connected," Post says, offering that nature-based activities can provide a mind/body/soul healing experience. "And what's nice about Northwest Florida and Tallahassee is you can have world-class nature-based experiences and then sleep in the comfort of a hotel and dine in a nice restaurant. You can rough it or have the creature comforts."
The off-the-beaten-path theme is one Visit Natural North Florida specifically highlights, given the region's many springs, rivers, woodlands and biking/hiking trails. Through Visit Florida, the organization has received funding that allows its representatives to travel to national and international outdoors shows to market the region. Indications are that the publicity is paying off. A recently released report shows that bed-tax revenues increased 15.9 percent last year in the region over the previous year, compared with 10 percent statewide. The report attributes the increased visitations in large part to the travel shows, which are drawing domestic and international visitors.
Reaching A New Market
Millennials' coming of age as a vital economic force in the tourism industry is another trend with implications, given that the group has reportedly replaced baby boomers as the largest generational demographic. And millennials, the research suggests, support sustainability; prefer unique, interactive experiences; seek authenticity and are extremely technology-savvy.
A state-sponsored study found traveling and vacation-taking to be "core aspirations" of millennials. It also found that Florida, which has largely built its tourism industry on boomers, is getting a smaller share of millennials. The study noted that many millennials had "done" Florida in their youth, particularly the better-known spots, and they were looking for new experiences. It suggested that for Florida to capture its share of this group it would have to, among other things, provide millennials with "a passport to experience" and highlight nature, local features and cultures.
Whether because of this or other reports, tourist development councils are heeding the word and employing strategies to attract millennials.
"We're trying to target millennials by creating experiences," Taylor says. "Studies tell us millennials don't just want to see things, they want experiences. So we, for example, are putting together packages where you show up, get kayaks, get taken to a location for kayak fishing, get lunch provided, and camp here."
Visit Pensacola is likewise eyeing millennials.
"We're still learning about them and how to reach them," Hayes says. "For us, previously, it was all about the beach; we didn't really address the other experiences you can have here, whether it's kayaking in the bayous, or going on the biking or hiking trails or the cultural or historic trails. So now we're talking about these other things. People are going to come here for the beaches because they're absolutely stunning, but then you look at the other things that will make you a standout destination."
Visit Panama City Beach offers a different perspective.
"Millennials, deep down, aren't different from other travelers," Demarest says. "They like to experience a destination, have fun and seek activities that have been overlooked or are considered undiscovered. But in the end, your grandparents may have come here to spend time on the beach and enjoy themselves, and millennials are happy to do that, too. These are timeless traits."
Rather than categorizing groups by age, Demarest prefers to distinguish them by interests. People choose different activities based on interests, and ecotourism can accommodate those choices, he says.
"Within the umbrella of ecotourism, there is a fairly wide spread," Demarest says. "Maybe you prefer a leisurely boat tour with a captain taking care of all your needs, or you'd rather cruise the same waterways on a kayak. I would say it's more determined by your interests and your comfort level than by age."
The Power of Sharing
Social media's impact on ecotourism is an undeniable trend that allows for the instant sharing of photos and stories, creating an appetite for "like" experiences. It's telling that The International Ecotourism Society promotes social media as a means of marketing sustainable locations, and The Ecotourism and Sustainable Tourism Conference in 2015 highlighted the medium as a marketing tool.
"I think the trend in tourism is to share experiences," Hayes agrees, citing, as example, a recent family trip to New York City and his family's posting of their doings on Facebook and Instagram. "You're sharing what you're doing instantaneously; it's a form of advertisement."
Taylor affirms social media's efficacy, which she discovered accidentally. A kayaking enthusiast, friends convinced her to hashtag her experiences on Instagram. The results were amazing, she says.
"I've gotten all kinds of people, from out of state and out of the country, who are interested in coming here because they saw these huge fish and beautiful coastline," Taylor says. "It's created a bit of a marketing campaign for this area."
Demarest, too, touts the power of social media.
"It's absolutely having an impact," he says. "You'd be surprised how many people, even in this country, don't know about the Panhandle. So if their friend posts a picture they took while here, that speaks powerfully."
Looking For An Experience
Surprisingly, a post-recession-driven frugality seemingly continues trending, with tourists prizing meaningful experiences over materialism.
"Absolutely," Demarest says. "Experiential travel and experiential gift-giving are gaining ground. People don't need as much stuff as before. We're not in collecting mode anymore, except when it comes to collecting memories and photographs. I see that as a trend even in my own family. Our favorite gift to my parents last year was tickets to a sunset sail and dolphin viewing. They had a good time, and afterward there was no extra package to carry or stuff to try to find a spot for in the closet or on a shelf."
The sentiment resonates with Taylor.
"Oh, absolutely!" she says. "I find it's my own preference. So whenever we're looking at how to attract people, we look at what we can offer as a memorable experience that they will cherish, not what souvenirs they're going to take with them. It's what they do when they're here that matters. It goes back to social media. They want to share their experiences instead of bringing back a T-shirt or other souvenir."
This ethos, she avows, dovetails nicely with ecotourism.
Putting aside trends, which by their very nature are ephemeral and transitory, the issues of conservation and preservation are central and abiding tenets of ecotourism. The question for ecotourism promoters is (or should be) how far to promote a site and attract visitors without, as it were, killing the goose that lays the golden eggs. Even principled ecotourism over time affects cultures, ecosystems and wildlife habitats, however subtly.
Post perfectly frames the dilemma.
"We can love something to death," she says, noting that overcrowding or overdevelopment can degrade a destination or experience. "Obviously, you need good monitoring and site management. It's all about balance, because there is also a belief that there is no hope for preservation without visitation. The visitors bring in the dollars."
Interpretation and education are key, she says.
"Take our carnivorous pitcher plant," Post says. "People think it's cool and want to poach it. They have to understand through interpretation that it's an endangered species, and taking them affects their sustainability. Interpretation is an essential element in both ecotourism and sustainable or nature-based tourism."
Hayes agrees.
"More people aren't always the answer," he says. "You can have the same number of people, but coming at different times of the year. You don't want problems with traffic issues and long lines at attractions. The other part is making visitors aware of what we have and the need to protect it."
For Taylor, the dilemma is existential.
"Our biggest attraction is that we're not saturated with theme parks, restaurants, fast food joints and things like that," she says. "Our attraction is we're undeveloped. So in a sense, you don't want to see it get more developed. Then again, we'd like to see more amenities along the coastline. So there are the two sides. We want tourism to grow, but we don't want to lose what's attracting people here."
How to maintain that fine balance? That's always the tension. The question is, is North Florida up to the challenge?