Economic Stimulus
Researchers and their salaries benefit community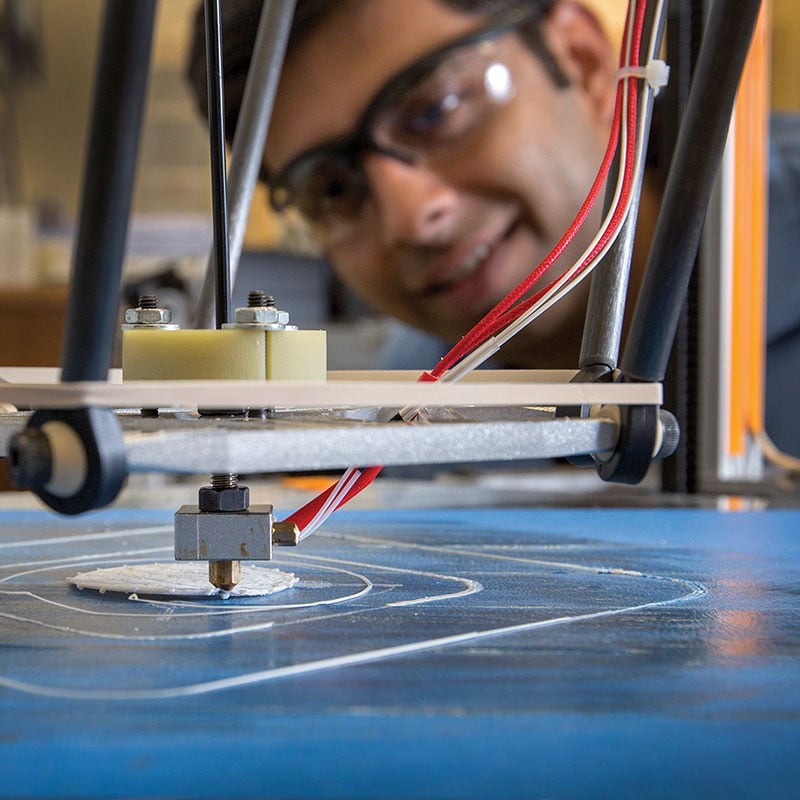 According to the Brookings Institution, two-thirds of the most influential technologies of the past 50 years have been developed at national laboratories and universities. Consider the smartphone, autonomous vehicle technology and other innovations that are transforming our way of life. They all owe key technological components to research and development activities that are federally funded and reside in local communities.
By fostering this research and advancements, the federal government plays a key role in economic development. As Brookings expert Scott Andres puts it, these investments "come to ground" in communities across the country, and these regions share in the economic benefits of research.
This is certainly true for Tallahassee and Florida State University. To date, FSU researchers have been awarded 506 patents — that directly or indirectly contribute to manufacturing, business processes, creative license and other positive effects on the economic health of the local area.
Bringing in the Funding
In total, 6,374 local people were employed by FSU in 2014-15 (the latest available figures), and that doesn't include faculty and part-time OPS positions. In addition to the sheer number of households supported by FSU's payroll, research and development funds are a growing and important economic driver for the Tallahassee economy.
Dr. Gary Ostrander, vice president for research for FSU, estimates FSU pulled in $200 million in funding from federal, state and other sources in 2017. In 2016, these grant awards impacted the local economy in many ways, but most heavily through the major salaries that are paid to faculty and research staff.
Ostrander explains that typically, a lead researcher will earn about $75,000 in salary. A graduate student that works half-time will earn anywhere from $20,000-30,000 per year. A medical researcher with an MD in the College of Medicine earns $100,000 or more, and at the National High Magnetic Field Laboratory, those salaries easily exceed six figures.
In terms of economic development, this impact is huge. These salaries feed into the local economy in the form of taxes (local, sales and property), retail activity, philanthropy, and even entrepreneurial pursuits by these professionals and their families. The latest figures indicate a $3.50-$4.50 per dollar multiplier into the local economy.
Besides salaries and economic multipliers, FSU rewards faculty innovation through patent royalties and income, and profit-sharing from copyrights.
In its current structure, for the first $10,000 in royalties/income, FSU allows 85 percent of that to go to the inventor(s) and the remaining 15 percent feeds back into the FSU research foundation. For proceeds over $10,000, it is split by 40 percent to the inventor(s), 30 percent to the inventors' department and 30 percent to the research foundation.
In a similar way, authors retain 50 percent of copyright proceeds and royalties, and the other half is split between the research foundation and the author's academic unit.
Through this incentive approach, FSU faculty are sharing in the fruits of their innovation, but they also enjoy additional funding for the programs in which they work, hopefully furthering their capacity for more and more research and groundbreaking creativity.
The Research Life Cycle
The September 2017 Monthly Award Report from FSU's Office of Research showed a total of $6,351,099 in total research grants revenue. Of those, the main funding sources were: National Institutes of Health ($3,190,599), State of Florida ($1,520,088), Department of Defense ($1,133,316), National Science Foundation ($271,176), and the U.S. Department of Education ($119,229).
These numbers are the result of countless hours spent by dozens of researchers, faculty and staff that are writing proposals, finding funding, managing award dollars and sharing results of their efforts. This machine is a major part of what FSU's Office of Research does, and it pays big dividends to the university and to the local economy.
FSU offers help to researchers in the form of idea generation, collaborator matching, proposal writing, boilerplate material, training and workshops, and more.
In October 2017, FSU announced it brought in $35.8 million in funding from the National Institutes of Health (NIH) in fiscal year 2017 (ending on Sept. 30), more than double the amount the university received five years prior. This grant award positioned FSU as one of the leaders in the state for health and biomedical research, ranking it fifth in the state for NIH funding — ahead of the Mayo Clinic and Moffitt Cancer Center.
According to FSU, the Florida Legislature's designation of FSU as one of the state's two preeminent universities and the funding tied to that designation allowed the university to hire additional faculty in the areas of health science and more. This trickle-down effect means more researchers proposing more funding and an increase in awards from federal sources.
The research labs, centers and institutes that report to the FSU Office of Research include: the Aeropopulsion Mechatronics & Energy Center, the Center for Advanced Power Systems, the National Magnetic High Field Laboratory, FSU Coastal and Marine Laboratory, Florida Center for Advanced Aero-Propulsion, Florida Climate Institute, Future Fuels Institute, High-Performance Materials Institute, and the Center for Genomics and Personalized Medicine.
Ostrander points out that while larger projects come with major funding, smaller projects still employ students and staff. And many technologies don't end up having the same impact as did Taxol (the famed breast cancer drug developed at FSU), which included residuals of $352 million that FSU used to build buildings, invest in endowment and is still using to further projects on campus.
Many of the technologies these grants produce, he points out, don't lead to company startups, but they are often acquired and provide royalties, income and money for salaries, buildings and more even after the grants conclude.
FSU Research Economic Impact Snapshot for 2014-15*
Total research and development budget expenditures by FSU exceeded $256 million
Total amount of sponsored research was more than $200 million
FSU generated $6 billion of direct revenue or expense, with $9.94 billion worth of industry output and 94,160 jobs
Revenue generated by FSU created an additional $3.82 billion of labor income, $1.78 billion of property income, and $501.8 million in business taxes
*Most recent available data
Top Ten Funded FSU Research Projects
The top 10 currently funded research projects alone at FSU bring in just under $258 million to the local economy. Beginning with the highest award, the projects are multi-year economic generators that promise not only millions in salaries, but potentially enduring revenue sources through patents, copyrights and licensing agreements.
1. National High Magnetic Field Laboratory – National Science Foundation (grant year ending 2017): $168,386,367 The only facility of its kind in the United States, the National High Magnetic Field Laboratory (Mag Lab) led by Greg Boebinger is the largest and highest-powered magnet laboratory in the world. Annually, thousands of scientists from around the world travel to use its unique magnets with the support of highly experienced staff scientists and technicians. Because it is funded by the National Science Foundation and the state of Florida, these researchers use the facilities for free, probing fundamental questions about materials, energy and life. Their findings result in more than 400 scientific publications a year in peer-reviewed journals such as Nature, Science and Physical Review Letters.
2. Reading for Understanding Research Initiative – U.S. Department of Education (grant year ending 2018): $20,000,000
According to the researchers led by Christopher Lonigan, the goals of this project are to "investigate the underlying cognitive and linguistic components that contribute to or that present the acquisition of well-developed comprehension skills." They also aim to create and evaluate coherent, integrated and multi-component instructional techniques that are intended to build skills for students' oral and text comprehension and reading for understanding. This is a longitudinal study and will explore the accumulated effects of instruction over multiple years of schooling. It involves pre-kindergarten through fourth grade students from schools in Leon, Bay, Liberty and other counties in north Florida.
3. Military Suicide Research Consortium: Toward a Gold Standard for Suicide Risk Assessment for Military Personnel – U.S. Army (grant year ending 2021): $14,189,843
FSU's Dr. Thomas Joiner, along with co-investigator Peter Gutierrez at the U.S. Department of Veterans Affairs, wants to understand how great is the risk that an emotionally troubled patient will engage in some form of suicidal behavior in the near future. To this end, they believe it would be extremely valuable if clinicians had an accurate and easy way to assess the risk of imminent suicidal behavior in patients. These two are testing four common suicidal risk assessments to determine the best tool or combination of tools — the gold standard — that offers the most accurate prediction of suicidal behavior in the short-term future. Over the course of three years, they will assess these measures during their use in a total of 900 military personnel.
4. The Florida Center for Advanced Aero-Propulsion – Florida Legislature (grant year ending 2018): $11,028,922
Dr. Farrukh Alvi is a professor of mechanical engineering at the FAMU-FSU College of Engineering and he directs the FCAAP, which was designed to "meet the needs of a rapidly-evolving and highly competitive aerospace industry." The Center aims to train and sustain a vital, highly-skilled workforce; to develop new technologies and products for the aerospace industry; and to efficiently transfer this timely research into the aeronautics/aviation industry. The FCAAP is a technical incubator and partners with aerospace industry, government and other stakeholders.
5. Mobilizing Community Systems to Engage Families – National Institutes of Mental Health (grant year ending 2018): $10,328,408.00 Principal investigator Dr. Amy Wetherby will focus on children at 18 months of age, which is the earliest age that autism spectrum disorder can reliably be detected. She will compare the effectiveness of screening and referral by three different community systems, including primary care, WIC services, and the National Black Church Initiative. Using the recent FSU Research spin-off company she pioneered, Autism Navigator, Wetherby will determine which of these modes most successfully captures autism markers at the earliest possible age. The Autism Navigator is an innovative, web-based diagnostic tool that offers training, diagnostic tools, mini-documentaries on autism, specialty-designed video players, an exclusive video bank that illustrates effective evidence-based practice and practical advice for parents and professionals alike. Under the auspices of autism research, Wetherby has more than $16 million in grant funding through 2017 and 2018.
6. HZB Educational Research Agreement – FSU Magnet and Research Development Inc. (grant ending 2019): $9,057,318 In 2014, the National High Magnetic Field Laboratory completed building the world's strongest magnet for neutron scattering. They shipped the magnet to their partner, the Berlin Neutron Scattering Center. At 25 tesla, it is used to study the structure and dynamics of materials, primarily high-temperature superconductors. Principal investigator Mark Bird explains that neutrons are remarkable probes of phenomena within solids. The combination of neutrons and a very strong magnetic field will allow scientists to study the normal state of high-temperature solids and explore the hydrogen structure in both biological and hydrogen-storage materials. The project is funding primarily through the German government.
7. Florida Catastrophic Storm Risk Management – Florida Department of Financial Services (grant ending 2020): $7,945,054 Led by Lorilee Medders, the Florida Catastrophic Storm Risk Management Center provides researchers, policymakers, governments and other stakeholders with comprehensive information on catastrophic risk financing. The center organizes content for academics, researchers and others around the world. The organization was created and funded by the Florida Legislature in 2007 and it supports the state's ability to prepare for, respond to and recover from catastrophic events. Activities include trainings, conferences, risk management research, information and helping the government and businesses prepare for the worst.
8. WFSU Operations – FSU Foundation (grant ending 2018): $6,275,000
This is the operating budget for WFSU, Tallahassee's National Public Radio outlet. Because its funding comes through the FSU Foundation, it is included in the research and grants calculations for the university.
9. Regional Educational Laboratory Southeast – U.S. Department of Education (grant ending 2022): $5,420,454 Led by Dr. Barbara Foorman, the REL Southeast is a network of 10 laboratories that serves their regions by providing access to high-quality research through development projects, studies and related technical assistance activities for local educators and educational systems. The network of Regional Education Laboratories is a nationwide project funded through the U.S. Department of Education since the 1960s.
10. Electric Ship Research and Development Consortium – Office of Naval Research (grant ending 2021): $5,357,215 The Electric Ship Research and Development Consortium combines the programs and resources nationwide that are working on leading electric power research to develop near to mid-term electric ship concepts. At FSU, Dr. Roger McGinnis leads this effort. The consortium addresses a national shortage of its electric power engineers by providing state-of-the-art facilities and educational opportunities for students in those locations. FSU is one of many universities, including Michigan State, MIT, Purdue University, University of South Carolina, and more. The organization focuses on funding projects that model and simulate new equipment and systems, prototype testing and development for the Navy, technology and software development, and workshops on modeling, simulation, reconfiguration and power train technology for electric ships.