Economic Development Generator
Beyond the flight lines, Tallahassee's airport, with land to offer focuses on more than the passenger experience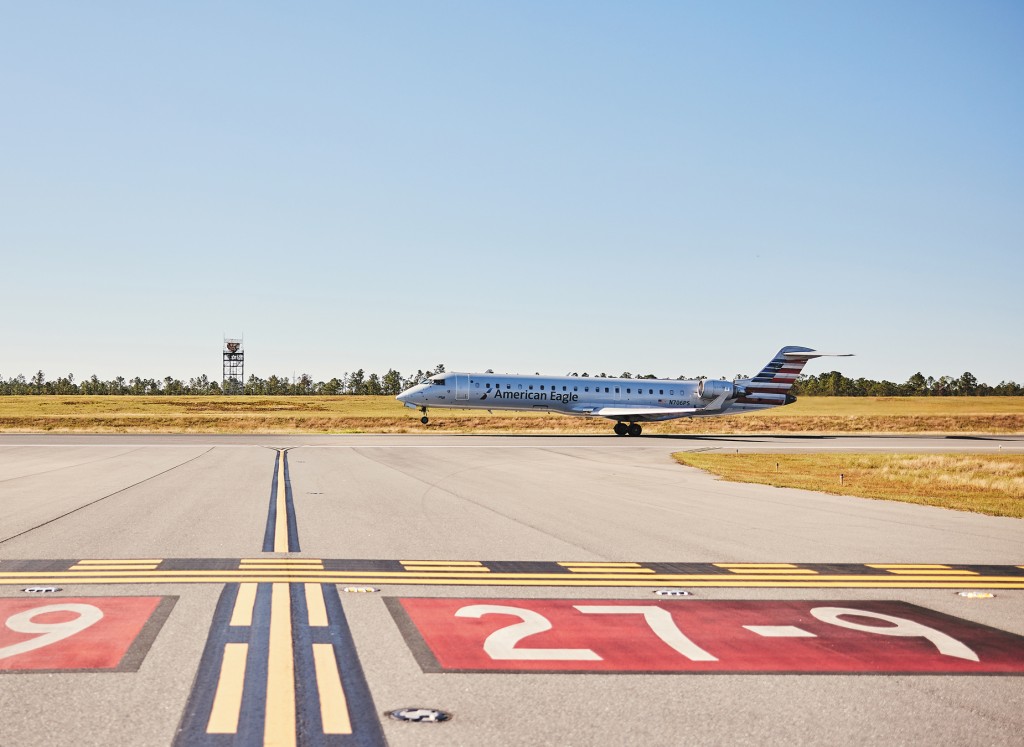 By all accounts, 2020 was the worst year in the history of commercial air travel. Airplane passenger numbers dropped by 60 percent because of restrictions resulting from COVID-19. Tallahassee International Airport (TLH) could not escape the debacle, hitting rock bottom in April. But, according to airport director David Pollard, the numbers have steadily bounced back.
"We've surpassed 2017 numbers; now we're closing in on '18 and '19 numbers," he said in late August. "So we're climbing out of the big drop."
Located five miles southwest of downtown Tallahassee, TLH opened for business in 1961 as the Tallahassee Municipal Airport, although the capital city's first airport was initially developed in 1928 next to where the James Messer Sports complex is located today. Named Dale Mabry Field after a famous World War I aviator, the original airport had a single turf runway until 1938 when the U.S. Army established a fighter training school on the site, constructing three runways and significantly expanding the facility. The field was eventually abandoned in favor of the new location.
Today, TLH, which became Tallahassee Regional Airport, and then, in 2015, Tallahassee International Airport, covers 2,485 acres and has two runways: 9/27 is 8,000 by 150 feet and 18/36 is 7,000 by 150 feet. Passenger service is provided by American, Delta, United and Silver Airways with flights to and from Tampa; Fort Lauderdale; Miami; Charlotte, North Carolina; Dallas-Fort Worth; Washington, D.C.; and Atlanta. FedEx and Quest Diagnostics Aviation handle freight. The airport is city-owned with a staff of 54 and an annual budget exceeding $13 million.
"The airport is a priority for the City of Tallahassee and the surrounding region," said Tallahassee's mayor, John Dailey. "It's an award-winning airport with an award-winning staff. We are primed to move forward, and we've got a lot of exciting things going on at the airport."
Perhaps the biggest priority for TLH is to become a truly international hub. Dailey reports that the city hopes to finish building its new international passenger facility by 2024, which, when complete, will be capable of processing 200 international passengers an hour. It will also get the city one step closer to establishing a foreign trade zone, which Pollard says could potentially extend to Port St. Joe to the west, and east to the I-75 corridor.
"But that's all subject to final approval by U.S. Customs," he said. "First we build the facility that will house Customs, and once we get Customs in, we make a formal application for the Foreign Trade Zone."
Other projects at TLH include: ongoing rehabilitation to the terminal; improvements to the air traffic control tower and AARF Fire Station; flight information display system upgrades; and runway and taxiway reconstruction and rehabilitation. Then there's the Airport Gateway Project, a proposed 12-mile multimodal roadway — pedestrian, vehicle and bicycle — to be constructed between the airport and Downtown Tallahassee.
Pollard and Daily agree that developing 100 acres of airport land to attract new businesses seeking runway access is also a high priority.
"Our airport is an incredible economic development opportunity, not only for Tallahassee, but for the region," Daily said. "And we look forward to capitalizing on all aspects of the airport to move our community forward."
"We're working hard not just to improve the airport and the passenger travel experience, but we're also working in partnership with several other planning organizations and local groups to enhance the economic development potential and ultimate creation of jobs within the community," Pollard added.
As the overall economy continues to improve, the city administration is bullish on TLH.
"We continue to do everything we can to partner with our airlines, our tenants and our stakeholders, and do everything we can to ensure a good, strong recovery, while also keeping our travelers safe as we conduct our daily operations," Pollard said. "We're very excited about the future of this airport and where we're going. There are going to be some challenges ahead, but we're going to remain focused on the positive. And that's the bigger picture."