Drawn to the Arts
Jennifer Steele is committed to fostering creativity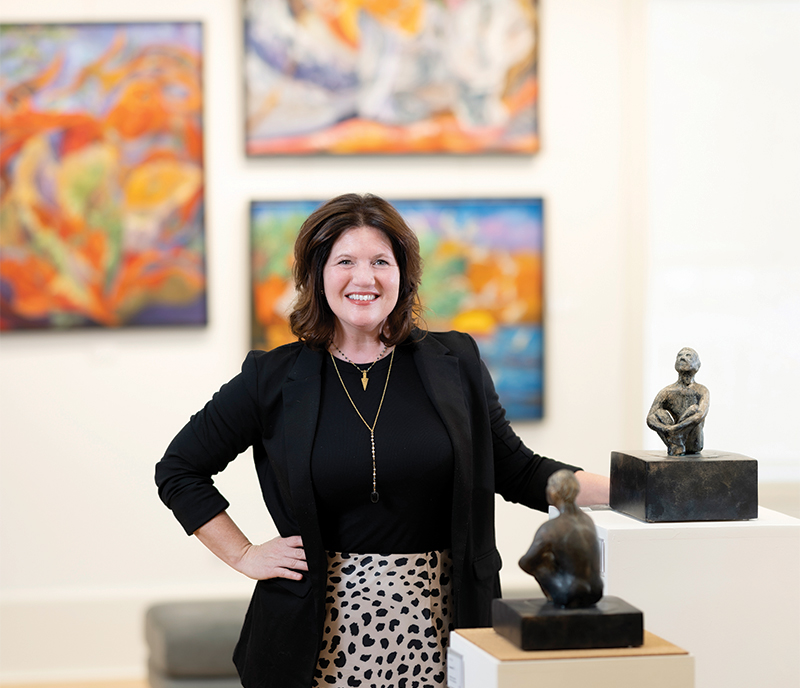 It is easier to tap into compassion than fuel passion.
So it is that Jennifer Steele's job as a promoter and fundraiser for the arts presents challenges not faced by people who work to benefit hungry children, abused women, neglected animals or lonely seniors.
"Some causes you don't have to explain," said Steele, the executive director since 2008 of the Walton County Cultural Arts Alliance (CAA). "But a lot of people don't understand that the arts are a part of their lives every single day. They may view them as a nonessential luxury, but they are critical to education, even social justice.
"Bottom line, any society that is healthy has a thriving arts community."
Often, Steele encounters people or businesses for the first time when asking for sponsorships. When things go well, the ask may lead to a dialogue.
The most gratifying part of her job, Steele said, is growing relationships to the point where she can see that "people really get it, and they understand that the arts are capable of changing lives and bettering communities."
After devoting the bulk of her career to educating people about the importance of the arts, Steele is satisfied that, in Walton County, "We are beginning to turn the corner, and we are seeing that in growing business investment and interest in the arts."
She points to the Howard Group, the developer of premier shopping and dining destinations including Grand Boulevard at Sandestin, as a business that has been "getting it" for a long time, and she is pleased to see other businesses following its lead.
"Very early in my career, they let me know that they appreciated the importance of bringing arts and culture into a community to make it successful," Steele said of the Howard Group.
The arts in Walton County and elsewhere in Northwest Florida are big business and getting bigger.
A study conducted in 2019 found that the local economic impact that year of just the CAA's signature event, the 30A Songwriters Festival, was $7 million. Four years later and adding in the impact of the CAA's other events, Steele believes the figure is probably $12 million.
A more precise calculation is in the works. The CAA is among 400 organizations participating in a nationwide arts and economic impact study that is being coordinated by a nonprofit organization, Americans for the Arts. As of April, the CAA had collected more than 800 intercept surveys from people attending its events and other cultural events in the county. At this writing, the CAA is getting other Walton County arts organizations to complete their own surveys.
The results of the study are expected to be available in November, and Steele is hopeful that her own $12 million estimate proves conservative.
Steele's relationship with Walton County dates to her childhood when her family from outside Atlanta vacationed in Grayton Beach. Always, Walton County was a place that she wanted to get back to.
She put herself through college as a single mother, earning a bachelor of fine arts degree in theater and arts management from Valdosta State University in Georgia.
"I never wanted to be an actor," Steele said. "I knew that I wasn't going to go to New York or Los Angeles and even to try to act. Instead, I quickly became involved in the box office and business management side of our theater."
Steele found the theater to be a collegial nurturing environment, exactly what she needed to stay inspired and encouraged and begin to find her tribe. She was discovering on a personal level the transformative power of art.
She completed an internship at the Lowndes County Art Commission, but still she couldn't articulate what she wanted to do until a Valdosta State professor told her, "You want to be a producer."
Steele liked the sounds of that.
Following graduation, she moved to Atlanta to be close to her family and worked for a year as a special events coordinator and development assistant at the Center for Puppetry Arts, whose work she found to be fascinating.
Still, Walton County beckoned. She just needed a reason in addition to the area's appeal to make the move.
Craig Hoover, who harbored a desire to start a theater in Seaside, provided that. He and Steele would found the Seaside Repertory Theatre with Hoover as the artistic director and she as the managing director.
Steele was with the theater for seven years before landing a job at the CAA as an events producer. Six months later, she was promoted to executive director of what was then a small organization that relied heavily on volunteers. She would serve the CAA as a catalyst who enlarged the alliance's vision.
"There were some growing pains for sure," Steele said. "The board allowed me to make some necessary changes, and they trusted me to increase the budget and take some risks so that we could grow the organization. They ultimately paid off."
A year after she was made executive director, Steele launched the 30A Songwriters Festival with the Indigo Girls as the headline act. It went well, and Steele was satisfied that it could be a "nice little fundraiser for the CAA and a good community builder." She had no idea as to the scale and scope the festival would achieve as an event that annually attracts 6,500 people.
Indeed, it has become a takeover weekend — in the best of ways. Planning for the festival is continuous. In April, Russell Carter, an entertainment lawyer who handles artist relations for the festival, was working to finalize contracts with the performers who will headline the 2024 event.
At present, the CAA has seven full-time and two part-time employees whom Steele describes as caring, highly competent, engaged and hardworking.
In addition to the Songwriters Festival, the team promotes and produces events including ArstQuest, which will turn 35 in 2024; the Flutterby Festival, an homage to monarchs; and varied programming throughout its Art Month each May. The CAA administers grant programs for artists and teachers; conducts a prison art program; extends art instruction to students and adults; and curates public art, most of which is accessible to all. A few pieces each year are deployed at the Underwater Museum of Art and reserved for scuba divers.
Steele will say that Walton County has gained a reputation regionally as a home for the arts but isn't about to rest.
"There is a lot of room to grow," she said. "People who are artists are prone to visit our area because of its natural beauty and welcoming vibe. (Almost like regular people.) We embrace artists and the arts."
Providing ways for art to unite Walton County's Gulf-front communities is difficult, however.
"Seaside, Alys Beach, Rosemary Beach, they are all lovely communities, but their main purpose is to attract people and create programming that keeps them there," Steele said while conceding the appeal of a park-and-stay vacation. "The CAA's vision and mission are much bigger than that. Songwriters may be the only event that brings all of those communities together. In addition to it, I feel like we need a community space for everyone — for the people who live here, for the people who work here, for students."
Strategically, the CAA has established priorities including targeting new residents as a source of support and becoming more active and visible in Walton County north of Choctawhatchee Bay.
As a consumer and lover of art, Steele's tastes are far from narrow.
"I feel like I am so sentimental and emotional about art that I am not a very good art critic," she said. "I either feel something or I don't."
That criterion admits art of many sorts, but 20th-century American realist painter Edward Hopper is a favorite. It pains Steele that she was unable to get to the "Edward Hopper's New York" exhibit at the Whitney Museum of American Art.
"People ask me why Hopper is my favorite artist, and I don't even know how to describe it," Steele said. "Art is just so intuitive."
There are folks who cannot pass by a magazine rack without buying something. Steele never leaves an art festival empty-handed.
"I buy more art than I can place in my home because I am so drawn to it."