Does Your Business Need an App?
It seems like everyone is getting an App. Are you? Do you need it?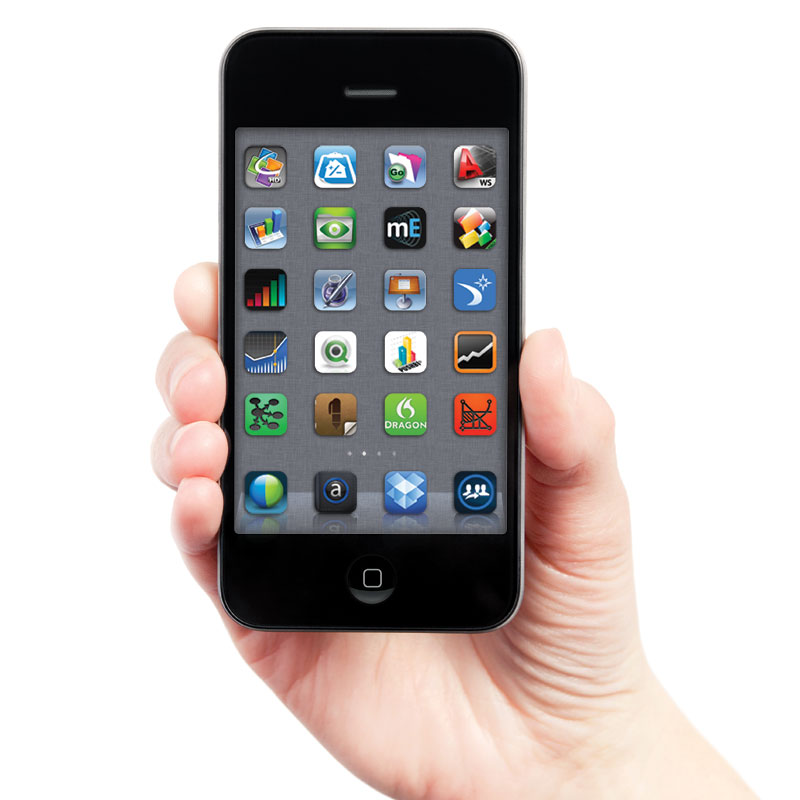 The human race has apparently morphed into a species with an additional appendage — specifically the mobile smartphone that seems to have become a permanent part of the human anatomy. We are so intertwined with our technology that, according to Google, nearly 40 percent of us even use our mobile phone while going to the bathroom (Ick!). Despite the "yuck" factor, all this apparent need for nonstop connection can be good news for businesses. We now expect to have every type of information we need at our fingertips and, more than likely, "there is an app for that."
So, when is it a worthwhile endeavor to create an app for your business? How do you go about it? What are your goals? Does every business need to have one to compete in today's marketplace? Or, is a mobile version of your web page just as beneficial?
There is no denying the statistics. According to Nielson, 50.4 percent of U.S. mobile users have smartphones. And, the 2012 study points out, the vast majority, about 79 percent, of those consumers use their mobile device for shopping-related activities. Furthermore, smartphones are used more often than tablets for on-the-go information.
About 73 percent use mobile devices to locate a store; 42 percent implement an electronic shopping list; and both tablet (66 percent) and smartphone (57 percent) users research an item before purchasing, Nielsen reports. However, the tablets win out when it comes to actual online purchasing. Forty-two percent of tablet users make a purchase compared to 29 percent for smartphone consumers, according to the report.
Aspects of an App – Where to Begin
So if you have done your research and decide your business would benefit from an app, how should you start the process?
"We usually recommend an in-house brainstorming session before the company talks to an app developer," says Sosh Howell, CEO of Appedon based in Atlanta, Ga. "With this approach, each side will think of new features the app should have."
Businesses can expect to spend anywhere from $5,000 to $15,000, depending on the features built into the app. It takes about six to eight weeks to develop an app.
Howell's biggest advice is to be sure to hire an app development company that co-develops in both Android and iPhone platforms.
"Otherwise you are only getting half, or less than half, of the market share," Howell says. "When you use both platforms you reach about 95 percent of end users."
One potential sticking point in development, Howell explains, is the approval from Apple for your iPhone app. That can take an additional week and sometimes the company does not approve it.
A couple of key ingredients an app must have in order to gain approval from Apple are interconnectivity and use of certain integration hardware. Is the app interactive? Apple also looks to see if the app uses unique hardware such as GPS integration features.
"For example, if the App lists restaurants, can you save them to favorites and use GPS to locate them?" Howell explains.
With an Android platform app you are usually up that same day, Howell explains. Once completed, businesses can measure their app usage in a similar way that websites are monitored.
Common Mistakes
"We have had a number of businesses come to us and say they want an app. But, what do they want it to do?" asks Howell. "The first thing we try to look at is what features they need and what impact it will have on their business."
Howell also warns that an app is not a cure all.
"Don't look at an app to save your business," he warns. "It can be essential, but it is not the most important ingredient. From my experience, usually there is no one solution that is enough to save a struggling business. An app has to be part of a combination of tools and used in conjunction with your social media and part of your bigger marketing picture."

Mobile Website Version Versus App
"Making your business mobile isn't as simple as taking your website and slapping it on a mobile device, industry experts warn. One problem with this approach is a website oftentimes will not fit correctly on a mobile device and therefore it makes usage cumbersome. Businesses have to consider what the goal of the mobile access is for their company. However, it also doesn't mean you automatically need an app. Tweaking your website design to make it work smoothly on a mobile smartphone is another route.
"Mobile apps and websites are the new bricks and mortar," says Nadia Kamal, owner of Onyx Group, a Tallahassee-based marketing and branding company. "You have to think through the user's perspective. What is the experience they get when they go to your website or app?
"We are a 24-hour, drive-thru society. You have about five seconds to engage your audience."
It needs to be thumb-friendly, Google advises. Google Initiative suggests you evaluate your current online and mobile presence. Get a smartphone and pull up your website. Ask yourself these questions:
Does it look right?
Is it usable on a mobile phone?
Is it easy to navigate?
Google also suggests you check for these key features on your mobile site:
Phone number
Maps, directions and store hours
Easy to use product page
Ability to search the site
Google offers a plethora of free information on mobile websites and apps, including video tutorials, worksheets and guides through "learn with Google." Visit howtogomo.com or google.com/ads/learn for more information.
If you decide a mobile website would work just as well as an app for your business, check out the 10 Mobile Site Best Practices in Google's Go|Mo Publisher Guide.
---
CASE STUDY: Florida AIA Creates an App
To mark it's 100th year anniversary, the Florida Association of the American Institute of Architects (AIA) planned several events, including a competition with online voting for the top 100 buildings in Florida.
The Florida Architecture: 100 Years. 100 Places competition had an amazing response, with 2.5 million votes cast over three weeks. As part of the plan for the year-long celebration and contest, the association decided to create an app.
"Our main goal for our app is to engage the public," says Vicki Long, executive vice president of the association.
AIA Florida's app allows users to see each of the 100 winning buildings of the contest. Users can read the history of each building and about the architect who designed it. They can map the buildings and a pin representing each winning building shows the location in the state. Users can also click on the pin for directions or more information on that particular structure.
The idea is people can visit the buildings and receive all the information through the app. The app also includes a contact button for AIA Florida and a button to go to the association's website and YouTube Channel.
When AIA Florida began planning the anniversary celebrations, staff created website content knowing they would build on that background information for the app creation.
"It took about seven months of work prior to the app phase, but the app project was always part of the plan," Long said.
"If you have a certain date you want to launch the app be sure to build in enough time for the project," says Becky Wilson, director of administration for AIA Florida.
Wilson's advice: Leave more than enough time for app development.
Eventually, AIA Florida hopes to have QR readers (those boxes that look like barcodes) on each building so visitors can just walk up, scan it with their smartphone and learn all about the building.
"We want to have a continuing dialogue with the public about architecture. We want people to recognize what they see and the design elements that go into a building," Long said. "We want to humanize our architects and highlight the fantastic buildings they've created."