Do-it-yourself helicopter kits are an overseas hit
It's a bird, it's a plane, it's a Safari Helicopter. And you can build it yourself.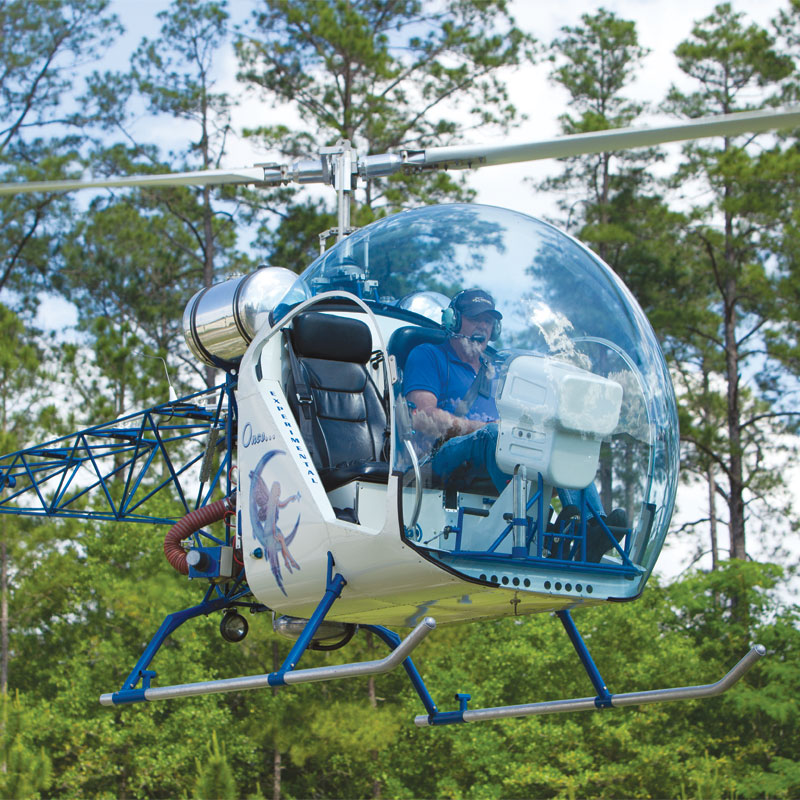 Building a model helicopter is one thing, building the real deal is quite a different experience. But if you have the money and the "want," you can find what you need in Marianna.
Bobby and Delane Baker own CHR International. They manufacture an experimental-class helicopter that can be built from a kit. It sounds scary and a bit impulsive, but business is good and the competition is almost non-existent.
"There aren't a lot of companies that build helicopters," said Delane Baker, "and even fewer that build experimental helicopters."
The company originated in Ear Falls, Canada — a place some say is literally 30 miles from the end of the asphalt. The original company was Canadian Home Rotors Inc. In 2001, they established a location in Marianna to assemble and ship the kits. In 2005, the Bakers became involved with the plant in Marianna, and then bought the rights to the helicopter in 2009. Since then, they have been working hard on improving the helicopter and even harder on marketing it.
"We owned a trucking company that we sold at the end of 2004," said Baker. "My husband is from Panama City, and we wandered over here and bought a property that had a runway on it. He started flying in helicopters and became addicted, which is what happens to most people that fly a helicopter."
The Safari helicopter is a personal/experimental helicopter, meaning you can't use it commercially, such as for a tour service or airport shuttle. It's classified as a non-commercial by the FAA.
Rick Reese purchased his helicopter in 2006 and says it's not an impulse buy. The investment in time and money gave him a lot to think about before signing the papers.
"The decision to purchase this particular helicopter kit was not taken lightly," said Reese, "I obtained my helicopter pilot's license prior to deciding to build a helicopter. I have always been fascinated by helicopters, but their high price was a problem. I hadn't seriously considered a kit-built helicopter until I saw the Safari. I looked over several other kit helicopters before settling on the Safari. The Safari is a very robust, well built helicopter. I wanted a machine that had an enclosed cabin with cabin heat and was able to fly at night that also had a good range. The Safari was the closest thing I could find to a certified helicopter."
Marketing the Safari Helicopter
When the Bakers bought the business in 2009, their number one priority was improving the product, which subsequently would change the culture of the entire facility. When the product standards change, it changes the way the company functions.
"When employees realize that the quality and safety of the helicopter are the most important yardstick, they become engaged in a different way, and it creates a different atmosphere," Baker explained.
The owners had a long list of things they wanted to change about the helicopter and spent two years on research and development. For example, they upgraded a number of small parts on the helicopter to aviation-grade parts — switches, fittings, etc. They changed the materials of several of the parts to a higher grade of aluminum and replaced some cast parts with machined parts. They also tightened the machining tolerances on a number of parts and began manufacturing more of the parts in Marianna to produce the quality they wanted.
In essence, the Bakers put the sales side of the business model on the back burner, trying to fix the product before selling their brand.
"We examined the helicopter from the ground up and made changes to it, (and) at that time we weren't actively pursuing sales," Baker said of the company's strategy. "We knew there were things that needed to be done, so it was a long process. There's no reason to think our sales would have flourished ahead of other companies. (But) one of the most effective things we have done is to market overseas."
Global Strategies
The company has found that the secret to their marketing success is Facebook and Twitter. Print advertising is out of their budget and since they have such a niche customer base, CHR has found that email marketing and word ofmouth is the best way to pitch sales.
"We maintain an email marketing system and use an online service to send periodic newsletters to persons who have subscribed to our newsletter," said Baker. "They may not buy a helicopter tomorrow, but they are interested. Florida has a very active and aggressive program for assisting companies in the state to export and increase exports."
Enterprise Florida has been the driving force in overseas sales for the Safari Helicopter. The innovation hub has been able to link the Bakers with potential buyers overseas as well as forming a partnership with the import/export bank to arrange financing for overseas customers.
"There's a slew of services we offer, most of them are free of charge," said Andrea Moore, regional manager for International Trade Development for Enterprise Florida. "There's no cost unless they participate in a trade show or trade mission. We get an understanding what product or service a client makes and which markets they are thinking about entering."
Research shows that companies that export on average grow 15 percent faster than companies that don't. Their bottom line is also 12 percent more profitable. Several clients have told Enterprise Florida that if it hadn't been for international sales they would have had to draw down to two shifts and lay people off because domestic sales were flat. That down economy is one of the main reasons that CHR decided to invest so much time marketing overseas.
"Buying a helicopter isn't something that you do overnight; it's not an impulse buy," said Baker. "People do a lot of research, attend an air show and try to get where they can touch it and feel it. They take awhile to decide they want one. There's such a lead time with marketing that it's hard to tell sometimes whether it's working. We are seeing a tremendous increase in activity and that leads me to believe that (will) translate into sales."
Baker notes you won't find high-flying celebrities like John Travolta passing through Marianna. Most of the time buyers with disposable income will go for a high-end helicopter or private jet.
A certified R-22, which is a two-seat helicopter of less capacity than the Safari, sells for around $275,000 new. The larger, multi-seat commercial helicopters range from $800,000 to several million dollars.
But for $150,000, CHR will give you everything you need to go into your garage and assemble a sturdy helicopter with an aircraft engine. As for the business side of owning such a niche business, the Bakers say it's no different than owning their trucking company.
"The commonality of core philosophy is how you want to do business," said Baker. "If you treat people the way you want to be treated, things will work out. That's a philosophy, not a business model. Every business requires a different operation; our cash flow is much more long term than if you are operating a restaurant."
Ultimately, CHR wants to continue to grow its brand and its staff. But creating jobs in a down economy isn't easy, and dealing with a small staff has its own challenges.
"If you have three employees and one doesn't show up, 33 percent of the workforce is gone and you're doing that job today," Baker said. She also warned that people who want to start a small business often have no idea what to expect. "I don't think most people who are looking at a small business who have little or no business experience have a clue as to the volume of detail they are going to have to deal with. Most people don't have a clear understanding of taxes they will pay and regulations they will comply with; hiring, employing and terminating people."
Also, the bigger you get, the more liability you have — especially in a business like do-it-yourself helicopters.
"You have to deal with suppliers and accept liability for the product," Baker said. "If you are making pizza, you will try not to poison someone. We are building an experimental helicopter kit to sell to a guy and hoping that he puts it together well enough that he doesn't kill himself. Doing all the things that it takes so that the product going out the door is what people have a right to expect; that's not easy."
Soaring Above the Competition
The Bakers say they average between 12-15 sales per year. Currently, there are seven employees working at CHR International in Marianna. That's only because the frames for the helicopters are still welded in Canada. But the Bakers are in the process of bringing all manufacturing efforts to North Florida, which will increase the local work force.
"We are trying to get everything here under one roof," said Baker. "I think it'll be three to six months before everything is under one roof."
The helicopter is truly experimental, and there is only one other company that offers a two seat ride like CHR does. There are some single-seat helicopters that are offered by other companies — they are smaller and less powerful.
As of now, there are no experimental helicopter companies elsewhere in the world that are past the stage of a prototype. Creating a functioning helicopter is more of a complicated undertaking than it sounds, and it's very difficult to engineer a chopper.
"The engine on the Safari helicopter will perform as well as any small helicopter in the market. In fact, it performs better than some of the smaller certified ones. Maintenance costs are less. People who want to fly a helicopter learn to fly one. If you can get your own training, you cut the cost dramatically."
Steve McMichael and his son bought a helicopter in 2009. The Chattanooga father decided to build a helicopter and looked into all the available kits on the market.
"My son had just returned from his second tour in Afghanistan, and we wanted to do a father/son project when he finished his four years in the Army," said McMichael. "We worked together to find a project that we could both enjoy. We were both already fixed wing pilots, and we wanted the challenge of getting our rotorcraft rating from the FAA."
See the SAFARI helicopter in action on our youtube page: youtube.com/rowlandpublishing