Digital Innovators Ride the Wave of Technology
With computers as their canvas and code as their paints, digital innovators create things of practical beauty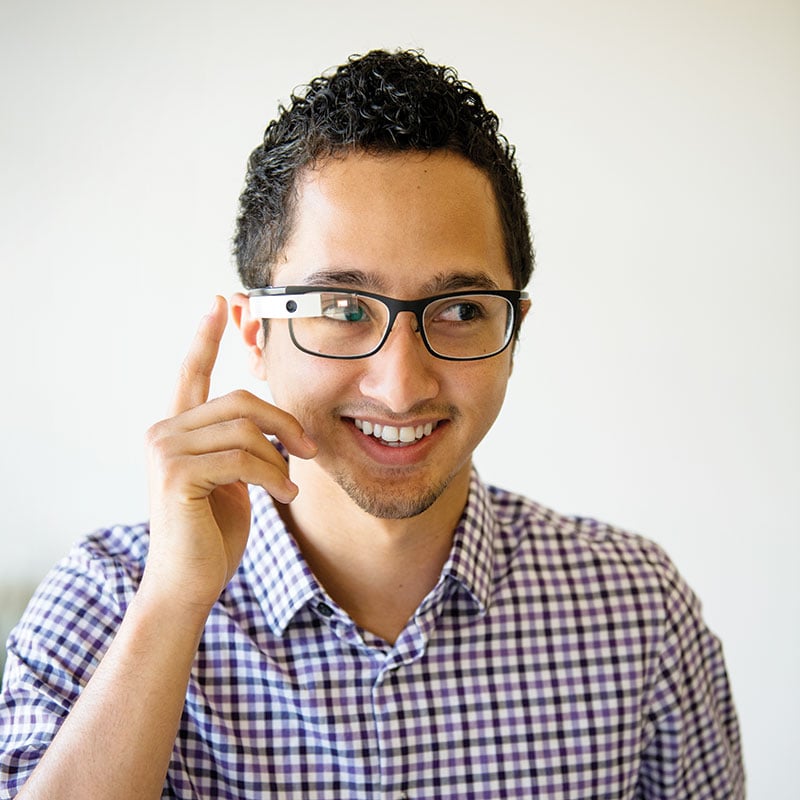 Before every great technological innovation, there is a person with a dream.
Long before Google Glass, two guys in a garage were exploring an idea they called a search engine. A generation ago, smartphones existed only in the pages of science fiction. Now, we wake up each morning with an abundance of gadgets and utilities at our disposal. From weather prediction to shopping for clothes, we have more control over our lives than any generation before us — all with just the touch of a finger.
Where does inspiration come from? Why are people driven to innovate? Are they simply attempting to make a few bucks on the next viral meme or app? Is it just supply and demand, placing products in the hands of consumers? Or is there a deeper reason for these digital creations?
Today, computers are the cornerstone of modern society. We live in an age when most of the workforce has no memory of living without computer technology in some form. Since its birth in 1942, the computer has gone from being the size of a room to smaller than the eye can see, thanks to nanotechnology.
Algorithms, C++ objects and Java are the digital paints for crafting the next masterpiece. A blank canvas is white space on a computer screen awaiting input from a programmer, scientist or engineer. And the marvels they create can rival the likes of da Vinci or Michelangelo.
Behind the beautiful displays and fancy buttons of our gadgets and gizmos are elegant codes and complex algorithms designed by individuals and teams, including two based here in Tallahassee, Ryan Kopinsky and the workers at F4 Tech.
Kopinsky's technological diversity has created an assortment of innovations.
As an intern at the Florida Institute for Human and Machine Cognition (ihmc.us), he wrote algorithms for the IHMC-NASA X1 Exoskeleton, a device that aids paraplegic patients in sitting, standing and walking. His work contributed to the functionality of the exoskeleton. In this defining moment, Kopinsky realized he "wanted to add value to people's lives by using robotics."
Kopinsky is working toward his Ph.D. in robotics at Florida State University, but it doesn't stop him from working on "side projects," too. He designed an app for Google Glass called Shop X Glassware that allows users to create and manage shopping lists. In 2014, Shop X Glassware became the 52nd app officially approved by Google, one of fewer than 200 apps that can make such a claim.
"Innovation just means that one is making a significant, positive impact on the world. That is my ultimate goal in life," Kopinsky said. Most would agree that he's off to a pretty good start. (Find more of his work at ryankopinsky.com.)
Not all innovators are driven to change the world; some, like the founders of F4 Tech, are motivated by gaps in technology.
With changes in the global climate and pressure to lower production costs, the forestry industry has an increasing demand for efficiency.
Just over 20 years ago, the methods for deforesting lands for industrial use were primitive. A surveyor would measure land by counting strides and inspect the density of a stand of trees by manually counting them. This data, with its inevitable propensity for errors, was input into handheld devices, then manually uploaded into a spreadsheet. In the digital age, innovation seemed inevitable, but many in the business remained content to use these outdated methods.
The founders of Tallahassee's F4 Tech (thinkf4.com), which stands for "Forestry for Technology," brought the forestry industry into the 21st century. Their slogan almost sounds like a movement, and in many ways it is.
Mark Milligan, president and founder of F4 Tech, received his MBA from Florida State as well as a B.S. in forest management from Louisiana State University. Raised in a family of foresters, after finishing his collegiate studies, Milligan felt there was a better way to do forestry. He developed a mobile device to aid in data collection using Geographic Information System (GIS) technologies.
"First and foremost, we are foresters," he says. But since founding the company in 1998, Milligan's team has grown from one person's vision of forestry to a team of technological innovators. With the help of people including Thomas Walthousen, director of Integrated Solutions, F4 Tech finds new ways to innovate GIS-dependent industries.
Their Windows-based software has the flexibility to be used in many industries. F4 Tech's main product line, called the Forge Echo, stores data collected in a variety of fields, such as mining, oil and gas, and agriculture. Their company has surveyed 1.5 million acres to supply accurate information to companies in need of extracting oil, minerals and natural gas and to provide current information on the species of trees for developing paper products.
Milligan's most recent innovation is SilvAssist Cloud software, which uses GPS to put collected data directly into cloud storage for use off-site. This technology revolutionizes all industries with a need for GIS. In a short period of time, Milligan and his team have taken the forestry industry from individuals counting trees on their fingers to surveying geographical regions with state-of-the-art technology and advanced algorithms. They are now measuring the world in ones and zeroes, the binary language of computers.
Whether writing code to help a paraplegic patient walk or designing surveying tools to save trees, those who see the world with such clarity are the artists of our age.