Designing Sustainability
Nonprofit organizations reinvent fundraising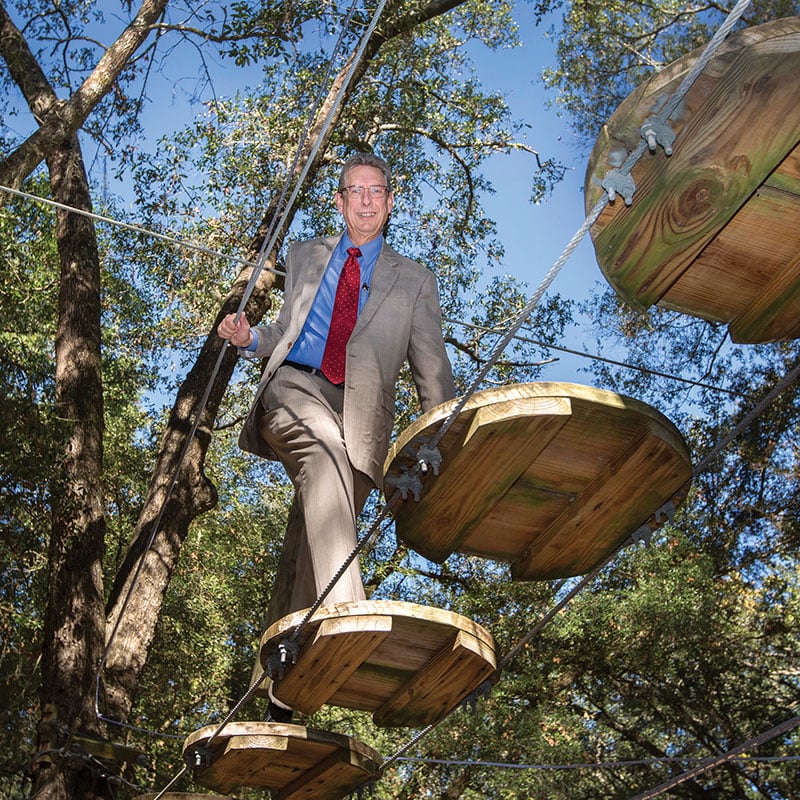 Sector Forward: Impact and Opportunity, an overview of nonprofits in Leon County and Florida's Big Bend, summed it up nicely: "Nonprofit organizations are a critical stitch in the fabric of any community's economy and quality of life." In the Tallahassee region, the documented economic impact of that critical stitch is substantial:
» Leon County has more registered nonprofits than any other county in Florida.
» From 2006 to 2015, Leon County saw a 15 percent increase in the number of registered nonprofits, with an almost 50 percent increase in nonprofit assets.
» During the same 10-year period, nonprofits saw a 30 percent growth in revenue.
» Nonprofits employ 10 percent of the workers in Leon County, higher than the statewide 7.4 percent and almost on par with the national rate of 10.3 percent.
» Leon County nonprofits generate $3.16 billion in revenue.
» Leon County nonprofits have more than $5.5 billion in assets.
» Leon County nonprofits make up more than 20 percent of total GDP.
The report, released in February 2017 by the Institute for Nonprofit Innovation and Excellence (INIE), acknowledged that the nonprofit designation covers a lot of organizations and associations such as civic leagues, associations of employees, real estate boards and chambers of commerce, social and recreation clubs and fraternal societies. The report, however, concentrated on public charities with 501(c)3 tax status, the organizations that people tend to think of as philanthropic charities. But these are not your grandparents' pet charities, nor are they operated in the same old ways.
Changes in Strategies and Tactics
Fundraising for most charitable organizations once consisted of an annual signature event, such as a gala, and perhaps an end-of-the-year appeal by mail. But these days, fundraising is a year-round endeavor, and there have been major changes in the ways people give.
"There was a time when you hired a professional fundraiser," said Alyce Lee Stansbury, a consultant who works with nonprofits and serves on the INIE board. "In today's world on the internet, anybody can be a fundraiser."
The influence of technology and the resulting online giving has been tremendous.
"Online giving has really grown, and it didn't exist 20 years ago," said Joy Watkins, executive director of the Community Foundation of North Florida, which facilitates charitable giving for donors and helps nonprofits by awarding grants and helping build endowments.
Another change in charitable giving has been an increase in bequests as part of estate planning, Watkins said. "It's a trend, as baby boomers are passing their wealth on."
Despite the small recession of 2000-2002 and the big recession that began in 2008 that caused a slowdown in charitable giving, Watkins said charitable giving has recovered, in general, and she describes the current climate as "robust."
"We're celebrating our 20th year, and to date we've had more than $71 million come in to the Community Foundation, and almost $23 million in grants go out."
Jessica Lowe-Minor, executive director of the Institute for Nonprofit Innovation and Excellence, agrees that fundraising methods are changing.
"Having the online technology to solicit donations has increased the ease of giving," she said. "Targeting online platforms and specific events can cost a lot of money, but it's the go-to strategy for a lot of organizations."
Payroll deductions for charitable contributions, the so-called "United Way model," have not held up well since the recession, she said. "Fewer employees are opting to participate in that type of program, so it's less of a strategy for philanthropies."
Pamela Goodman, president of the League of Women Voters of Florida, spent 15 years as president and CEO of Limited Express. That experience is applicable to the nonprofit world. "Fundraising is not a lot different than retailing," she said. "You're selling a product: your organization."
One group that has been slow to return to charitable giving, Lowe-Minor said, is middle-class donors who routinely gave $100, $150 or $250 a month to a favorite charity but stopped during the recession.
"We have to ask ourselves the question: Have these donors gotten out of the habit of giving, or have philanthropies focused on big donors at the expense of the working-class donors whose contributions also add up?" she said.
Several Tallahassee nonprofits, particularly public radio, have capitalized on the monthly recurring contributions, offering "young philanthropist" societies and "sustainer" memberships in smaller monthly chunks that tend to be less of a burden than one large annual donation.
"Nonprofits have become more aware of those generational differences, and perhaps they'll do a mailer, plus a Family Fun Day and notices on social media," Stansbury said. "It's not just about fundraising. It's about the search for sustainability. Nonprofits are trying to figure out how to fund not just this year's programs, but the organization going forward.
"Organizations need to ask themselves: What are you doing to groom the next generation of donors?"
Reassessing the Mission
The leadership at Goodwood Museum & Gardens spent a lot of time the past few years evaluating the historic property's streams of income and realized it needed to diversify. It also needed to stay true to its core, which is "a setting where we preserve and share our history, enjoy the arts and celebrate significant events in our lives."
"We asked ourselves, 'How do we broaden the definition of the mission to create partnerships and increase our relevancy to the community?'" said Nancy I.M. Morgan, one of Goodwood's two co-executive directors. "We have this amazingly beautiful green space in the middle of the city."
Goodwood has created partnerships with several community arts organizations, including Opening Nights Performing Arts, Tallahassee Hispanic Theater and Theater with a Mission. It is also evaluating partnerships with Tallahassee Memorial HealthCare, including a "Pathway to Wellness" project which will include walking trails.
"We want to develop Goodwood as a center for wellness for the community," said Morgan's counterpart, Co-Executive Director Jennifer Humayun. "In doing so, we gain access to grants related to health and wellness, as well as the historic preservation grants."
Goodwood is not alone in its efforts to find more sources of funding. The INIE report also showed that two-thirds of Leon County's nonprofits generate less than $500,000 in revenue a year, and more than one-third generate less than $100,000 a year. Building sustainability into fundraising is a must.
"It's not just about fundraising," Stansbury said. "If you want to build sustainability, it's about mission, money and leadership."
Getting people engaged in an organization's mission can enhance fundraising, said Ellen Piekalkiewicz, executive director of United Partners for Human Services.
"People want real-life stories," she said. "They want a human behind where their dollars are going."
Seeking New Revenue Streams
Goodwill Industries set the stage decades ago when it opened its thrift stores to fund its mission. Over the years, it also expanded its mission from a narrow focus on helping people with mental or physical challenges to become productive members of the workforce, to helping anyone with barriers to employment.
Over the past few years, local nonprofits have joined in the entrepreneurial effort: Element3 Church started RedEye Coffee to help fund its humanitarian efforts around the globe, Big Brothers/Big Sisters of the Big Bend collects clothing and other household goods for international bulk resale in purple bins placed around town, and Big Bend Cares operates a wholesale pharmacy.
But the zipline course at Tallahassee Museum has to be the most daring endeavor of all, both physically and financially.
Costing a little under $600,000, the Tree to Tree Adventures course has had a synergistic effect on the museum, Executive Director Russell Daws said.
"It has brought in visitors who weren't familiar with the museum previously, and some of those visitors have become members and donors," he said.
The museum borrowed half a million dollars to build the course five years ago, and that note has already been paid off. For Daws, the lesson learned is to embrace change.
"This started a whole chain of events and has given us a new relevancy, engagement and excitement that has really helped fundraising," he said. "We needed to listen to our audience, look at what the community needed and be receptive. It worked. We changed with the community, and we're celebrating our 60th anniversary."
Stansbury said it has been interesting to watch nonprofits become more entrepreneurial, while for-profit businesses adopt some of the nonprofits' tactics. Some businesses, such as 4Rivers Smokehouse, have no marketing budget per se. Community engagement and charitable giving are the company's marketing, founder John Rivers of Winter Park told her. Both build brand and demand for the product.
"For many companies," she said, "charitable giving is part of good business strategy."